Kids' State Dinner 2013 Winners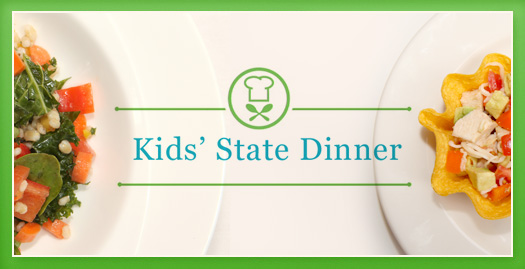 Some of America's most creative junior chefs put their talents to the test and whipped up over 1,300 delicious lunchtime recipes as part of the second annual Healthy Lunchtime Challenge. The competition was steep, but a panel of judges selected one winning recipe from each U.S. state and three U.S. territories. On July 9th, these fifty-four budding chefs will travel with their parents to the White House for the second annual Kids' "State Dinner." Go behind the scenes of the judging as a winner is picked:
The winning recipes were chosen based on guidance that supports USDA's MyPlate to ensure that meals were affordable, original, healthy, and yummy.
2013 Kids' State Dinner Winners
Kindall Sewell-Murphy, age 10, Alabama: "Kale Broccoli Chicken and Apple Salad"
Rowan Bean, age 9, Alaska: "Alaskan Ceviche with Mango"
Alexandra Nickle, age 10, Arizona: "Banana's Black Bean Burritos"
Emma-Kate Schaefer, age 8, Arkansas: "Confetti Spring Rolls with Orange-Cilantro Sauce"
Rose Scott, age 12, California: "Pork and Tofu Lettuce Cups"
Nicholas Hornbostel, age 8, Colorado: "Sushi Salad"
John Breitfelder, age 9, Connecticut: "Quinoa "Risotto" with Shrimp and Kale"
Braeden Mannering, age 9, Delaware: "Tortilla Bowl Deluxe"
Ingrid Lamberg, age 9, District of Columbia: "Inga Binga's Salmon Salad"
Nicole Medina, age 10, Florida: "Summer Salmon"
Regan Matthews, age 12, Georgia: "Sweet Potato Turkey Sliders"
Eleanor Cowell, age 8, Hawaii: "Curried Chicken Salad & Taste of the Tropics Fruit Bowl"
Adam Wirth, age 8, Idaho: "Veggie Barley Salad with Orange Honey Vinaigrette"
Taddy Pettit, age 10, Illinois: "Black Bean Wrap with Jicama - Grilled Corn Salsa"
Lydia Finkbeiner, age 9, Indiana: "Sneaky Chili Surprise"
Corrine VanderGaast, age 9, Iowa: "Stone Curry with Brown Rice"
Olivia Neely, age 10, Kansas: "Fun Mini Pizzas with Veggies & Cauliflower Crust"
Regan Strehl, age 11, Kentucky: "Raisin Bran Muffins"
Brynna Robert, age 12, Louisiana: "Sweet and Spicy Stir Fry"
Noah Koch, age 9, Maine: "Vegan Powerhouse Pesto Pasta"
Emma Scielzo, age 10, Maryland: "Chicken Masala Wrap"
Shefali Singh, age 12, Massachusetts: "Shefali's Scrumptious Spring Rolls"
Jacob Hirsch, age 8, Michigan: "Picky Eater Pita Pizza Pockets"
Kaitlyn Kirchner, age 9, Minnesota: "Garden Stir-Fry"
Reed Lindsey, age 10, Mississippi: "Pan Seared Mississippi Catfish on a Bed of River Rice"
Henry Oates, age 8, Missouri: "Confetti Peanut Ginger Party Pasta"
Joshua Garrigues, age 8, Montana: "Healthy Vegetable Fried Quinoa"
Bence Brown, age 9, Nebraska: "Terrific Tuna Casserole"
Isabella Gross, age 11, Nevada: "Chex Chicken and Bellaberry Smoothie"
Olivia Beauchesne, age 12, New Hampshire: "Liv's Curry Chicken Salad Sandwich"
Goldie Siegel, age 8, New Jersey: "Hawaiian Turkey Sliders with Mango-Pineapple Salsa"
Louis Teich, age 10, New Mexico: "Spinach Frittata"
Peter Murphy, age 8, New York: "Super Rescue Soup"
Vijay Dey, age 12, North Carolina: "Spring Rolls"
Charli McQuillan, age 8, North Dakota: "Asian Fajitas"
Genzo Gonzales, age 11, Northern Mariana Islands: "Kangkung Pomegranate Salad"
Anisha Patel, age 11, Ohio: "Kickin, Colorful, Bell Peppers stuffed with Quinoa"
Ogden Johnson, age 10, Oklahoma: "Taco De Camaron"
Audrey Russell, age 10, Oregon: "Salmon Fried Rice"
Ganesh Selvakumar, age 9, Pennsylvania: "Lentil Spinach Soup and Mint Chutney"
Aliana Arzola-Piñero, age 9, Puerto Rico: "Yummy Eggplant Lasagna Rolls"
Samantha Mastrati, age 12, Rhode Island: "Italian Garden Salsa with Crunchy Chicken Tenders"
Corbin Jackson, age 9, South Carolina: "Bring it On Brussels Sprout Wrap!"
Owen Kerkvliet, age 9, South Dakota: "Hidden Veggie Lasagna"
Makenna Hurd, age 9, Tennessee: "Makenna's Bodacious Banana Muffins"
Devanshi Udeshi, age 12, Texas: "Slam Dunk Veggie Burger"
Cecily Asplund, age 10, Utah: "Lucky Lettuce Cups"
Colin Hurliman, age 9, Vermont: "Champ's Maple BBQ Turkey Burgers"
Sakari Clendinen, age 8, Virgin Islands: "Zucchini Pancakes & Passion Fruit Banana Smoothie"
Campbell Kielb, age 8, Virginia: "Orange Chicken Lettuce Wraps"
Amber Kelley, age 10, Washington: "Nummy No-Noodle Lasagna"
Jessica Wolfe, age 9, West Virginia: "Spicy Tofu Lettuce Cups"
Liam Kivirist, age 11, Wisconsin: "Wisconsin Solar Oven-Simmered Chili"
Breeze Petty, age 11, Wyoming: "Scrumptious Chili with Zucchini Cornbread"