Captivating Clips: Top 10 Let's Move! Videos
Through Let's Move!, First Lady Michelle Obama has helped kids and families lead healthier lives by raising public awareness, supporting policy, and creating programs and partnerships to create a culture shift toward health. The First Lady embraced pop culture, engaged celebrities and athletes, and got involved on social media in her fun, authentic, and inspiring way in order to reach people where they are. As a result, several viral videos came to life.
As we near the end of the Obama Administration, we couldn't help but look back at these moments. In no particular order, check out the top ten Let's Move! videos below:
1) #TurnipForWhat
We will never forget when the First Lady danced with a turnip in response to a question during a Vine and Twitter Q&A: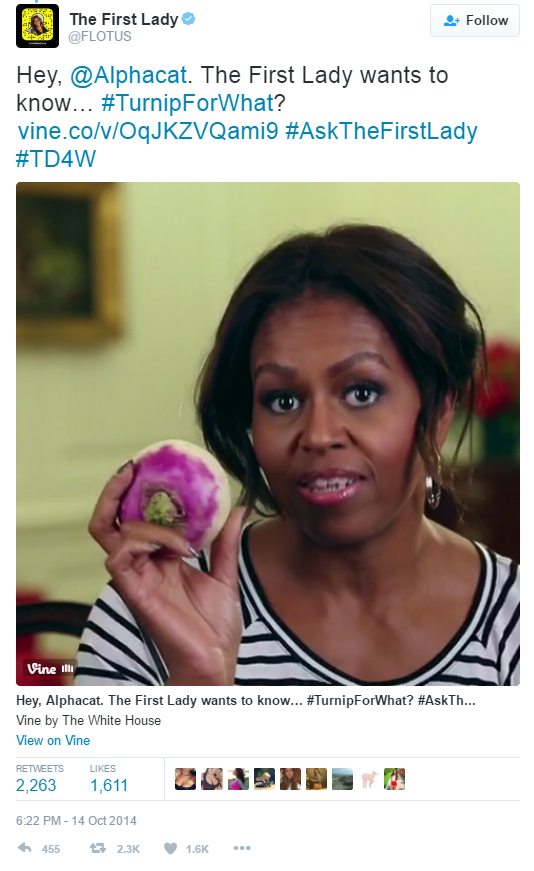 2) Working out with the First Lady
In celebration of the fifth anniversary of Let's Move!, the First Lady challenged everyone across the country to #GimmeFive ways they were eating better, being more active, and leading a healthier life. Throughout the challenge, many of the First Lady's followers – and even President Obama – challenged her back, so she responded by sharing part of her workout routine:
3) #GimmeFive dance with Ellen DeGeneres
As part of the #GimmeFive challenge, the First Lady challenged Ellen DeGeneres to perform the #GimmeFive dance:
4) Teaming up with the Miami Heat
During their White House visit celebrating their 2013 championship win, then Miami Heat players LeBron James, Dwyane Wade, and Chris Bosh teamed up with the First Lady to highlight the importance of eating healthy and drinking water to perform like a champion:
5) Eat brighter! on Billy on the Street
The First Lady joined Big Bird and Billy Eichner of Billy on the Street to participate in one of Billy's trivia games in the produce section of a grocery store to highlight the eat brighter! movement. Some unexpected things happened:
6) Kid "focus group" with Will Ferrell
The First Lady and Will Ferrell hosted a "focus group" with young kids to ask them about eating healthy and being active. Their responses were priceless:
7) Going bananas with Steph and Ayesha Curry
Steph and Ayesha Curry joined the First Lady for some fun to promote Team FNV: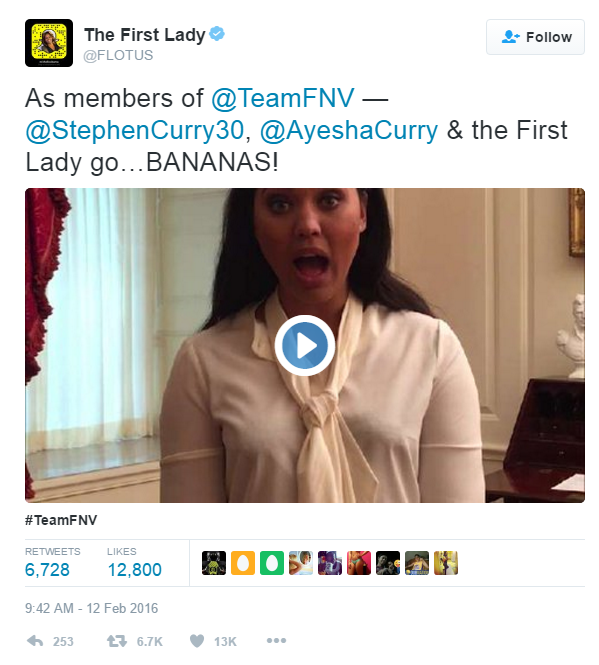 8) #LetsMove: POTUS and VPOTUS edition
The First Lady encouraged people of all ages to show her how they move through eating more fruits and vegetables, getting physically active, or making other healthy changes. She said that if enough people participated on social media using #LetsMove, that the President and the Vice President would show us how they move. And sure enough, they did:
9) The history of exercise with Nick Offerman
Celebrating the 60th anniversary of the President's Council on Fitness, Sports & Nutrition, the First Lady and Nick Offerman showcased some of the popular fitness routines of the past 60 years:
10) Mom dancing with Jimmy Fallon (twice)
Throughout the Administration, Jimmy Fallon teamed up with the First Lady in support of Let's Move!, helping to inspire Americans to stay active, eat healthy, and have fun. In 2013, the First Lady and Jimmy Fallon showcased the Evolution of Mom Dancing, which was such a hit that they brought it back two years later for the Evolution of Mom Dancing, Part 2:
Through all of our efforts over the past nearly seven years working together to build a healthier America, we've started to see progress. We put together one final video to show what the changes we've made might look like through the eyes of a child:
To see more great videos, check out the Let's Move! YouTube page.