A Must See: The First Lady, Big Bird, and Billy Eichner Team Up for Eat Brighter!
The First Lady joined Big Bird and Billy Eichner of Billy on the Street in a grocery store for some fun and games to highlight the eat brighter! campaign.
In celebration of the 5th anniversary of Let's Move! this year, the First Lady will be lifting up champions who are working to help kids and families lead healthy lives. Through the eat brighter! campaign, Sesame Workshop, the Produce Marketing Association (PMA), and the Partnership for a Healthier America (PHA) are champions for kids' health by promoting fruits and vegetables and helping make the healthy choice the easy choice for busy families.
When it comes to doing the right thing for our kids, the deck is stacked against healthy foods, especially in marketing to kids. The eat brighter! campaign is a unique and powerful collaboration that set out to change that. Studies have found that Sesame Street's furry characters can have an impact on kids' eating decisions, so they've teamed up with the fresh produce industry to show kids – and parents – that healthy food is fun too!
The First Lady announced this commitment between Sesame Workshop, PMA, and PHA at the White House. Following the announcement, the eat brighter! logo began appearing in stores and on products in the summer of 2014, and to date, nearly 50 produce growers and retailers, covering well over 100 fruits and vegetables, and 30,000 grocery stores are participating in the effort!
Watch what happens when the First Lady and Big Bird participate in one of Billy's trivia games in the produce section of a local grocery store: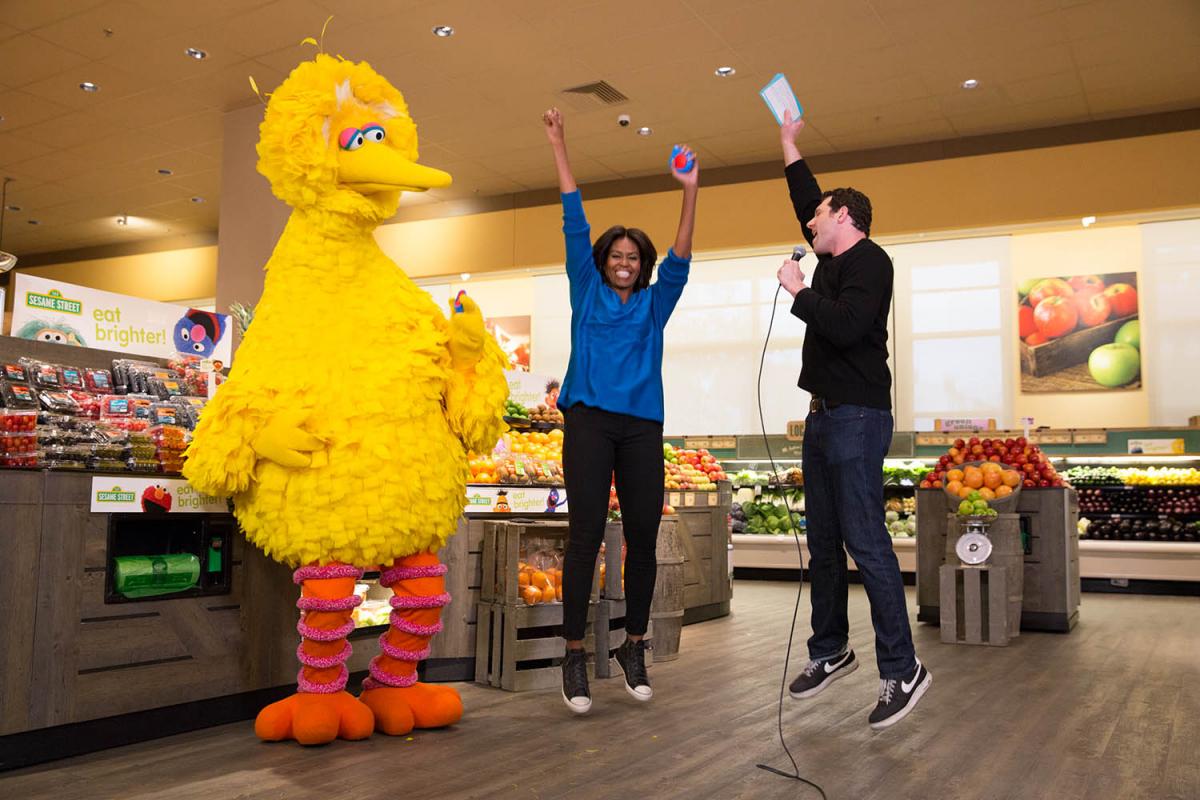 First Lady Michelle Obama participates in a "Let's Move!" Funny or Die game show taping with Billy Eichner of Billy on the Street, and Big Bird at Safeway in Washington, D.C., Jan. 12, 2015. (Official White House Photo by Amanda Lucidon)
Learn more about the eat brighter! campaign by visiting sesamestreet.pma.com.