Sesame Street Characters joined the First Lady Today to Announce a Commitment to Promote Fresh Fruit and Vegetable Consumption to Kids
First Lady Michelle Obama was joined by Sesame Street's Elmo and Rosita to announce that Sesame Workshop and the Produce Marketing Association (PMA) joined the Partnership for a Healthier America (PHA) in a two-year agreement to help promote fresh fruit and vegetable consumption to kids, making those healthy choices a little easier for busy parents and families to make. The agreement allows PMA's community of growers, suppliers and retailers to utilize the strength and influence of the Sesame Street brand without a licensing fee, using characters like Big Bird, Elmo, Rosita and Abby Cadabby to help deliver messages about fresh fruits and vegetables. Sesame Street characters may be on produce in stores as early as mid-2014.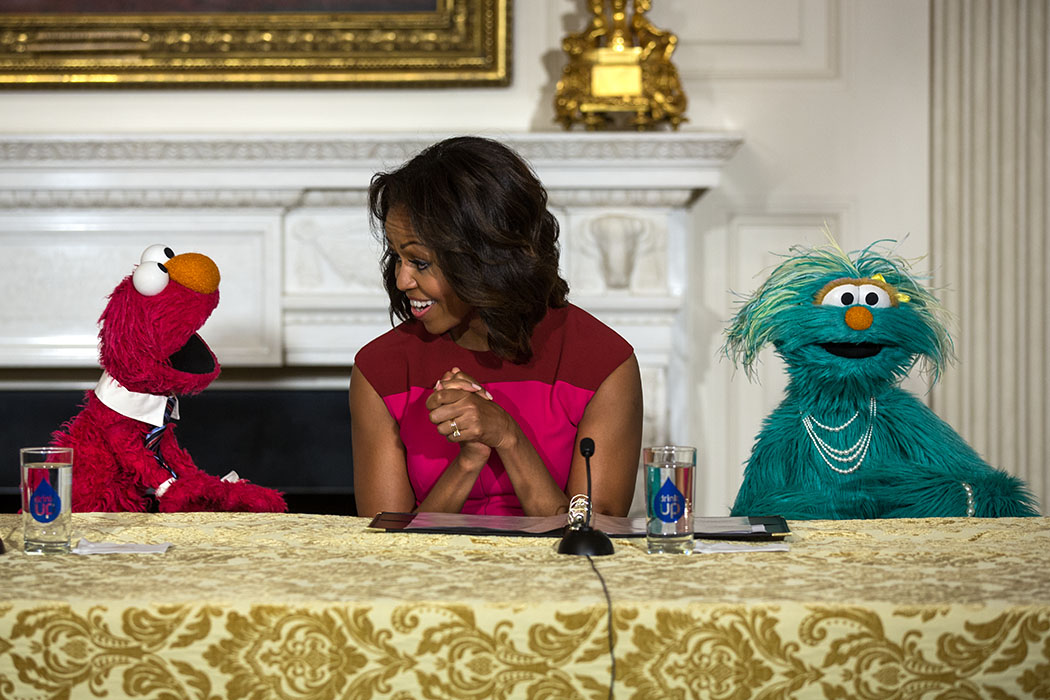 First Lady Michelle Obama, with Sesame Street Muppets Elmo and Rosita, makes a "Let's Move!" announcement about marketing healthier foods to children, in the State Dining Room of the White House, Oct. 20, 2013. (Official White House Photo by Lawrence Jackson.
The announcement comes on the heels of the first ever White House Convening on Food Marketing to Children, during which Mrs. Obama called on stakeholders to leverage the power of marketing to promote healthy products and decrease the marketing of unhealthy products to kids.
Today's announcement responded to the First Lady's call to action and recognized an incredible commitment to leverage the power of marketing to promote healthier foods to kids. Sesame Workshop is taking an unprecedented step of enabling produce companies to use the power of their characters to encourage children to eat more fruits and vegetables. In a recent study published in the Archives of Pediatrics and Adolescent Medicine, the number of children who chose apples over cookies nearly doubled when an Elmo sticker was placed on the apple. Popular characters can play a strong role in influencing kids' food choices and this commitment aims to influence healthy choices.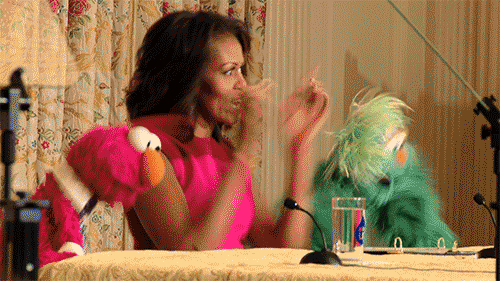 CEO of PHA Larry Soler, President and CEO of Sesame Workshop Mel Ming, and past PMA Chairman Jan DeLyser joined the First Lady to announce this incredible collaboration Sesame Workshop will also provide PMA the tools and training necessary to effectively market its products and consumer sales.
These new efforts are so incredibly important, because right now, when it comes to marketing food to our kids, as you all know, the deck is stacked against healthy foods like fruits and vegetables.

But while Sesame Workshop and PMA might be the first to answer our call, there is plenty of work left to be done, and there are plenty of different ways to show leadership on this issue. So I am looking forward to celebrating more companies and more organizations as they step up on behalf of our children."
Following the announcement, the First Lady joined Elmo, Rosita, and Executive Director of Let's Move! Sam Kass for the White House Kitchen Garden Fall Harvest. Students from DC, Virginia, West Virginia, and Maryland spent the afternoon harvesting and preparing vegetables from the garden located on the South Lawn of the White House.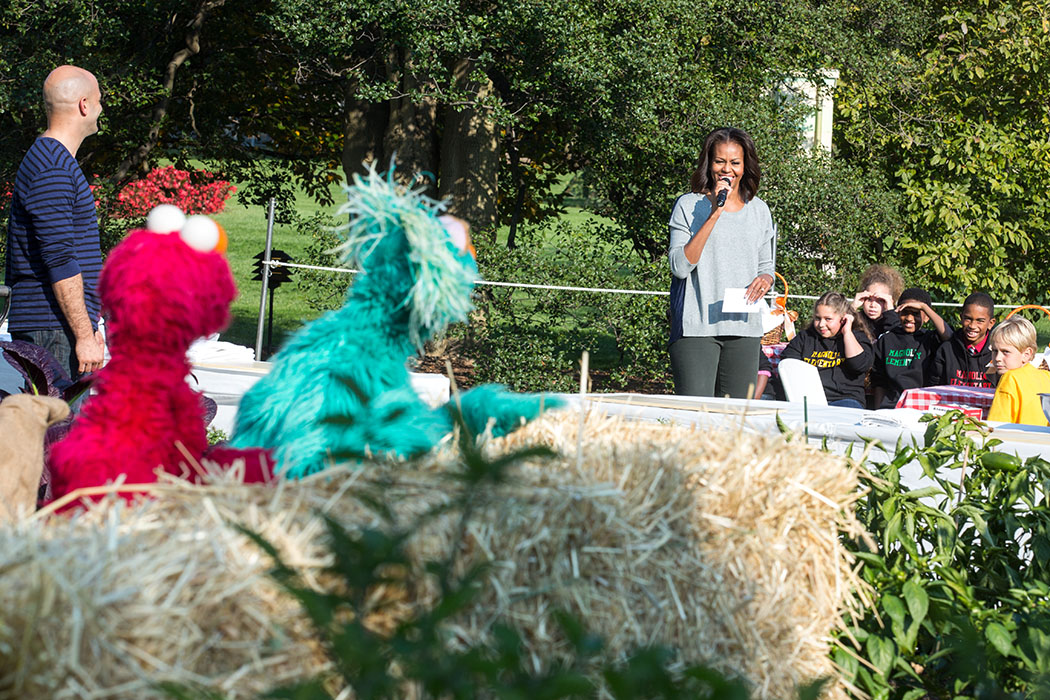 First Lady Michelle Obama, with Sesame Street's Elmo and Rosita, join students for the annual fall harvest of the White House Kitchen Garden on the South Lawn, Oct. 30, 2013. (Official White House Photo by Chuck Kennedy)
The schools that participated in the Harvest are all making healthy changes to their schools, including ensuring kids have healthy snack options. Starting next school year, all schools will be required to follow the "Smart Snacks in School" nutrition standards, which make vending machines and a la carte line healthier.
Join Elmo, Rosita and the Let's Move! gang and get involved! Like us on Facebook and follow us on Twitter to learn how you and your family can stay healthy and active.
Check out the First Lady's full remarks from this exciting announcement below!