Recipes for Healthy Kids Advances; Judges Visit Greeley, Colo., School
On April 26, I had the pleasure of visiting Harold S. Winograd School in Greeley, Colo., to kick off the judging for the First Lady's Recipes for Healthy Kids competition. As I arrived at the school, I could feel the excitement, enthusiasm, and deep pride among the students and staff.
The students greeted us at the entrance of the school, dressed in professional-looking aprons embroidered with their names, and crisp, white chef hats. Four 8th-grade students - Jace, Bethany, Abraham, Amairani - along with local chef Amanda Smith, Kara Sample, RD, SNS, the administrative dietitian for Weld County School District 6, and Emily Wigington an AmeriCorps VISTA volunteer, developed the recipe of Chic' Penne, one of 15 semi-finalist recipes from around the country.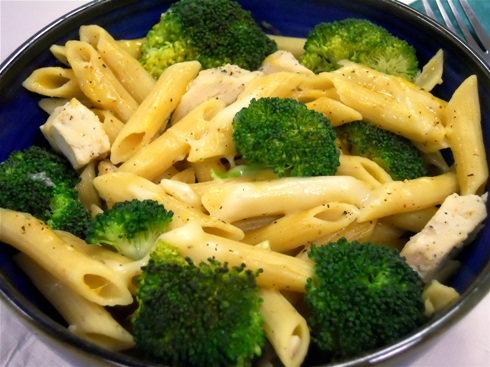 The Chic' Penne recipe from Harold S. Winograd School is a semi-finalist in the First Lady's Recipes for Healthy Kids competition.
The Harold S. Winograd K-8 School's motto is 'working together in a safe environment' and their mission is for students to achieve at high levels and celebrate the joy of learning. It goes without saying that they had a blast in developing this great recipe.
The student recipe team members were assigned one day to serve and evaluate the dish. And talk about a tough crowd with discerning tastes – the team had to whip up 200 sample portions to serve to the majority of the students in the cafeteria. And in a critique that would make the greatest chefs tremble, surveys were passed out and comments recorded.
Now a little about Chic' Penne. The recipe is a finalist in the whole grains category and this whole wheat pasta dish is bright and fun with fresh broccoli, chicken and meltedcheese. With a little spice of black pepper, this main dish is anything but ordinary. This recipe sounds like a strong match for the goals of the contest - to develop creative, nutritious, and kid-approved recipes that schools can easily incorporate into National School Lunch Program menus.
All semi-finalist recipes are currently posted on the Recipes for Healthy Kids website, and the public may vote for the "Popular Choice" award until May 31. Prizes range from $1,000 to a grand prize of $3,000. To vote with your fork, go to the Recipes for Healthy Kids website.
So check out the recipe below, try it at home or at school and best of luck to the team at Harold S. Winograd K-8 School.
Chic' Penne Recipe
Ingredients:
3 3/4 cup of whole wheat penne pasta
2 3/4 cup of raw broccoli florettes
3/4 cup of precooked chicken strips
1/2 cup of reduced-fat cheddar cheese (shredded)
1/2 cup of mozzarella cheese (shredded)
2 tbsp + 2 5/8 tsp of non-fat milk
1 Tbsp + 2 3/4 tsp of low-sodium chicken broth
3/4 tsp of salt
3/4 tsp of ground black pepper
Visit the website for preparation instructions and to cast your vote in the Recipe for Healthy Kids competition. Keep an eye on the Let's Move! blog as we report back from our next stop at Liberty Middle School in Orlando, Fla.
Love this recipe? Try: