¡Si Por Favor! We'll Take Another Serving of Spanish Chickpea Stew
The bay area of California is home to some celebrity chefs but it is the lesser known student chefs at Skyline High School that are making the bulbs flash and the critics swoon. Well before the official judging team arrived at Skyline High School in Oakland, California, the local entry, Spanish Chickpea Stew,had already passed the toughest test of all -- winning high marks from Skyline students in a cafeteria taste test.
California is home to some of the most fertile farmland in the world and so it produces some the best fruits and vegetables available. It is fitting that the student chefs would go local and include California grown specialties such as spinach, tomatoes and raisins to create this savory and healthy stew.
The recipe has humble origins and was created in the school's old home economics room. Even though it's now dedicated to math and computer science, generations of home economics students must have been silently cheering on the recipe team members as they seasoned and stirred in an effort to bring glory to their school with a winning recipe. The stew is one of 15 semi-finalist recipes in the Recipes for Healthy Kids competition, and one of five in the dry peas and beans category.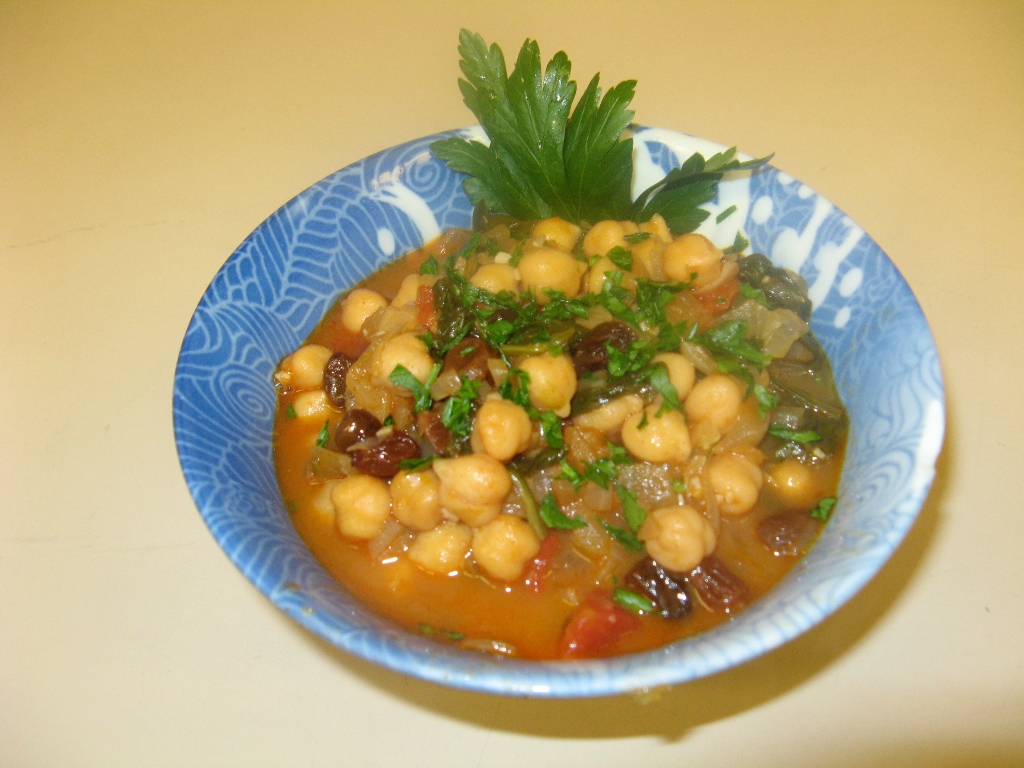 Skyline High School student chefs put some real muscle into preparing their Recipes for Healthy Kids entry, Spanish Chickpea Stew.
Team members spent long hours developing a recipe that meets student approval, is nutritious and can be incorporated into a National School Lunch Program menu. The team: Donnie Barclift of the Oakland Unified School District's Nutrition Services; Chef Jenny Huston; community members Rusty Hopewell, a public health nutritionist with the Alameda County Public Health Department, and Sage Moore, the math and computer science teacher whose room became the after-school cooking center, and Skyline student chefs, Quailyn, Karen and Rudy.
Recipes submitted by all the semi-finalists, including Skyline High School's Spanish Chickpea Stew,are posted on the website where the public can vote for the "Popular Choice" award until May 31. Prizes range from $1,000 to a grand prize of $3,000. So, to vote for your favorite, visit www.recipesforkidschallenge.com. Be sure to try this and the other recipes at home with your family or classmates.
Spanish Chickpea Stew
6 servings
Ingredients:
3 tbs. of olive oil
2 tsp. of garlic, minced
2 cups of yellow onions, peeled and chopped
2 tsp. of sweet paprika
0.3 tsp. of ground cumin
2.75 cups of Spinach, frozen, coarsely chopped
2 cups of chickpeas, cooked, canned, drained and rinsed
1.5 cups of soup stock, chicken or vegetable
0.75 cups of tomatoes, canned, diced
0.75 cups of golden raisins
2 tsp. of red wine vinegar
0.25 tsp. of Salt
0.25 tsp. of freshly ground pepper
Find out more on how to prepare this recipe, please click here.
Congratulations to Skyline High School and best of luck!
Love this recipe? Try: