Honoring the Past With a Recipe that Looks to a Healthy Future
Every now and then we come across a great story of people making change in their communities and so it was on the next stop in the Recipes for Healthy Kids competition. Tribal communities are focusing a lot of attention on ending the epidemic of childhood obesity in Indian Country and attention and credit is due to Monument Valley High School in Kayenta, Arizona. Located on the Navajo Nation, they are the only school district in Indian Country to make it to the semi-finals of First Lady Michelle Obama's Recipes for Healthy Kids competition.
The team at Monument Valley is making its contribution to a healthy community by designing a nutritious recipe that will be served to their classmates and with a bit of luck, students across the country. Our judges, score cards at the ready, could not wait to take that first bite.
Monument Valley High's recipe, Stir-Fry Fajita Chicken, Squash, and Corn, is a savory dish enhanced by natural flavors from vegetables and spices and was among just 15 recipes chosen to move forward to the semi-finals. The team came up with the Stir-Fry Fajita Chicken, Squash, and Corn recipe by combining savory Southwest spices with an Asian cooking style in a stir-fry fusion of fajita chicken strips with squash, onion, corn, red peppers, and diced chilies. Just listening to the team's description of the dish's many flavors and the delicious aroma produced when cooking, will make you want to sample this recipe right away.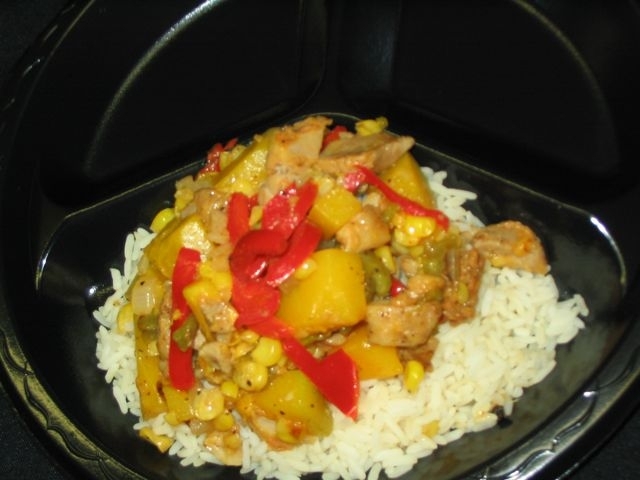 This recipe is not only delicious but it holds cultural significance. For centuries, Native American's have cultivated the soil and produced corn and squash – two of the key ingredients in this recipe. Stories, ceremonies, songs and cultural traditions surround the annual planting, growing and harvest of gardens. And stories of Three Sisters, corn, beans, and squash, refer to a tradition of interplanting these crops in the same mound. It is a sophisticated, sustainable planting system that provided long term soil fertility and a healthy diet to generations of Native Americans.
So it is only fitting that the recipe team members at Monument Valley brought this tradition back to the lunch room. This dynamite team included school nutrition professional, Cathy Getz; Chef Paul Gray, head cook at the Anasazi Inn in Tsegi, Arizona; community member, Samantha J. Interpreter; and students, Kevin and Brett.
If you'd like to try the Stir-Fry Fajita Chicken, Squash, and Corn, or any one of the other entries that made it into the semi-finals, you can find all the recipes on the Recipes for Healthy Kids website. While you're there, you can also vote for the "Popular Choice" award for the recipe you like best until May 31. Prizes range from $1,000 to a grand prize of $3,000.
Stir-Fry Fajita Chicken, Squash, and Corn
6 servings
Ingredients:
· 1 lb of fajita chicken, cooked strips
· 1 lb of Hubbard squash, diced
· .5 lb of corn, frozen
· 4 oz of green chili, diced canned
· 4 oz of onion, raw diced
· 4 oz of red pepper, raw, diced
· 2 TB of canola oil
· 4 oz of tomatoes, canned diced w/ juice
· .5 tsp of black pepper
· .5 tsp of cumin
· .5 tsp of garlic powder
· 22 oz of rice (cooked)
Find out more on how to prepare this recipe, please click here.
Best of luck to Monument Valley High School and all the semi-finalists!
Love this recipe? Try: