New Mexico School Puts a Dash of Southwest in Recipe Competition
With a name like "Lentils of the Southwest aka Sweeney Cougar Power Lentils," who says a healthy elementary school lunch can't be exciting? On Wednesday, May 18th, students at Sweeney Elementary School in Santa Fe, N.M., served judges a spicy and delicious side-dish in First Lady Michelle Obama's Recipes for Healthy Kids competition.
Sweeney fifth-grade students Melanie, Jailey, Marisol, Diana, Nicole and Eduardo worked with non-profit Cooking with Kids chef Rocky Durham and Sweeney cafeteria staff to craft their masterpiece. With expertise like this behind the stove, we are sure to see Sweeney Cougar Power Lentils clawing its way to the top of the competition.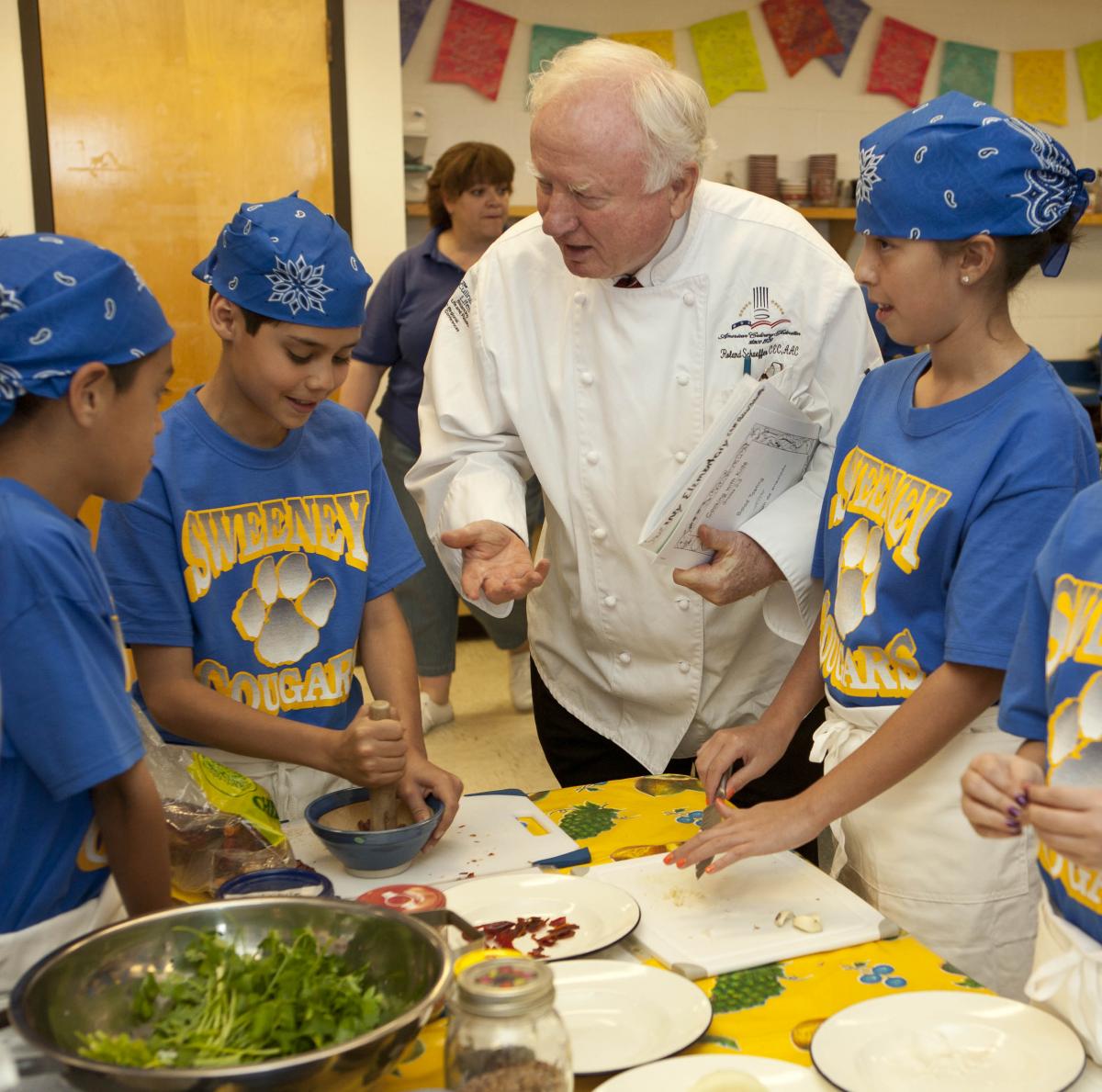 Chef Roland Schaeffer (American Academy of Chefs Hall of Fame) keeps a keen eye on student chefs cooking up Sweeney Elementary "Lentils of the Southwest, aka Cougar Power Lentils" recipe in the Recipes for Healthy Kids semi-finals competition.

Taking over a classroom after a school tour provided by Principal Theresa Ulibarri, the children performed a cooking demonstration and explained the development of the recipe. With Southwest ingredients like ground red chiles and cilantro, the dish went well with vegetable quesadillas and a mixed salad of locally grown greens. The kids also showed techniques for hand grinding the spices and proper knife use.
"Lentils of the Southwest aka Sweeny Cougar Power Lentils" is just another way kids eat healthy as part of the "Let's Move!" initiative. But healthy cooking and eating is not new to Sweeny. In fact, the school runs Cooking With Kids - a program that cultivates good nutritional habits while exploring cooking techniques with students from Kindergarten to fifth graders. Cooking With Kids also recognizes that good nutrition starts at home so parents are encouraged to attend 2 hour classes which include education, preparation and the sharing of a meal.
Semi-finalist recipes are posted on the Recipes for Healthy Kids website, and voting is open to the public for the "Popular Choice" award until May 31. Prizes range from $1,000 to $3,000 for the grand prize. Make your vote count today by going to the Recipes for Healthy Kidswebsite. If you are a parent, see just what your kids are eating, and the great progress being made in school cafeterias taking part in the event nationally. Try also cooking something different and healthy in your own kitchen. The recipes are great and nutritious, so cast a vote and tell us what you think. We know we loved them!
Lentils of the Southwest aka Sweeney Cougar Power Lentils
6 servings
Ingredients:
· 1/2 cup lentils, brown or green
· 2 cups water
· 3/4 tsp olive oil
· 2 tbsp onions chopped
· 3/4 tsp garlic, minced
· 1/2 tsp ground cumin
· 3/4 tsp ground mild red chile, optional
· ½ tsp prepared chili powder
· 1/3 cup diced tomatoes, canned or fresh
· 1/2 tsp salt
· 2 tbsp fresh cilantro, chopped
Combine the lentils and water in a saucepan. Bring to a boil over high heat. Reduce the heat to medium and cook the lentils until tender, about an hour. If needed, add more water. Sauté the onion and garlic in the olive oil for two to three minutes until softened. Stir in the ground cumin, ground red chile, if using, and chili powder. Add this mixture to the cooked lentils. Stir in the tomatoes and salt. Bring to a boil; reduce the heat to low and simmer, uncovered, for 10 minutes. Just before serving, stir in the chopped cilantro, or use it as a garnish for the lentils.
Best of luck to the Sweeney Elementary School!
Love this recipe? Try: