A Colorful Celebration of Confetti Soup
Historical Charleston, S.C., blends the traditional Southern American, English, French, and West African elements into a celebration of its colorful and rich culture. Burke Middle & High School in Charleston celebrated this mix of colorful culture with its semi-finalist recipe, Confetti Soup, making a history all its own through nutrition. The rich wintery soup made with black-eyed pea dots, mixed together with savory smoked ham and dashes of greens, was the center piece at a judging event in First Lady Michelle Obama's Recipes for Healthy Kids competition, held at the school on May 25.
Burke has a record of making history, founded in 1910, it was the first public high school for African-Americans in Charleston. And the school is looking to make history once again as the winner of the Recipes for Healthy Kids competition with its delicious recipe.
The Burke Middle & High School recipe team – Charleston County School District Food Service Supervisor and Registered Dietician Erin Boudolf; CypressExecutive ChefCraig Deihl; community members, Nutritionist Jennifer Moore and Registered Dietician Coleen Martin; and students Auja Ravenel, KéShaun Jones, Quatifah Lockwood, and Tyler Manigault– all worked together to develop the winning semi-finalist recipe at the Cypress restaurant located in Charleston. Then Chef Deihl and student team members prepared the recipe for taste testing and received feedback from almost 100 students before submitting.
Burke Middle & High School's Confetti soup, entered in the Dry Beans and Peas Category, was among the 15 recipes chosen as a semi-finalist out of the 340 entries submitted. To include the high school students in the fun, Burke Culinary Arts students set up and manned a taste testing station during their lunch period where students and staff sampled a small serving of the Confetti Soup.
To vote for your favorite recipe, go to the Recipes for Healthy Kids website before voting closes on May 31. Below is the recipe for Burke Middle & High School's Confetti Soup for you to try at home with your family or with your classmates: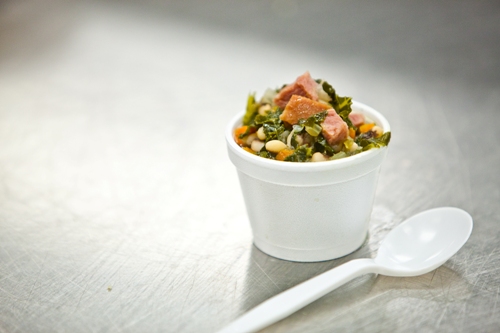 Confetti Soup
6 Servings
Ingredients:
1 3/4 tsp of Canola oil
Carrots, raw, diced (3 2/3oz)
4 Tbsp + 2 1/3tsp of Kale, raw, chopped
Onions, frozen, chopped (3 2/3oz)
Celery, raw, chopped (3 2/3oz)
1/2 tsp of Black pepper
3 1/2cu of Water
1 Tbsp, 2/3tsp of Parsley, raw
1/4 tsp of Fennel seed, whole
1/6 tsp of Crushed red pepper
Black-eyed peas (1 lb, 2 oz)
Turkey ham (6 oz)
1/2 tsp of Salt
To find out more on how to prepare the recipe, please click here.
Best of luck to Burke Bulldogs and all the semi-finalists!
Love this recipe? Try: