In Recipe Competition, Ohio School Puts a Healthy Twist on a Tasty Dish
Who says a delicious classic can't also make a healthful lunch? On Tuesday, students at Van Buren Middle School in Kettering, Ohio served judges in the First Lady's Recipes for Healthy Kids competition their Chicken Alfredo with a Twist, an updated take on Fettucine Alfredo that leaves out extra fat and boosts nutrition with whole grain pasta. Van Buren students Graham, Jonathan, Shawnrica and Savannah worked with chef Rachel Tilford and Kettering school professionals to create a great dish – one of 15 semi-finalist recipes nationwide in the R4HK whole grain category.
The team went through a serious development process, beginning in December 2010 by developing nine different recipes. They selected their five favorites to be prepared and served to approximately 500 students during a taste test at Van Buren Middle School. Students were asked to vote for their favorite two recipes. The team submitted the top two recipes to the Recipes for Healthy Kids competition – and this twisty pasta dish sprung them to the semifinal round.
Dishes like Chicken Alfredo with a Twist, that begin with an old favorite and rebuild it to maximize nutrition, are a great way to give students flavors they will enjoy while also promoting good health. It's also designed so that it can be prepared and served as part of a National School Lunch Program menu. Clearly, this team was using their noodle!
The judging event included both a cooking demonstration and tasting in the cafeteria with several dozen students, and a physical education class emphasizing the value of daily physical activity. Cincinnati Bengals mascot "Who Dey" joined the students in a variety of exercises. The two activities underscored the importance of balancing the calories you eat with the ones that you use – a central principle of a healthy weight and lifestyle.
Semi-finalist recipes are currently posted on the Recipes for Healthy Kids website, and the public may vote for the "Popular Choice" award until May 31. Prizes range from $1,000 to a grand prize of $3,000. You can make your vote count by going to the Recipes for Healthy Kids website.
So give this delicious recipe a try, check out the others on the R4HK website, and cast a vote for your favorite!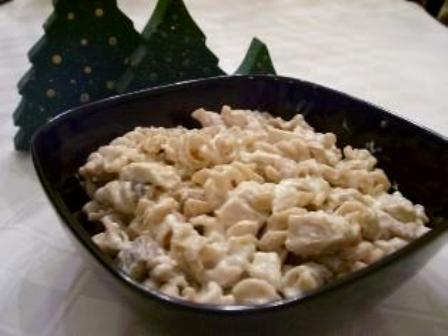 Chicken Alfredo with a Twist Recipe
Serves 6 (one serving = 1 cup)
Ingredients:
2 soup cans of soup, cream of chicken
1.5 cups of half & half cream, fat free
1/4 tsp. of white pepper
1/8 tsp. of garlic powder
1/4 cup of parmesan cheese, grated
1.5 cups of diced chicken
2.75 cups of dry Rotini pasta
To see the tricks of the trade in pulling this recipe together and to cast your vote in the Recipe for Health Kids competition, click here. Keep an eye on the Let's Move! blog as we report back from our next stop at Joshua Cowell Elementary School in Manteca, California.
Please follow USDA's Food and Nutrition Service on Twitter at http://twitter.com/usdanutrition
Love this recipe? Try: