A Gold Medal for Getting Active!
Today kicks off the 22nd Winter Olympic Games, and athletes from all across the globe are getting ready to compete in the sports they love. Two years ago, First Lady Michelle Obama led the U.S. Presidential Delegation to the 2012 Olympic Games in London. While she was in London, Mrs. Obama joined current and former Olympic athletes along with American and British kids to celebrate the spirit of the Games through Let's Move! London. The First Lady participated in fun activities from soccer and tug of war to ladder hurdles with the kids and Olympians, and she reminded everyone about the importance of staying active and eating healthy, and most importantly to have fun doing it!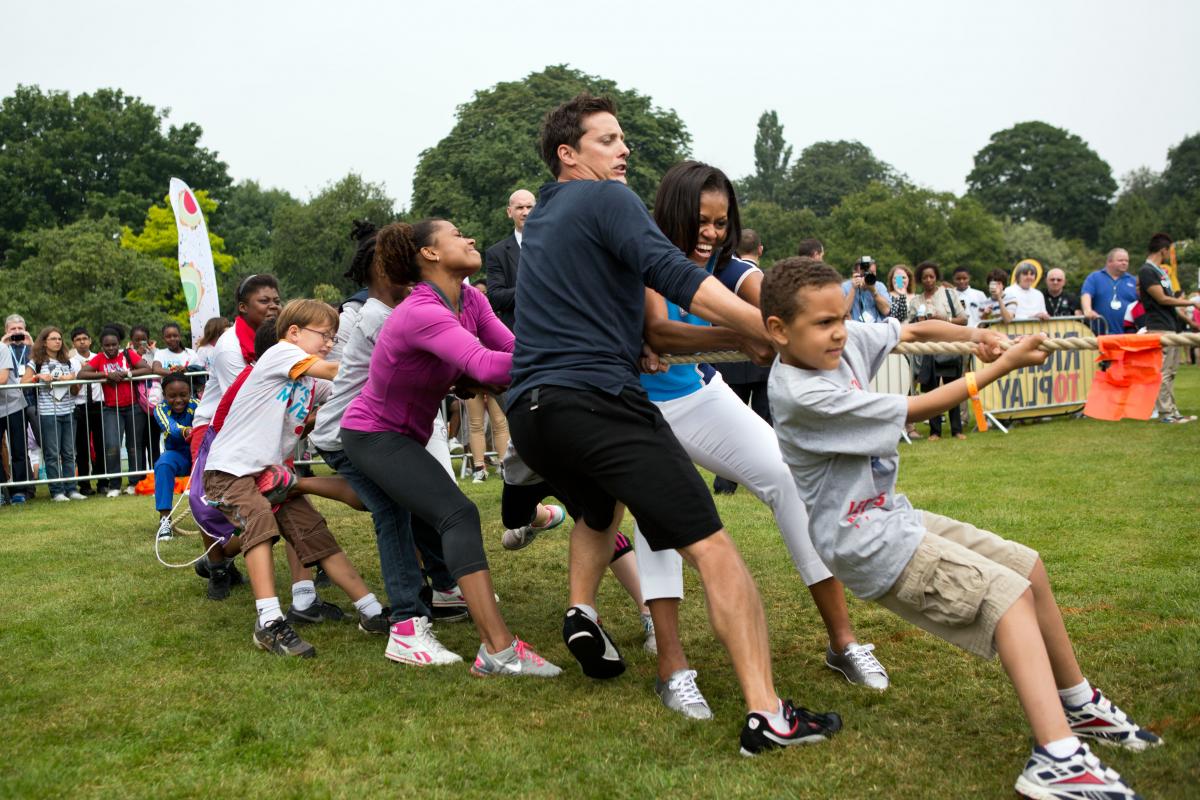 First Lady Michelle Obama participates in a tug of war competition during a "Let's Move! London" event at Winfield House in London, England, July 27, 2012. (Official White House Photo by Sonya N. Hebert)
"We want you to see that there are all kinds of ways that you can stay active and have fun doing it. You don't have to be an Olympian. You don't have to join a team. But there are so many ways that you can have fun and keep yourselves moving."
The First Lady cheered on U.S. Olympians, such as gold medalist Michael Phelps, who recently joined the First Lady for an announcement with SUBWAY restaurants encouraging healthy eating for our nation's kids.
Take it from @USOlympic swimmer @MichaelPhelps: eating healthy helps you perform at your best #LetsMove https://t.co/ey48vNvFre

— Let's Move! (@letsmove) January 23, 2014
Olympic athletes like Michael Phelps know that in addition to being active, eating healthy is important to help them perform at their best and bring home the gold! We look forward to the excitement of these Winter Olympic Games and wish Team USA the best of luck!