First Lady Michelle Obama Hosts Let's Move! London
Ed note: This post originally appeared on the blog at whitehouse.gov
Today, First Lady Michelle Obama joined 2,000 American military children and American and British students at Let's Move! London, an event held to spread the spirit of the Olympic Games in London. The First Lady is leading the U.S. Delegation to the Summer Games and Let's Move! London was designed to turn the inspiration of the Olympic and Paralympic Games into action by encouraging kids to get moving.
"That's what Let's Move is all about. It's about helping kids like you live happier, healthier lives," Mrs. Obama told the crowd gathered at the U.S. Ambassador's Residence in London. "And that's really why we brought you all here today… because we want you to see that there all kinds of ways that you can stay active and have fun doing it. You don't have to be an Olympian. You don't have to join a team. But there are so many ways that you can have fun and keep yourselves moving."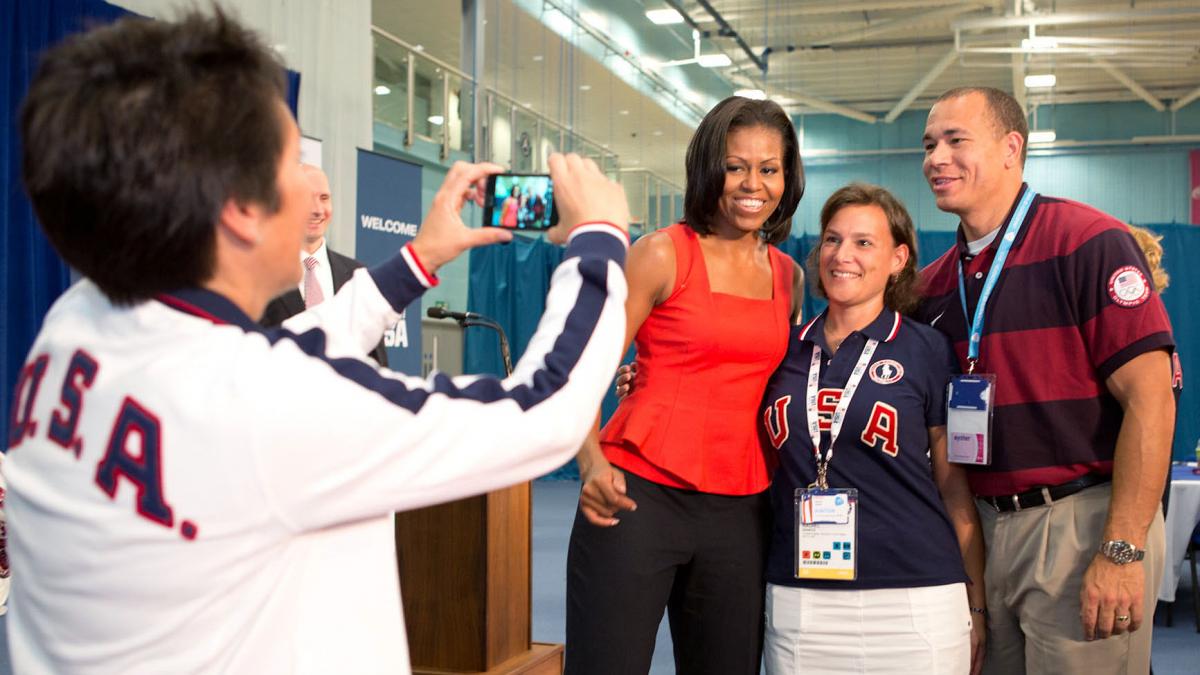 First Lady Michelle Obama is photographed with Team USA Olympic athletes competing in the 2012 Summer Olympic Games during a greet at the U.S. Olympic Training Facility at the University of East London in London, England, July 27, 2012. (Official White House Photo by Sonya N. Hebert)
Taking her own advice, the First Lady participated in a whirl of activities -- starting with a soccer game alongside David Beckham, Brandi Chastain, players from Manchester United, and Spongebob Squarepants as the goalie. Next up was the NBA Fit station, where Mrs. Obama practiced ladder hurdles with Grant Hill and Dikembe Mutumbo and passed the basketball with young players. Other activities included running a shuttle relay with Carl Lewis, watching a field hockey game with Gabriel Diaz De Leon, competing in a game of tug-o-war with Apolo Ohno, Jeff Sutphen, and Nastia Luikin and then assorted games with Summer Sanders, Bart Conner, and Ian Baranski, before finally joining a doubles match on the tennis courts with Shawn Johnson.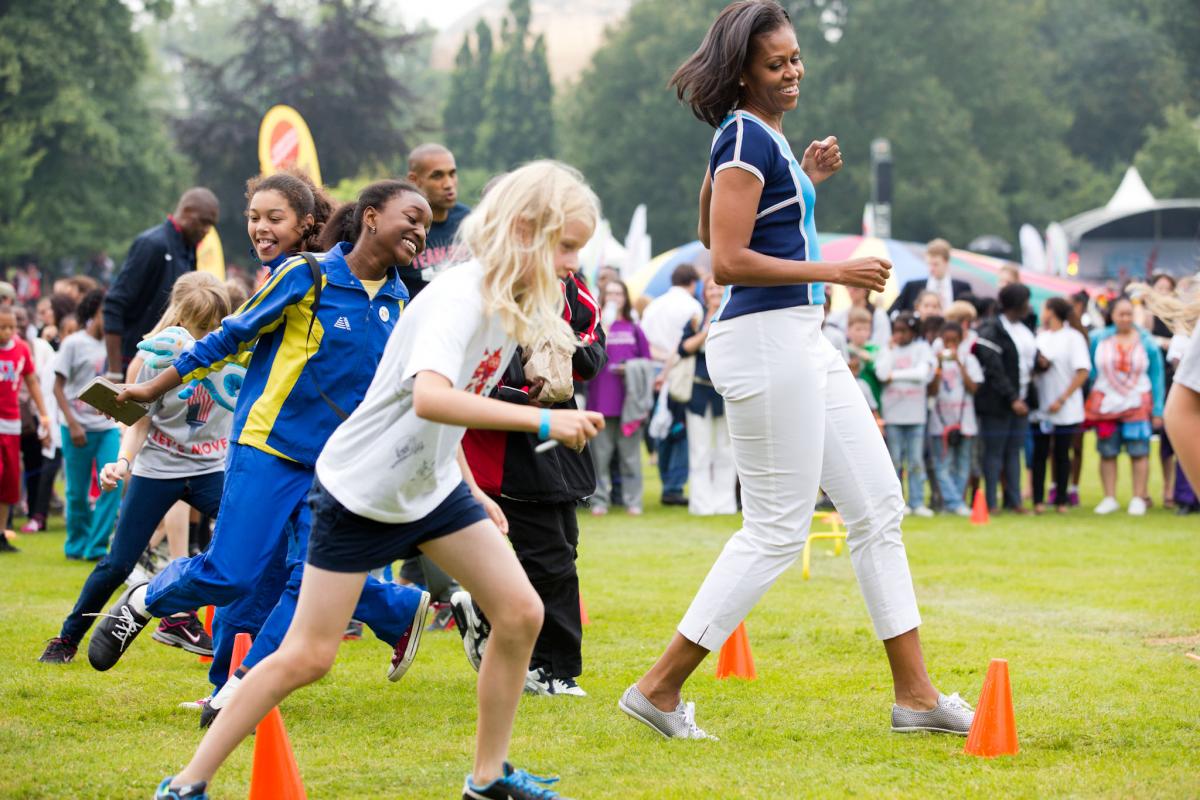 First Lady Michelle Obama runs at an activity station during a "Let's Move! London" event at Winfield House in London, England, July 27, 2012. (Official White House Photo by Sonya N. Hebert)
Let's Move! London was held in support of Let's Move!, the First Lady's initiative to solve the problem of childhood obesity in a generation. Families here in the U.S who are inspired by Team USA to get active can take advantage of a nationwide commitment by the United States Olympic Committee, U.S. Paralympics, the U.S. Olympians Association, and USOC National Governing Bodies to give 1.7 million young people the chance to participate in Olympic and Paralympic sports in their communities – many of them for the very first time. You can search by zip code to find opportunities near you by visiting www.ahealthieramerica.org/olympics.
And the Let's Move! team is looking forward to more Olympic fun this weekend. Tonight, Mrs. Obama will lead the Presidential Delegation of Olympic and Paralympic greats to the Opening Ceremony of the 2012 Olympic Games. And tomorrow is the first Let's Move! Olympic Fun Day back home: a nationwide movement encouraging cities, towns and neighborhoods to come together and participate in their own versions of Olympic-inspired games and activities.
---
Learn more