Michael Phelps, Nastia Liukin, and Justin Tuck join First Lady Michelle Obama as SUBWAY Restaurants Answers Mrs. Obama's Call to Market Healthier Choices to Kids
Today, First Lady Michelle Obama visited a local SUBWAY to announce a three-year commitment between SUBWAY restaurants and the Partnership for a Healthier America (PHA) to promote healthier choices to kids, which will include the launch of the restaurant chain's largest kid-focused marketing campaign to date. In addition, SUBWAY will set and implement new marketing standards to kids and strengthen its already-nutritious children's menu offerings.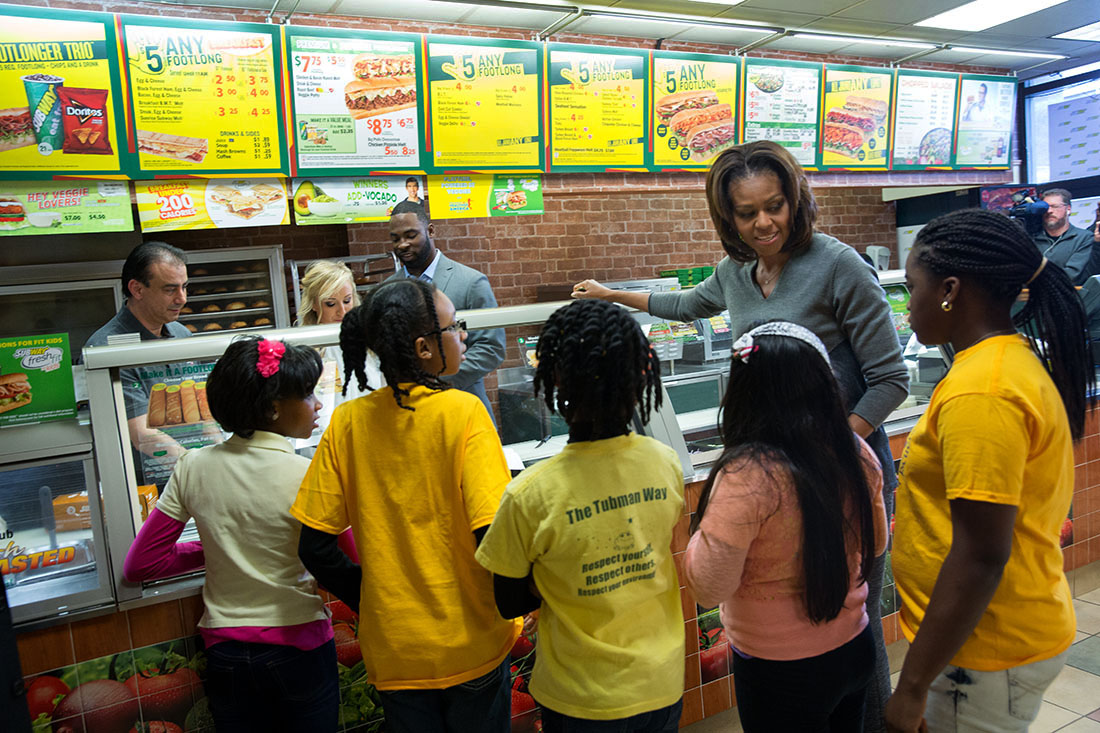 First Lady Michelle Obama orders a Subway sub made by Olympic gymnast Nastia Liukin and National Football League player Justin Tuck, during an event at a Subway restaurant to announce that Subway will work with the Partnership for a Healthier America to help advance the goals of "Let's Move!," in Washington, D.C., Jan. 23, 2014. (Official White House Photo by Amanda Lucidon)
"SUBWAY isn't just offering healthy choices... they're putting real money behind marketing these choices to kids. They're actually working to get kids excited about eating their vegetables."
This commitment follows the first-ever White House Convening on Food Marketing to Children held this past fall, and SUBWAY has answered the First Lady's call to leverage the power of marketing to promote healthier products and decrease the marketing of unhealthy products to kids.
As part of the commitment, SUBWAY's "Playtime, Powered by Veggies" marketing campaign will promote increased fruit and vegetable consumption by encouraging kids to pile on their veggies and select fruit as their side choice. Additionally, SUBWAY will only offer items on its kids menu that meet strong nutritional guidelines informed by the federal standards for the national school lunch program, including offering apples as a side and low-fat or non-fat milk or water as a default beverage.
"The new Fresh Fit for Kids meals here at SUBWAY are a terrific example of what a kids' menu should look like."
After the announcement, Mrs. Obama joined local DC students to pile on their veggies for a Fresh Fit healthy lunch with Olympic swimmer Michael Phelps, Olympic gymnast Nastia Liukin, and New York Giants player Justin Tuck. The athletes helped prepare the veggie-filled sandwiches and then dined with the First Lady, the students, and their parents.