Kicking off Let's Move!'s Anniversary Month with Our Top Five Let's Move! Moments of the Last Year
This month marks the fourth anniversary of Let's Move! As we gear up to celebrate the anniversary with events and new announcements, the Let's Move! team took a moment to look back at the last year. Here's what we thought were our most memorable moments. What do you think? Share your favorite Let's Move! moments with us through Twitter and Facebook using #LetsMove.
Drumroll please…
5) Launch of Let's Move! Active Schools
Let's Move! Active Schools is all about reintegrating physical activity before, during, and after students' school days so they get the 60 minutes of activity they need to grow up healthy. In February of last year, athletes like Colin Kaepernick and Serena Williams joined the First Lady to help launch this exciting new program and since then, over 6,000 schools have signed up!
So grateful all these amazing athletes (and SI Kids) joined us in Chicago to launch #activeschools on #letsmovetour pic.twitter.com/6ySTqMEQYc

— FLOTUS (@FLOTUS) February 28, 2013
4) Second Annual Kids' State Dinner
Over 1,300 recipes were submitted for the Healthy Lunchtime Challenge last year, and 54 budding young chefs from across the country were selected to join the First Lady for the Second Annual Kids' State Dinner at the White House. We danced the afternoon away and ate delicious meals. The President even stopped by to congratulate the chefs.
3) Launch of the Drink Up Campaign
Together with the Partnership for a Healthier America, the First Lady launched the Drink Up campaign in Watertown, WI to encourage Americans to drink more water. On the day of the launch, morning and late night TV shows participated in a water toast to Drink Up to help remind everyone that drinking water a simple step that each of us can make to be healthy.
2) Elmo and Rosita Joined the First Lady for a Special Announcement (and a Let's Move! cheer)
Sesame Street's Elmo and Rosita visited the White House to help announce a commitment between Sesame Workshop and the Produce Marketing Association (PMA) that enables PMA members to use the Sesame Street characters, without a licensing fee, to encourage kids to eat fruits and vegetables. Following the announcement, Elmo and Rosita joined the First Lady and local students for the annual fall garden harvest.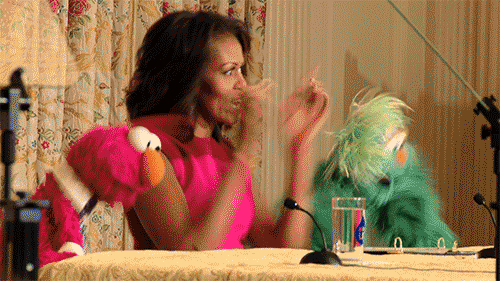 1) Evolution of Mom Dancing with Jimmy Fallon
As part of last year's Let's Move! anniversary celebration, the First Lady joined Jimmy Fallon and showed us their moves – that is until the First Lady showed Jimmy up with her Dougie moves.
In case you missed it: First Lady Michelle Obama & @JimmyFallon in "Evolution of Mom Dancing." http://t.co/MSKJKL2DbZ #LetsMove #Momdancing

— FLOTUS (@FLOTUS) February 23, 2013
And because we couldn't pick just 5...
How could we forget the First Lady's recent slam dunk? Check out the Miami Heat and the First Lady as they dunk (and photobomb) to the sound of the importance of eating healthy to perform like a champion.
Enjoy these moments? Be sure to stay tuned in the coming weeks as we celebrate the fourth anniversary of Let's Move! Follow us on Twitter and like us Facebook to stay updated on our latest activities!