New Program Will Help Bring Physical Activity Back to Schools
First Lady Michelle Obama was in Chicago today, to announce a new collaboration designed to bring physical activity back to American schools.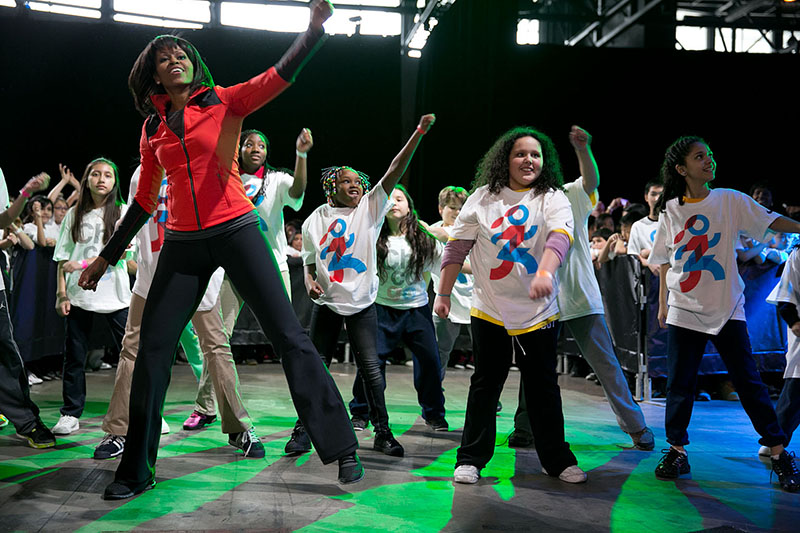 First Lady Michelle Obama exercises with kids during a "Let's Move! Active Schools" event at McCormick Place in Chicago, Ill., Feb. 28, 2013. (Official White House Photo by Lawrence Jackson)
Let's Move! Active Schools combines elements of existing programs and draws on new resources to provide customized support for schools to encourage physical activity. The program mobilizes physical education teachers, classroom teachers, administrators, staff, and even parents to be "school champions" for their school community. School champions are encouraged to sign up at LetsMoveSchools.org, where they will be guided along a simple, six-step process. Participating schools will have access to free tools and resources, including in-person trainings, program activation grants, and direct, personal assistance from certified professionals.
According to the Physical Activity Guidelines for Americans, children and adolescents need at least 60 minutes of moderate to vigorous physical activity each day to stay healthy. Physical activity enhances important skills, like concentration and problem solving, which have been shown to improve academic performance. However, kids today are the most sedentary generation in America's history. Only 1 in 3 children is active on a daily basis and only 4 percent of elementary schools, 8 percent of middle schools and 2 percent of high schools currently offer daily P.E.. Meanwhile, only 9 states require recess in elementary schools.
With each passing year, schools feel like it's just getting harder to find the time, the money, and the will to help our kids be active. But just because it's hard doesn't mean we should stop trying – it means we should try harder. It means that all of us – not just educators, but businesses and non-profits and ordinary citizens – we all need to dig deeper and start getting even more creative.

That's what Let's Move! Active Schools is all about – it's about all of us coming together to once again make being active a way of life for our kids. And with today's announcement, anyone, in any community, can become a champion to bring physical education back to their school. – First Lady Michelle Obama
Kids spend a significant portion of their time in school, which is why this initiative focuses on the school environment as a key place to increase access to quality physical activity, so that all students stay healthy and reach their potential. Let's Move! Active Schools is designed to make this work easier for schools by recommending evidence-based, free or low-cost solutions and providing ongoing support to every school that signs up.
U.S. Secretary of Education Arne Duncan joined Mrs. Obama at the Chicago event to launch the program.
Good health is not an add-on to a good education. Our children need to be healthy to be prepared to learn, and we know active students are better able to engage in the classroom and excel academically. We need more of our schools creating environments that promote physical activity and play and encourage our students to get moving. – Secretary of Education Arne Duncan
Let's Move! Active Schools also calls on parents and community members to build support for active lifestyles and help schools make movement a part of every student's day.