Prince George's County Schools in Maryland Enjoy Meals, Get Moving
When the new school meal pattern rules were released as part of the Healthy, Hunger Free Kids Act, I knew Prince George's County Schools (PGCPS) were ready. In fact, our district food service program has been serving healthier choices for years. Our kids have embraced the healthier fare and parents have also fully supported our menu choices. And at PGCPS we pay special attention to breakfast—hands-down the most important meal of the day. It gives our students energy to start their day equipped and ready to learn.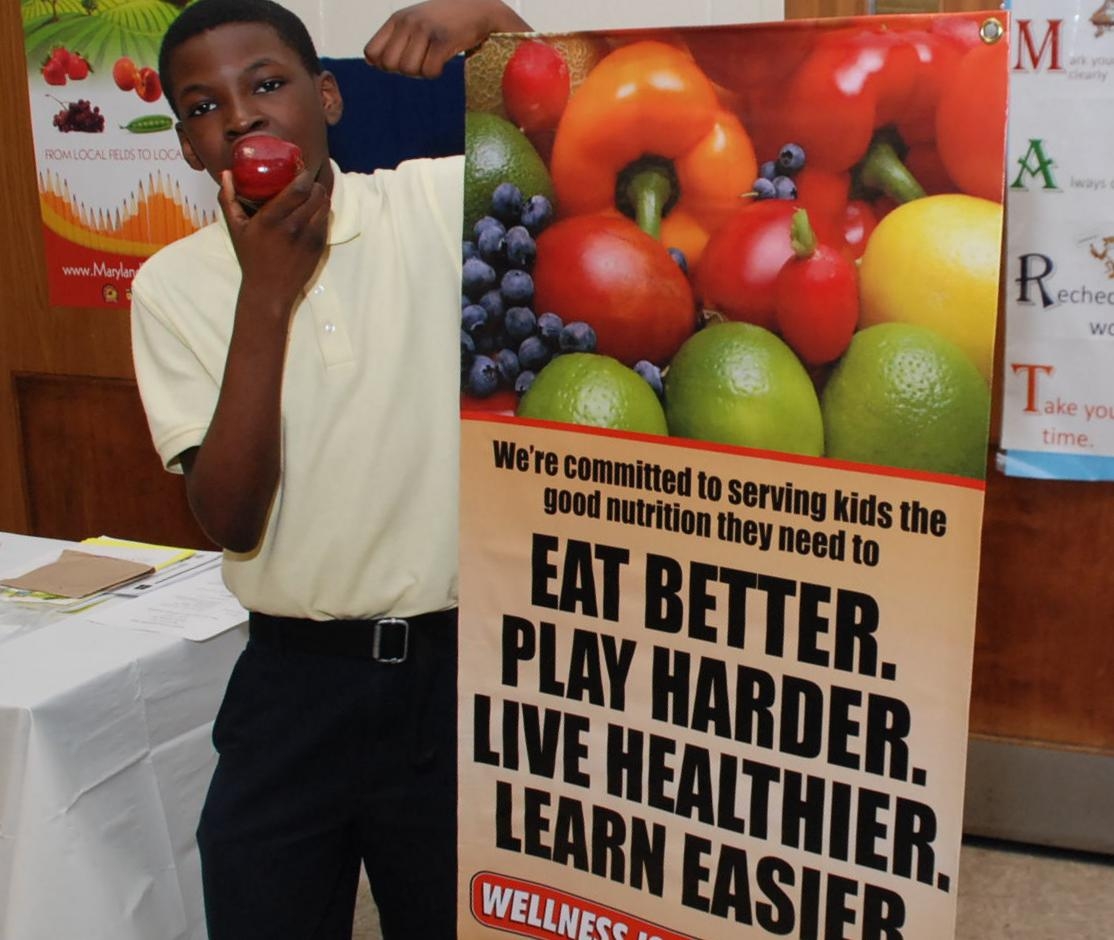 D'Laino Hanson, an eighth grade honor student at Thomas Johnson Middle School in Lanham, Marylan, enjoys an apple following a healthy eating and exercise class taught by the University of Maryland Extension Food Supplement Nutrition Education Program.
We understand that serving nutritious meals at breakfast and lunch is only half the battle. PGCPS have enlisted the advice of the Alliance for a Healthier Generation and the University of Maryland Extension. They're helping us reach our goal of improving the health and physical fitness of both students and employees throughout the district. With their expert advice and training we now boast of new and robust nutrition education in the classrooms along with fun physical activities—lessons students take home to their parents.
To help celebrate National School Breakfast Week, Thomas Johnson Middle School in Lanham, Maryland, welcomed Deborah Archer from the University of Maryland Extension Food Supplement Nutrition Education Program. Deborah had students sample healthy breakfast items like flatbreads and fruit before she got them moving.
Ms. Archer led the students through exercises such as squats, walking in place and breathing activities. Nutritional facts and small prizes were included in a bag for students to take home. It was a fun day for all as we celebrated healthy eating and physical activity, a winning combination for school-age students everywhere -- and one that mirrors the First Lady's Let's Move! initiative. We're proud to say our kids eat better, play harder, live healthier, and learn easier.
"Students should have at least 60 minutes of physical activity per day," said Archer, "This morning we modeled exercises that could be done at home, at school or just in their neighborhood that do not require any special equipment."
Let's Move! is celebrating National Nutrition Month with stories of school cafeterias serving healthy meals across the country. Learn more about the historic, healthy changes to school meals.
---
See other blog posts in this series: