Cooking Up Change at Kihei Public Charter School in Hawaii
Kihei Public Charter School (KPCS) in Hawaii is unique—the school relies on its immediate neighborhood for all hot items served in its cafeteria.
KPCS operates a "cold kitchen," which is almost exclusively used in the preparation of fresh fruits and vegetables made available for the increasingly popular salad bar. The salad bar often carries local options such as persimmons, strawberries, papayas, kale, romaine and more, some of which may be harvested by the students themselves from the school garden. For the hot portion of the meal, KPCS turns to the community. The school staff worked with local area restaurants, some just across the street, to provide hot entrées that meet the new USDA meal guidelines as well as the HealthierUS School Challenge criteria.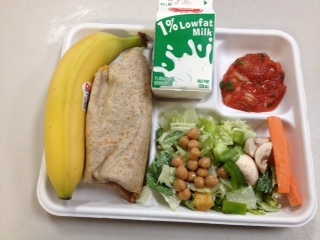 A delicious meal prepared by staff at Kihei Public Charter School featuring fresh, local products.
Many of the guidelines represented a significant change from the traditional food culture of the area, especially the focus on whole grains. With the restaurants cooking up batches of brown rice and serving whole-grain bean burritos, whole wheat pasta, and whole wheat pizza to meet the students' demands, school staff and parents saw that the students were quickly changing their eating habits for the better.
One 7th grader wrote, "I talked to my parents about the healthy food at school and they said that we should make everything healthy [at home], or at least as healthy as possible."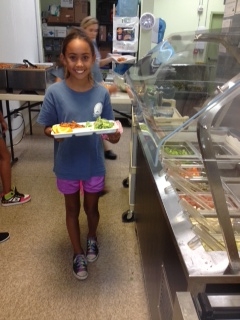 A student at Kihei Public Charter School piles her tray high with fresh fruits and vegetables from the salad bar.
While it is well understood that changing habits and behaviors will be neither swift nor simple, KPCS staff know that this is where to begin and they are seeing in the change in their community already!
Let's Move! is celebrating National Nutrition Month with stories of school cafeterias serving healthy meals across the country. Learn more about the historic, healthy changes to school meals.
---
See other blog posts in this series: