In Texas, Technology Hits Cafeterias
Dallas is using innovation to make school meals more appealing to students. Check out these simple tricks of the trade used in Dallas ISD's school cafeterias.
Attractive displays, culinary training and colorful menus are a few of the things Dallas Independent School District is using to enhance its food preparation and meal service at a handful of schools, and "the food was very attractive and tasted great," according to a recent visit from its State Department of Agriculture.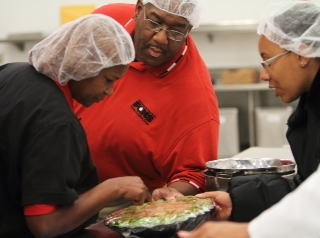 Dallas ISD cafeteria supervisors are looking at a new salad as part of culinary training. This is the second year of culinary training for all cafeteria supervisors and cafeteria staff. They learn basic culinary skills as well as customer service.
So how did Dallas ISD build a good school nutrition program? Check out their tips below:
Include students to make food tasty and appealing. Student involvement is an important ingredient in the district's nutrition programs. Students participate in annual recipe contests with winning entries added to the menu in the "Student Chef Recipes" section. Student preferences were also taken into account when Dallas ISD developed the Quick Meal/Smoothie Bars—"Exchange"—reimbursable lines in high schools that offer some a la carte items such as smoothies and healthy snacks.
Educate your eaters. Dallas cafeterias use technology to teach students about good nutrition and what makes up a reimbursable meal by displaying important nutrition information on monitors in the cafeteria, which also broadcast messages that encourage children to eat healthy school meals.TIP: Dallas ISD used HealthierUS School Challenge award money to buy the monitors.
Get creative about the cafeteria. The district teaches students about choosing the right foods using table tent flip charts that sit on the counter. The charts show children what they need to take from the line and put on their plates. Supervisors flip to a new menu each day.


The Media-cast monitors provide nutrition and promotional messages to encourage children to eat school meals. The monitors were purchased with HealthierUS School Challenge award funds.
Dallas ISD, like many Texas schools, is using innovation and creativity to improve school nutrition for young Texans. Learn more about the historic, healthy changes to school meals,
---
See other blog posts in this series: