On Today's Lunch Menu: Pita Sandwiches
We're continuing our celebration of National School Lunch Week with another easy and delicious recipe. If you have a favorite lunch recipe, join the conversation on the Let's Move! Facebook page and enter the Recipes for Healthy Kids competition.
Today's Recipe: Greek Salad Pita Sandwiches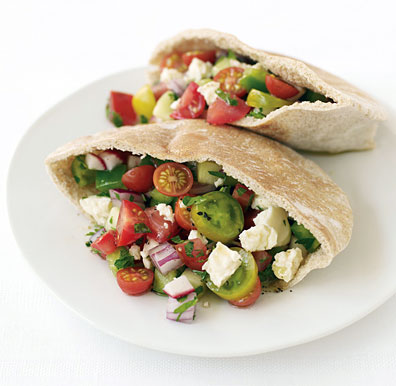 Ingredients
3 tablespoons extra-virgin olive oil
1 tablespoon red wine vinegar 1 1/4 cups chopped seeded plum or cherry tomatoes
1 cup diced seeded peeled cucumber
1 cup chopped green bell pepper
2/3 cup chopped red onion
1/2 cup chopped radishes
1/2 cup chopped fresh Italian parsley
1 cup crumbled feta cheese (about 4 1/2 ounces)
4 8-inch-diameter whole wheat pita breads, halved
Preparation
Whisk olive oil and red wine vinegar in large bowl. Season dressing with salt and pepper. Mix tomatoes, cucumber, bell pepper, red onion, radishes, and parsley into dressing. Stir in feta cheese.
DO AHEAD: Salad can be made 2 days ahead. Cover and chill. Using slotted spoon, transfer salad mixture to pita bread halves. Serve sandwiches immediately. Recipe courtesy of Epicurious.com

Love this recipe? Try: