Fall Harvest Recipe: Pumpkin Sweet Potato Soup with Cinnamon Glazed Carrots
Chef Thomas Ciszak joined the First Lady today for the Fall White House Kitchen Garden Harvest along with a few of this year's Kids' State Dinner winners and students from schools across the country participating in farm to school programs. Chef Thomas and his team of student helpers prepared Pumpkin Sweet Potato Soup with Cinnamon Glazed Carrots for everyone to enjoy.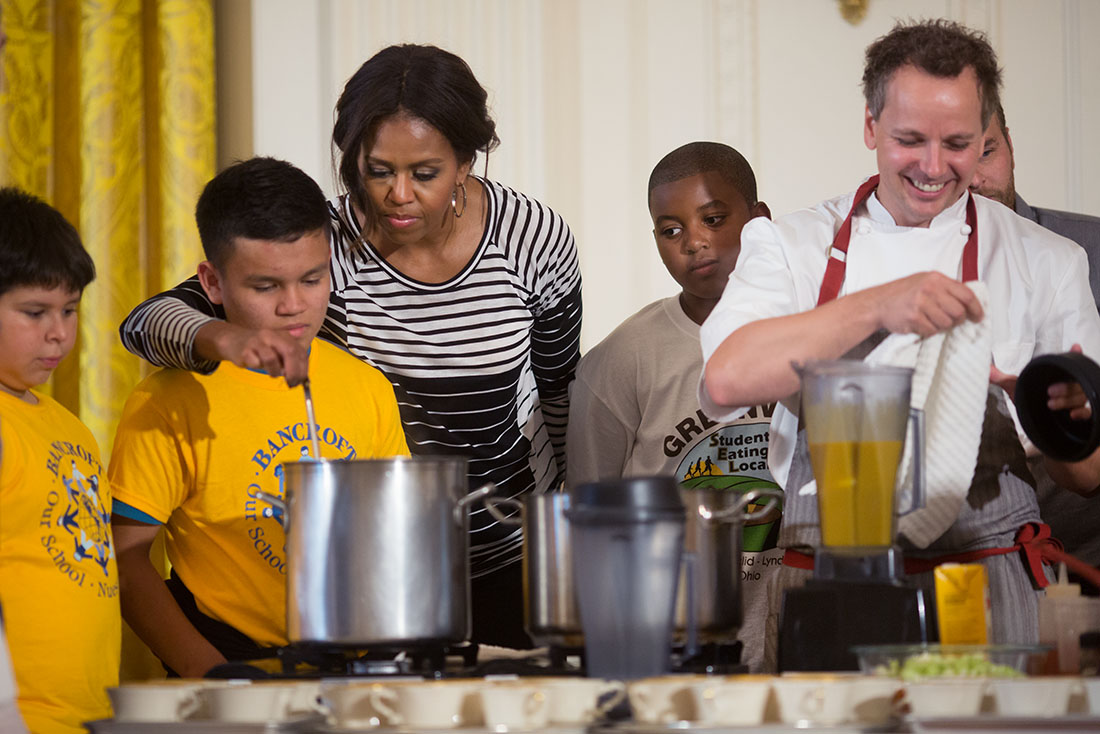 First Lady Michelle Obama joins school children and chefs in the East Room to prepare meals inspired from the ingredients of the annual fall harvest of the White House Kitchen Garden, Oct. 14, 2014.
This fall, Chef Thomas will be joining Kids' State Dinner winner Jacob Cook from New Jersey to host free and healthy cooking demonstrations to help teach kids and families in their community basic cooking skills as part of the Kids and Chefs Cook for Success Program.
Check out the recipe below and try it out at home!
Serves: 6 – 8 people
Ingredients:
For the soup:
2 tsp sunflower oil or vegetable oil
1 small pumpkin
2-3 sweet potatoes
1 cup diced celery
2 shallots or one onion
2 oz cider vinegar
2 oz honey
3 quarts of chicken stock or vegetable stock
1 lemon (juiced)
3 oz crème fraiche
1 tsp Asian "5 spice" (to taste)
Sea salt and nutmeg to taste
For the carrots:
5 carrots
1 oz butter
1 tsp honey
2 tsp ground cinnamon
Sea salt to taste
Preparation:
Peel and dice the pumpkin and sweet potato into 1 inch dices. Peel and mince the shallots. Cut celery into dices.
Heat the sunflower oil on medium heat in large soup pot. Add sweet potato, pumpkin, and shallots. Stir for 3 minutes on medium heat. Add honey and vinegar, and continue cooking for about 3 minutes. Add 2 quarts of chicken stock and bring to a simmer for 10-13 minutes. Blend in a blender until smooth. Adjust with stock if needed.
Add the lemon juice for flavor. Add the crème fraiche with a whisk, and season with five spice, salt and nutmeg.
Peel the carrots and slice into thin discs. Sautee on medium heat with butter and honey, add 1 oz water and season with cinnamon and salt. Cook until al dente. Place carrots into soup cups and then add soup.