Let's Move! Child Care Reaches Over 12,000 Providers Committed to Instilling Healthy Habits for Life
This week, First Lady Michelle Obama visited a local child care center to highlight the progress of Let's Move! Child Care and recognize a new child care provider signing on to support the program. Since launching in 2011, over 12,000 providers have committed to fostering healthy environments and instilling healthy habits among our nation's preschoolers that will last a lifetime. Through Let's Move! Child Care, providers are increasing physical activity, limiting screen time, serving healthier food and beverages, and supporting breastfeeding mothers. More than 1 million children are being reached by early childhood education networks that have committed to Let's Move! Child Care.
Learning Care Group, the second-largest for-profit child care provider in the country, has committed to the Partnership for a Healthier America to implement policies and procedures that reflect the best practices of Let's Move! Child Care in all of its 900 centers across the country. The First Lady visited a local child care center run by Learning Care Group to highlight this exciting commitment, which will help provide up to 100,000 more kids with a healthy child care environment.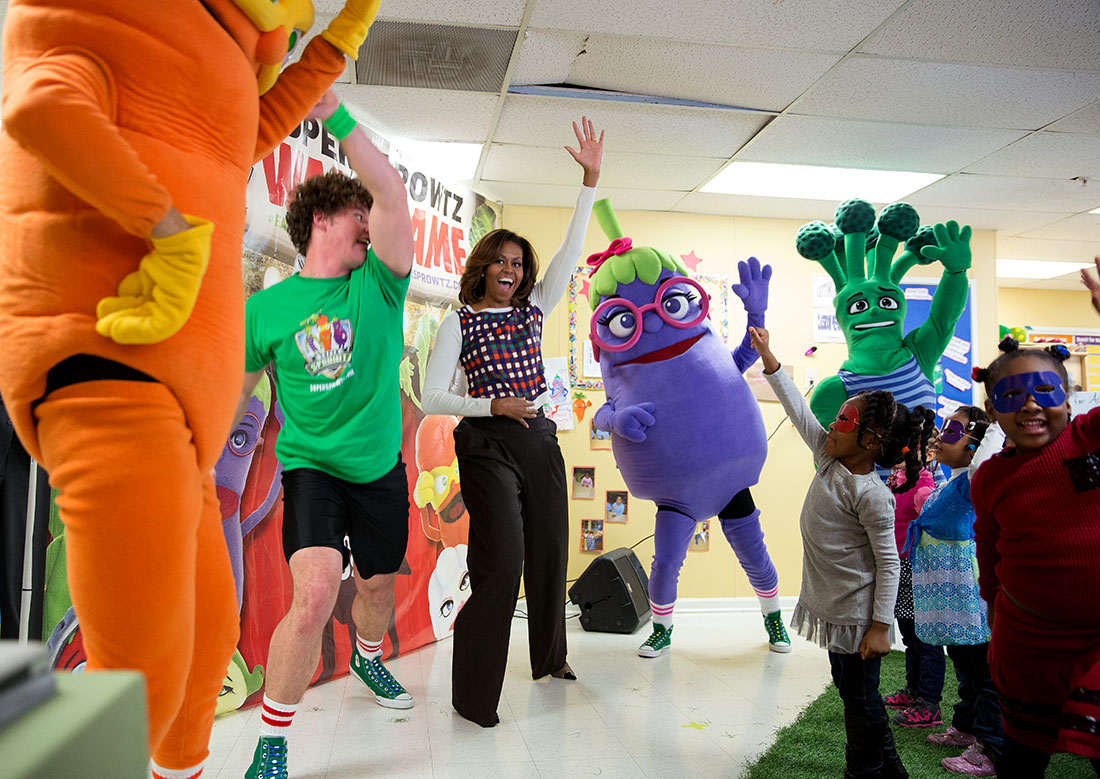 First Lady Michelle Obama joins children for a Super Sprowtz show, a "Let's Move!" event at La Petite Academy child care center in Bowie, Md., Feb. 27, 2014. (Official White House Photo by Chuck Kennedy)
During her visit to the center, the First Lady was joined by Super Sprowtz characters Colby Carrot, Erica Eggplant, and Brian Broccoli to help get the kids excited about eating their vegetables. The life-size veggies got Mrs. Obama and the kids on their feet dancing to a few of their favorite songs, including the Super Sprowtz Power Song. The First Lady then joined children in another classroom for healthy snack time.
"Healthier eating and regular physical activity are becoming the new norm for children across the country," First Lady Michelle Obama said in a statement. "I am thrilled about Learning Care Group's new commitment to implement best practices in schools across our country to instill healthy habits in our children from a young age."
Through Let's Move! Child Care and the work of providers like Learning Care Group, healthier environments are becoming the new norm for child care centers across the country. By getting the nutritious snacks and physical activity they need to grow up healthy, kids are developing important habits that they will carry throughout the rest of their lives. A recent study in the New England Journal of Medicine emphasized the importance of addressing overweight and obesity in the pre-school years. The study showed overweight children entering kindergarten are four to five times more at risk to be obese in the eighth grade as their healthy weight classmates.
The good news is that we have seen progress in childhood obesity rates for this age group. Just this week, the CDC released a report showing a forty-three percent drop in the obesity rate among children ages two to five over the past decade. In addition, last year, the CDC released a report which found that childhood obesity rates declined among low-income preschoolers in eighteen states and one territory, and in an additional twenty states, rates stayed the same.
Now is the time when we need to double down on our efforts to ensure that we continue to see progress. To celebrate the great work and motivate us for all the work that still lies ahead, the First Lady is calling on everyone, including child care centers, to show her how they are moving toward this healthier new norm. Using #LetsMove on social media, share your photos and videos of fun active games and healthy snacks you're providing in your child care center.
For more information on Let's Move! Child Care, visit www.healthykidshealthyfuture.org.