Evidence of Progress: New CDC Report Shows Declines in Childhood Obesity Rates Among Low-Income Preschoolers
When we launched Let's Move! in 2010, many people saw no end in sight to rising rates of childhood obesity. But, today a light at the end of the tunnel is beginning to emerge. The evidence is in, and we could not be more excited!
First, there was a report showing a decline in obesity in Mississippi of 13% among elementary school students, as well as decreases in Philadelphia, New York City, and California. And today, according to the latest Vital Signs report released by the Centers for Disease Control and Prevention (CDC), obesity rates among low-income preschoolers modestly declined in 19 U.S. states and territories between 2008 and 2011.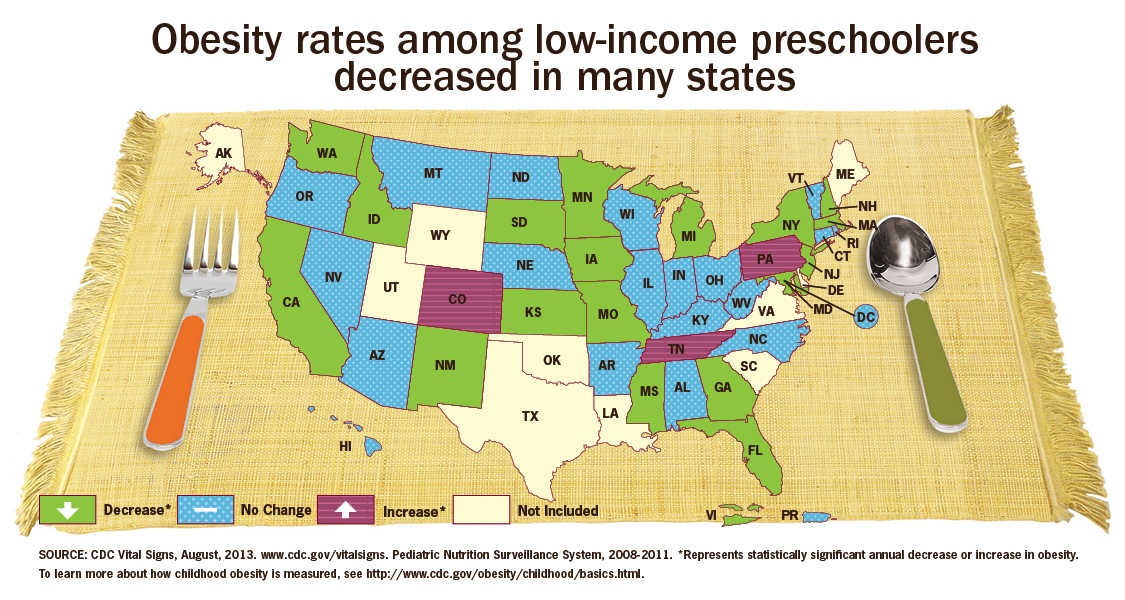 As part of the study, researchers analyzed weight and height for nearly 12 million children aged two to four years who participated in federally funded maternal- and child-nutrition programs. Forty states, the District of Columbia, and two U.S. territories (U.S. Virgin Islands and Puerto Rico) were included in the study, and of those, twenty reported obesity rates that held steady and 19 saw declines.
Bottom line: We are making progress!
Experts in the field, including CDC Director Tom Frieden, M.D., M.P.H., agree these findings are a reason to celebrate: "While the changes are small, they provide encouragement that trends in obesity can be reversed."
And First Lady Michelle Obama was keen to offer her feelings on the news, saying,
"Today's announcement reaffirms my belief that together, we are making a real difference in helping kids across the country get a healthier start to life. We know how essential it is to set our youngest children on a path towards a lifetime of healthy eating and physical activity, and the more than 10,000 childcare programs participating in the Let's Move! Child Care initiative are doing vitally important work on this front. Yet, while this announcement reflects important progress, we also know that there is tremendous work still to be done to support healthy futures for all our children."
But, while this evidence shows we're on the right track, it continues to be a call to action. One in eight U.S. preschoolers is obese, and children who are obese are five times as likely to be overweight or obese as adults. Janet L. Collins, Ph.D., Director of CDC's Division of Nutrition, Physical Activity, and Obesity emphasized this crucial point --"We must continue to strengthen and expand proven strategies that help our children live healthier lives by avoiding obesity in the first place."
Check out Let's Move! Childcare and the CDC website for tips and strategies on what you can do to help continue reversing the trend.