Let's Move! This Summer
Summer is here and Let's Move! has some fun ideas for you to enjoy the sun and stay healthy for the next few months.
Take a Stroll – Explore your neighborhood by taking a walk around the block or heading to the woods for a hike as a family.
Wheel Around – Grab your helmet and get ready to move! Whether you're lacing up your rollerblades, jumping on your bike, or breaking out your scooter, spending your summer wheeling around is a great source of exercise.
Make a Splash — Spending time in the water is not only a great way to cool off on a hot summer day – it's also the perfect way for you to stay active. Grab your bathing suit and swim some laps in the pool, paddle down the river, or surf the ocean!
The Ultimate Workout – Grab some friends and head to the park to throw around a frisbee. This is not only fun to play, but also a great way to build muscle and endurance.
Get on Your Feet ­– There are so many fun outdoor activities you and your friends can take part in this summer. Find some friends to run around and play a game of Capture the Flag. Participate in a hula hoop contest and strengthen your core. Sign up for the Presidential Active Lifestyle Award Challenge. You can even grab a basketball and shoot some hoops like President Obama!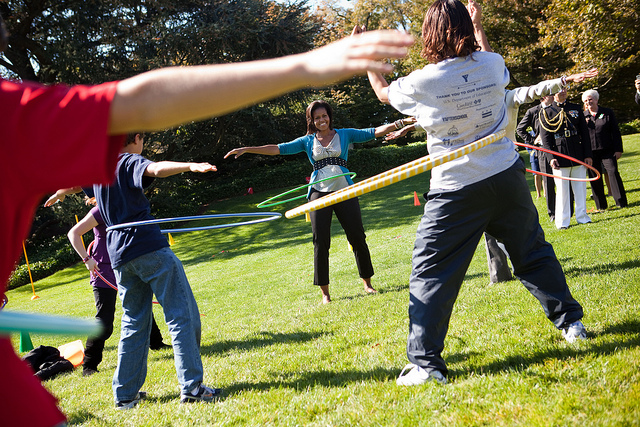 First Lady Michelle Obama hula hoops with children during the Healthy Kids Fair, on the South Lawn of the White House, Oct. 21, 2009. (Official White House Photo by Samantha Appleton)
Picnic – Prepare a healthy summer meal, break out your red checkered table cloth, and head to the park. Don't know what to make? Check out this great summer recipe that the White House chefs whipped up.
Other Ideas — Sometimes it's just too hot to spend the day outside. Visit a Let's Move! museum or garden or turn on the radio and dance in your living room!