White House Grilled Garden Flatbread and Garden Salad
On Tuesday, First Lady Michelle Obama joined school children from across the country to harvest the summer crop from the White House Kitchen Garden. For this harvest, the First Lady invited children from two New Jersey communities that were affected by Hurricane Sandy. The First Lady also invited back all the children who helped plant the garden in April so they could see the fruits of their labors.
After picking the vegetables from the garden, White House chefs prepared a salad with spring garden lettuce, snap peas, radishes, and White House honey vinaigrette dressing, and grilled vegetable flatbread.
White House Executive Chef Cristeta Comerford shared the recipes for the salad and grilled vegetable flatbread with Let's Move!:
Garden Salad with Radishes, Spring Peas AND White House Honey Dressing
Serves 6 people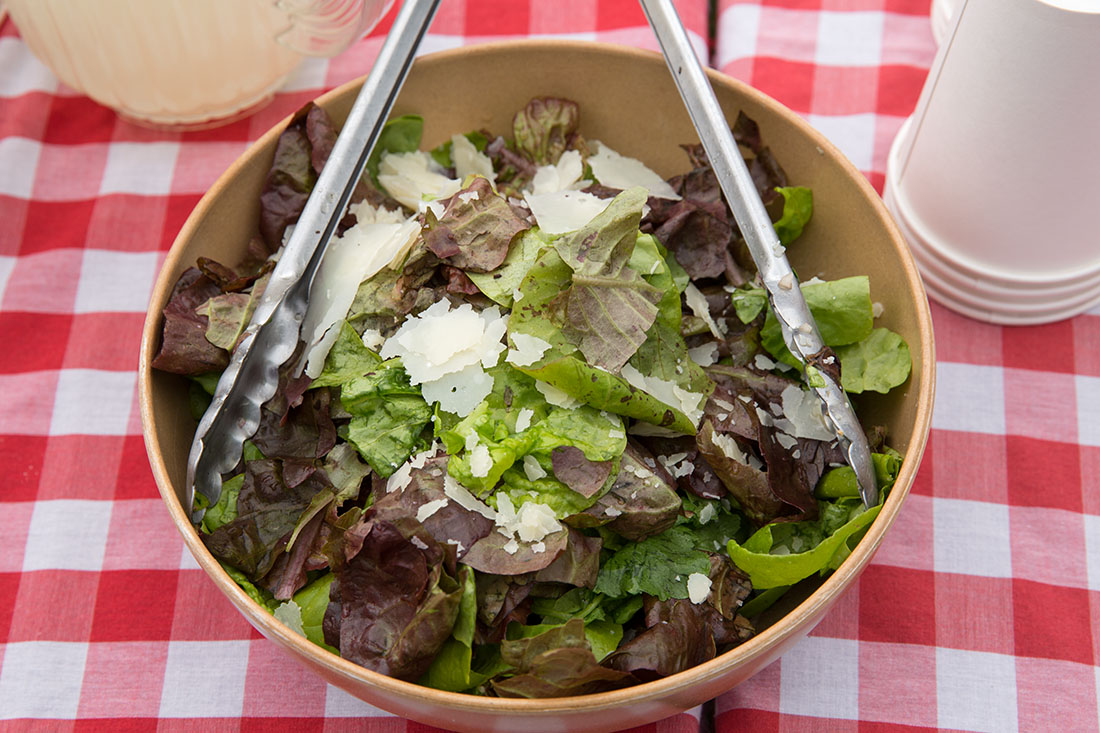 A salad dish is seen in the White House Kitchen Garden on the South Lawn, May 28, 2013. (Official White House Photo by Chuck Kennedy)
For the Salad
2 lbs assorted spring greens, such as arugula, frisee, bibb lettuce, Romaine, spinach, washed and spun dry
1 cup spring peas, cleaned
4 red radishes, sliced thinly
For the Dressing
1/2 cup apple cider vinegar
2 lemons, juice
1 shallot, finely chopped
1/3 cup honey
1/2 cup olive oil
Salt and pepper to taste
Optional Garnish
6 oz shaved reggiano cheese
For the salad components, wash all the lettuces and tear into bite size pieces. Spin dry in a salad spinner. Set aside. Clean all the spring peas by pulling the string. Slice the radishes by using a mandolin into paper thin slices.
For the dressing, combine the apple cider vinegar, lemon juice, honey and shallots in a bowl with a whisk. Slowly whisk in the olive oil. Season with salt and pepper. Set aside.
To assemble, in a large mixing bowl, place all the salad greens. Add all the peas, shaved cheese and the radishes. Pour just enough dressing to slightly coat the salad. Season with salt and pepper. Toss lightly and serve immediately.
Grilled Vegetable Flatbread
1 cup lukewarm water
1 packet active yeast
1 tsp sugar
1 tsp sea salt
2 cups whole wheat white flour
1 cup whole wheat flour
1/2 cup semolina flour
2 tbsp extra virgin olive oil
In a small mixing bowl, mix the yeast and sugar into the water and let bloom for a few minutes.
Sift the flours and salt into a clean work surface and make a well in the center. Pour the yeast mix and olive oil in the well. Using a fork or your fingers, gradually bring in the flour around the side to the center well. Once it starts to combine, work the dough with your hands until it becomes smooth and springy.
Set it aside in an oiled bowl, cover either with a damp cloth or a plastic wrap. Leave in a warmer area of your kitchen and let the dough rise for about an hour or until it has doubled in size.
Punch the dough in the bowl to push some air out. Remove the dough and place it on a flour dusted work surface. Divide the dough into three balls. Roll each into about a ¼ inch thick dough and place on a flour dusted parchment paper lined tray until use.
For the Tomato Sauce
2 tbsp olive oil
8 cloves garlic, peeled and chopped
1 small onion, minced
1 thyme sprig
1 bay leaf
1 28 oz can peeled whole tomatoes
2 tbsp tomato paste
Salt and pepper to taste
In a medium sauce pot, add the olive oil. Sweat the garlic, onion and thyme until fragrant and translucent. Add the tomatoes and the paste. Add the bay leaf. Simmer for about half an hour. Season with salt and pepper. Blend in a bar blender. Set aside.
For the Veggies
1 tbsp olive oil
1 shallot, minced
1 medium size fennel, washed, bottom bulb sliced into 1/4 inch
1/2 broccoli, cut into small florettes
1/2 lb chard leaves, cut into bite size pieces
Salt and pepper to taste
In a preheated large sauté pan, drizzle olive oil and sweat the shallots until translucent. Add the fennel, broccoli and swiss chard. Sauté for a few minutes. Season with salt and pepper.
For the pizza assembly
1 cup shredded parmesan cheese
Set the grill on medium heat. Grill the pizza dough on both sides for about 3 minutes on each side, or until the dough is fully cooked. Set aside and top with the tomato sauce, sautéed broccoli, fennel and chard. Top with the shredded parmesan cheese. Set back on the grill to warm up a bit. Serve immediately.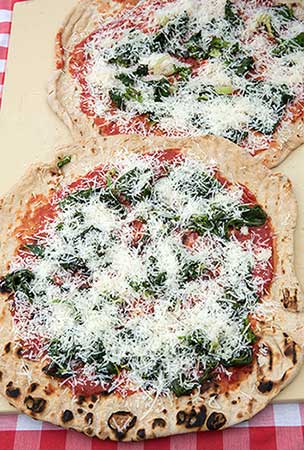 Grilled garden pizzas are seen in the White House Kitchen Garden on the South Lawn, May 28, 2013. (Official White House Photo by Chuck Kennedy)
Love this recipe? Try: