Wyoming School Meals Get Healthier with Stealth Vegetables
A brief chat with Joe DiPrisco will reveal a few things: Serving healthy, appetizing, environmentally-conscious school meals is complicated, he's very committed to doing that as well as he can, and he appreciates innovative ideas from everywhere.
DiPrisco, the Food Service director in Jackson, Wyoming, came to school food service about 10 years ago, and started re-introducing scratch cooking and increasing vegetables and whole grains right away.
Joe and his wife ran an Asian restaurant for 20 years, after chef training in Hong Kong. He recognized that Asian cooking styles would be a great way to introduce more vegetables and ramp up the eye appeal of school meals, especially as he helped his staff transition from a generation of prepared, re-heat foods.
Because of his inclination toward fresh, crunchy and whole-grain, the 2012 Healthy Hunger-Free Kids Act regulations didn't seem foreign to his staff. They only had to fine-tune what they'd already been doing.
Some of the great ideas instituted in his district have been a salad bar in every school, the "home-made hot pocket," and the "spinach rollup."
The salad bars have been a good way to sneak new vegetables onto the kids' trays. Kids will eat cucumbers and things they haven't tried before if they're crunchy. "Even spinach," Joe said, "if it looks like another kind of lettuce on the salad bar."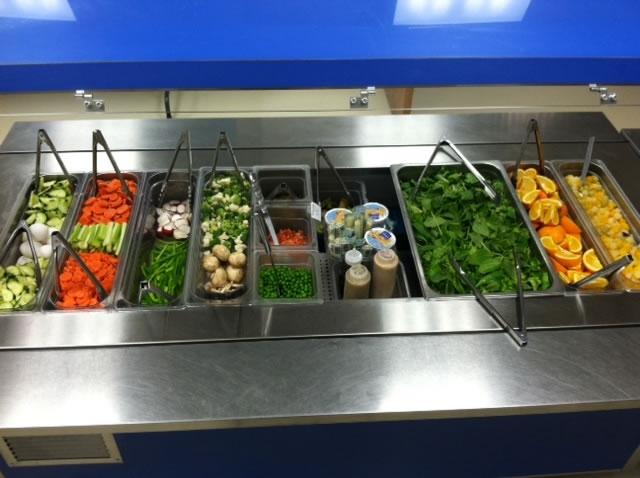 With a salad bar in every school, Teton County, Wyoming, students might find themselves enjoying mushrooms, broccoli, peas, and even spinach!
Working on the safe theory that kids like pizza and lasagna, schools in Joe's district came up with a calzone (folded-over pizza) with tomatoes, cheese and veggies, called the "home-made hot pocket," and a "spinach rollup," made with spinach leaves and a ricotta/cottage cheese blend rolled into a lasagna noodle, topped with marinara sauce.
Joe said his schools still have some concerns, namely, prices and plate waste. Like the rest of us, he's hoping to see prices decline as demand for fresher fruits and vegetables and whole grains increase.
And he observes that smaller kids are good rule-followers. They're choosing the required variety of items, but taking more than they can eat. They fill their little bellies with just a small portion of what's on their plate, and toss the rest. Can you come up with ways to reduce plate waste in your community?
See other blog posts in this series: