Healthy Eating Gets Colorful and Creative in Washington State
This year, the school day just got healthier! Thanks to new and improved school meals, championed by First Lady Michelle Obama, cafeterias across the country are cooking and serving up delicoius and nutritious lunches to students. Chris Neal from Buren, Washington, gave us some great tips on how to spice up the cafeteria.
Check out the tips and story below from Chris Neal, Nutrition Services Director at Highline Public Schools in Burien, WA.
Try healthy food options that resonate with your audience, like ethnic foods
Experiment with new foods with a vegetable or fruit of the month program
Make it colorful Use creative logos and signage to help kids make healthy choices
Apply for the HealthierUS School Challenge for monetary incentive awards for your school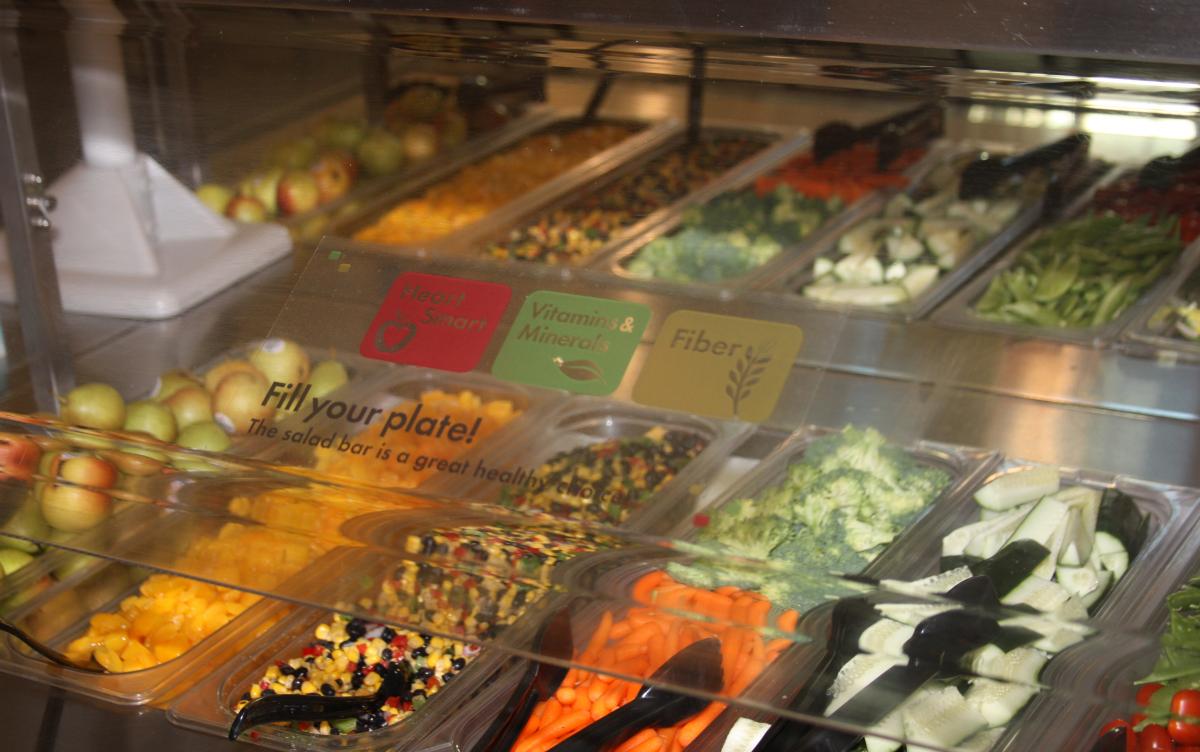 Salad bar signs encourage students to make healthy choices at Washington's Highline School District. (Photo credit Highline School District)
Highline School District's Nutrition Services department, we've worked diligently over the past several years to incorporate more whole grain products, reduce sodium in recipes, offer fresh fruits and vegetables, and eliminate trans fats in school meals. Our transition to the new meal pattern went smoothly, thanks to this work.
Highline is a highly diverse district where 125 countries are represented and the poverty rate is 70%. Thanks to grant opportunities through the CDC and a partnership with the local health department, we have been able to work with neighboring school districts to target the area's diverse, high poverty population to promote healthy food options, train employees on cooking with whole foods, promote fresh fruits and vegetables, and incorporate ethnic foods into the school menus.
The grants also enabled the department to develop a new logo and signage that in a colorful way illustrates the healthy components to a nutritious meal. Through the grant's Harvest of the Month program, we highlight local fresh fruits and vegetables on the monthly menus with colorful signage posted in the schools and on the menus, along with nutritional information related to the month's targeted produce.
We also developed an ethnic meal project Flavors of Diversity—An Ethnic Food and Culture Program through a CDC grant in partnership with Seattle Public Schools. We solicited recipes from local families and feature one ethnic lunch menu each month. Examples of popular ethnic entrees on the menus include Somali Spaghetti, Hawaiian Luau Chicken, a Vietnamese Sandwich, and Poncit Noodles.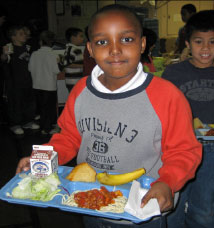 We've seen great results from these efforts—Highline's 18 elementary schools have been recognized with HealthierUS School Challenge awards, including seven Gold Awards of Distinction. Nutrition Services takes pride in its work of providing nutritious meals in support of the district's vision to prepare students for academic success now and in the future.
Chris Neal, M.Ed., SNS, is Nutrition Services Director for Highline Public Schools, Burien, WA. Learn more about the changes to school meals here.
Caesar salad and spaghetti, one of many recipes of the Ethnic Food and Culture Program to introduce students to foods from around the world. (Photo credit Highline Public Schools)
See more blog posts in this series: