School Kids Are Eating Stir Fry in New Orleans
You never know how a child will react to a new food. We took a chance and held a taste test of a healthy new recipe with about 25 fourth through eighth grade students at Hynes Charter School in New Orleans.
Chef Keith Faulkner from the Second Harvest Food Bank of Greater New Orleans and Acadiana generously offered his services for the taste test. First, I talked to the kids about some of the healthy changes taking place in school lunch menus across the country. Then Chef Faulkner brought the students into the kitchen to show them how to prepare Stir-Fry Fajita Chicken, Squash and Corn.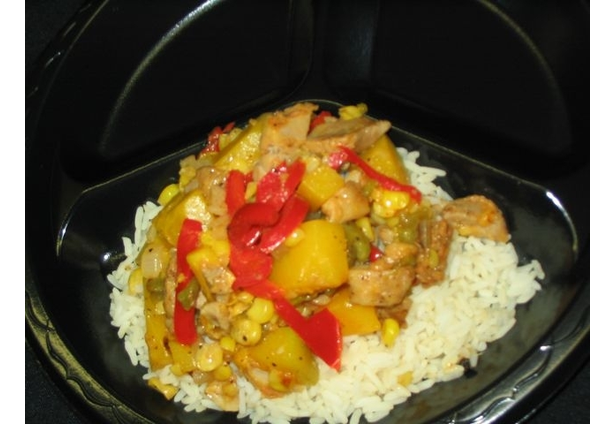 (Photo credit Cathy G. from Kayenta Unified, Kayenta, Arizona)
Ingredients (6 servings)
1 lb

Fajita Chicken, cooked strips
1 lb

Hubbard squash, diced

.5 lb

Corn, frozen

4 oz

Green chili, diced canned

4 oz

Onion, raw diced

4 oz

Red Pepper, raw, diced

2 TB

Canola Oil

4 oz

Tomatoes, canned diced w/ juice

.5 tsp

Black Pepper

.5 tsp

Cumin

.5 tsp

Garlic Powder

22 oz

Rice (cooked)
Instructions
Gather, dice, and measure out vegetables, chicken, and other ingredients.

Heat a 12" skillet for 6 servings, or a tilt skillet for larger batches, with oil. Sauté onions till translucent. Add chicken and squash and stir-fry until squash is barely tender. Add red pepper, corn, green chili, tomato, and spices. Mix and stir until mixture reaches 180 degrees. Reduce heat and let mixture simmer 2-3 minutes. Be careful to not overcook, this is a stir-fry, not a stew.

Pan up and serve over 4 oz rice using and using a #6 disher for Stir-Fry (for high school students)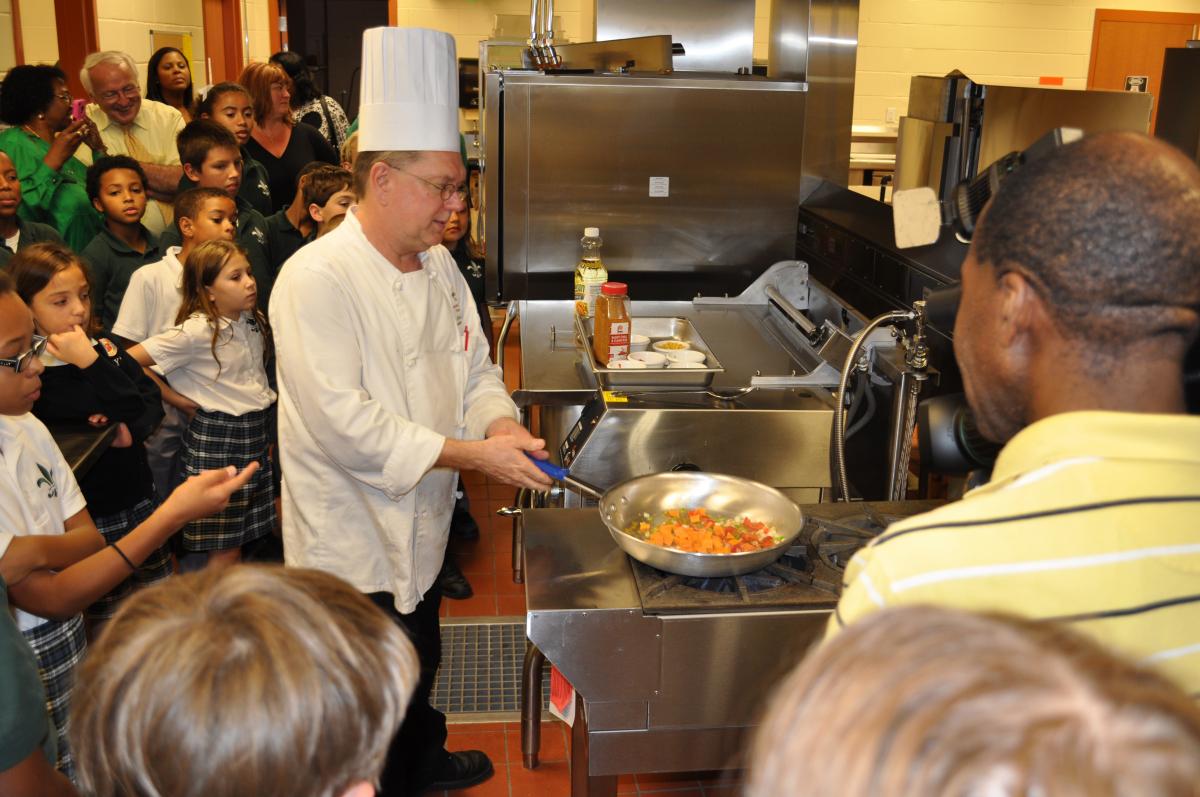 Chef Keith Faulkner demonstrates stir frying to students prior to the taste-test of a healthy recipe at Hynes Charter School in New Orleans. (Photo credit Orleans Parish Food Service)
After demonstrating the preparation of the ingredients, Chef Faulkner wowed the students with each sizzling, steaming addition to the stir-fry skillet. The kids then returned to the dining area and the chef served them the chicken and vegetable stir-fry over brown rice. Even though it was a little spicy, they really enjoyed it. Proof was in their requests for second helpings, and even thirds! We knew we had a hit on our hands at that point. Kids will eat healthy foods when they taste great.
This recipe was a finalist in the Recipes for Healthy Kids contest. Hynes Charter School is one of 12 schools in the Orleans Parish School Board district that has received the HealthierUS School Challenge Gold with Distinction award.
---
See other blog posts in this series: