Waterford, Michigan Students Get Onboard the "New-Trition" Train
"Let's Move! and get on the right track" became our mission a few short years ago at Waterford. Our journey began with a Michigan Team Nutrition Wellness grant that taught us about the HealthierUS School Challenge and the many wellness and menu changes we needed. Our first focus was encouraging students to embrace new foods.
First, we started a "Fruity Friday" program. One Fruity Friday, we featured fresh pears from our local farmer's market, and one little girl asked how to eat it, saying, "I've never seen a pear out of a can before!" We also started a Veggie Venture school garden.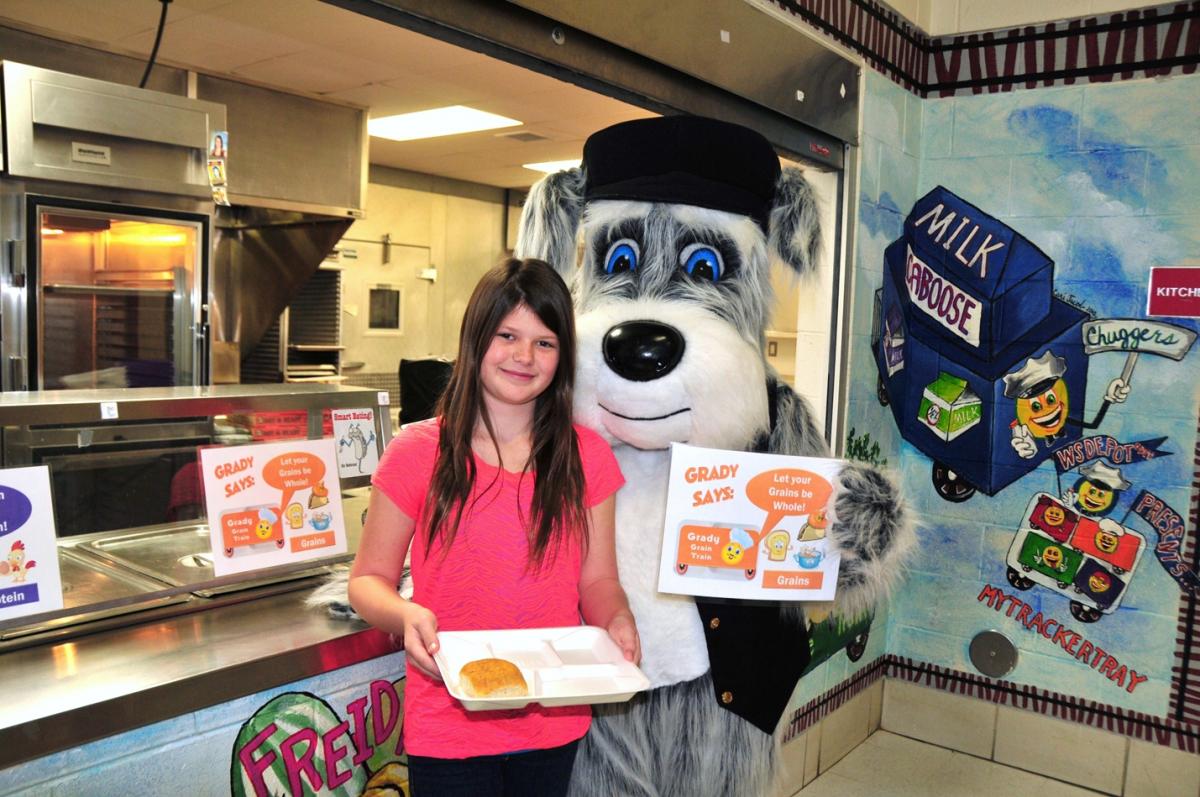 Student with "Diggin," the "New-Trition" train conductor (nutrition mascot) for the Waterford schools. (Photo courtesy of Waterford Public Schools)
Another focus area was nutrition education. We turned our K5 cafeterias into WSDepot Cafés with the creation of "Tracker, the New-Trition Train" and his conductor "Diggin" (the mascot who gets kids to "Dig In" to good nutrition). Tracker, Diggin and friends began to grace the cafés and schools via murals, a book series, nutrition skills visits and MyTrackerTray Taste Tests. Our community sponsors helped create student teams and a district Wellness Committee. All these moves helped us to meet the Healthier US School Challenge and the new school menu requirements.
This year we moved full steam ahead with the new school meal standards. We kicked off the school year with a Fuel Up to Play60 "Let's MOOve" event. Our students attempted a Guinness World Record ("The Longest Sequential Toast") by toasting healthy choices like no-fat milk and whole grains.
By using Tracker and his Train Gang, we helped students identify food groups and menu items and make sound choices. Our "Fruit First" program, starring Frieda the Fruit Train, encouraged students to take their fruit at the start of the line. Victor the Veggie Train promoted tasty veggie choices. We started a "MyAppTray" program to help the older students understand the new meal patterns. We're thrilled that our adventure will be moving along this year with a USDA Farm to School Planning Grant. Our kids will be able to enjoy even more fresh and local choices and "dig in" to the good earth with help from "Diggin."
Our kids are our true engineers; they keep us rolling along this wholesome adventure!
Let's Move! is celebrating National Nutrition Month with stories of school cafeterias serving healthy meals across the country. Learn more about the historic, healthy changes to school meals.
---
See other blog posts in this series: