Delaware Student Focus Group Gives Feedback on School Meals
The new school meal patterns have required school food authorities across the country to get creative. We are finding new ways to plan menus that not only meet the new meal guidelines but also please the taste buds of students.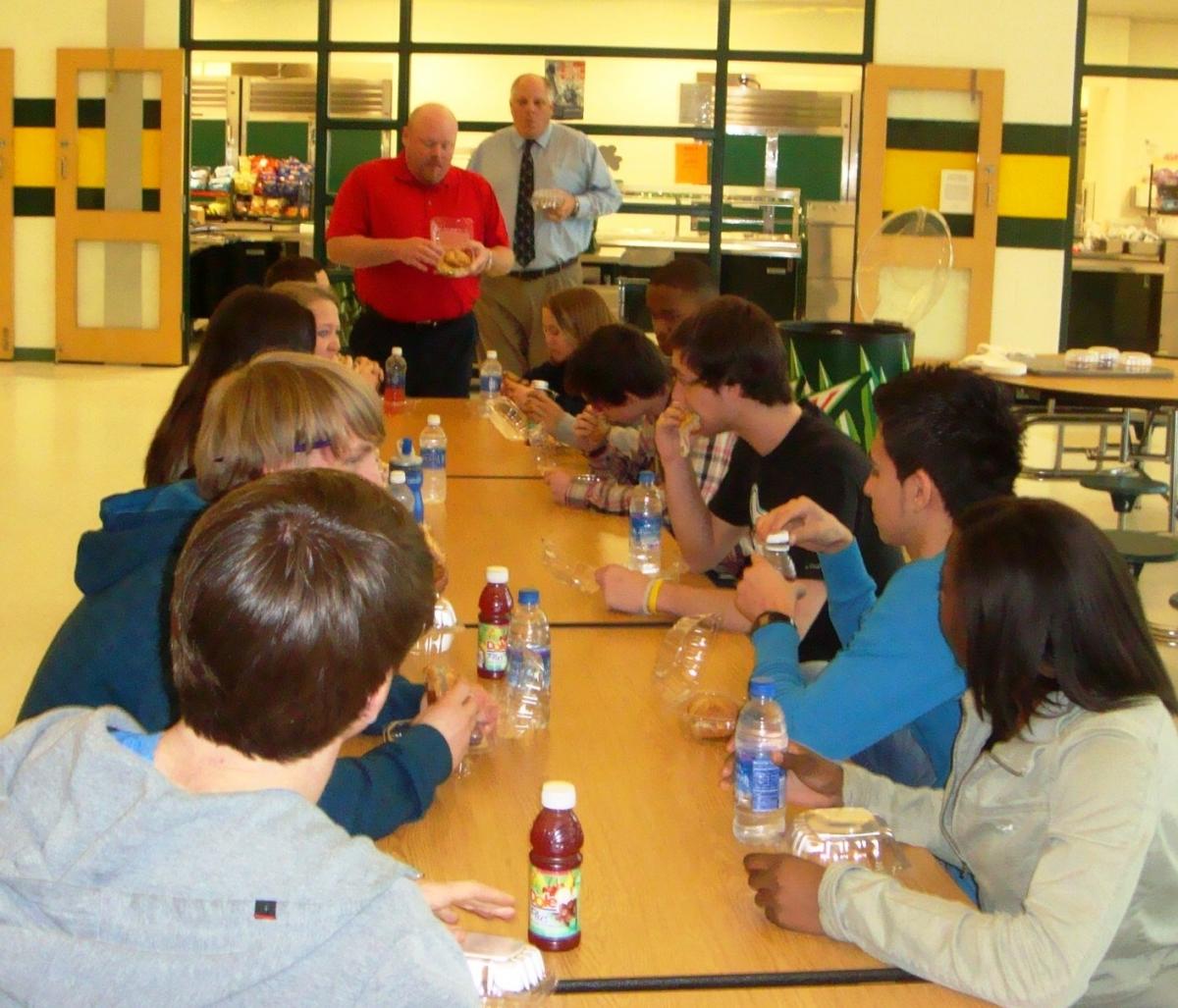 Indian River High School Focus Group: Clifton Toomey, Indian River School District Supervisor of Nutrition Services (left), and Indian River High School Principal Mark Steele meet with the Superintendent's Focus Group to discuss new menu items being considered for the lunch menu that adhere to the new USDA school meal standards. (Photo courtesy of Indian River School District)
At Indian River School District in Delaware, where I work as the Nutrition Services Supervisor, a unique relationship has been established between our Superintendent, school administrators and students at Indian River and Sussex Central High Schools. This so-called Superintendent's Focus Group represents a microcosm of the student body: different ethnic groups; males and females; athletes and artists; who meet two or three times each year.
One of the group's important jobs is to make sure menu choices are more appealing to students. At our most recent meeting in February we asked the group for feedback on a new ground turkey lasagna recipe. Our food service staff and I taught the group about the recipe's ingredients, nutritional value, and preparation.
And, most importantly, we gave the students a chance to taste the dish that will soon be served on a test basis at both high schools. The students have their views heard, and we take action. For example, because a few students in our group suggested we serve a vegetarian version, at the school-wide taste test we'll add a meatless option and find out which recipe is the most popular.
A student focus group is a great way to get feedback from students while also making sure meals are nutritious. Learn more about the new efforts to make meals nutritiou and delicious for healthier students and healthier schools here.
---
See other blog posts in this series: