Idaho Chef Designs School Meals
Volcanic Meatloaf, Flew the Coop Tortilla Soup, Broccoli Monster Mash, and Pizza Green Beans are all on the menu in Idaho, thanks to a partnership with a local chef and dietitian creating a variety of chef-designed school lunch meals that are healthy and delicious.
Every chef-designed recipe was tested in a school kitchen and sampled by a discerning panel of experts -- students in grades first through twelfth. Over 500 students provided feedback on each recipe and voted which recipes to keep in their cycle menu!
"I am surprised how well the students accept the higher quantity of vegetables when they are combined with these great recipes," said the district's foodservice director. "I really thought the chef recipes would be difficult, but they are not. We can easily make these in our school kitchens." The meals meet the new school meal standards and appeal to students' tastes.
Here are some of the things kids and employees are saying about the new meals:
"I have never had a school lunch like this; it is so fresh and has such great flavor." - High School Student

"This is the first time I have ever really liked a salad. I could eat this every day." - 4th Grade Student

"I have never liked fish before, but this is delicious. It's like eating at a fancy restaurant." - 5th Grade Student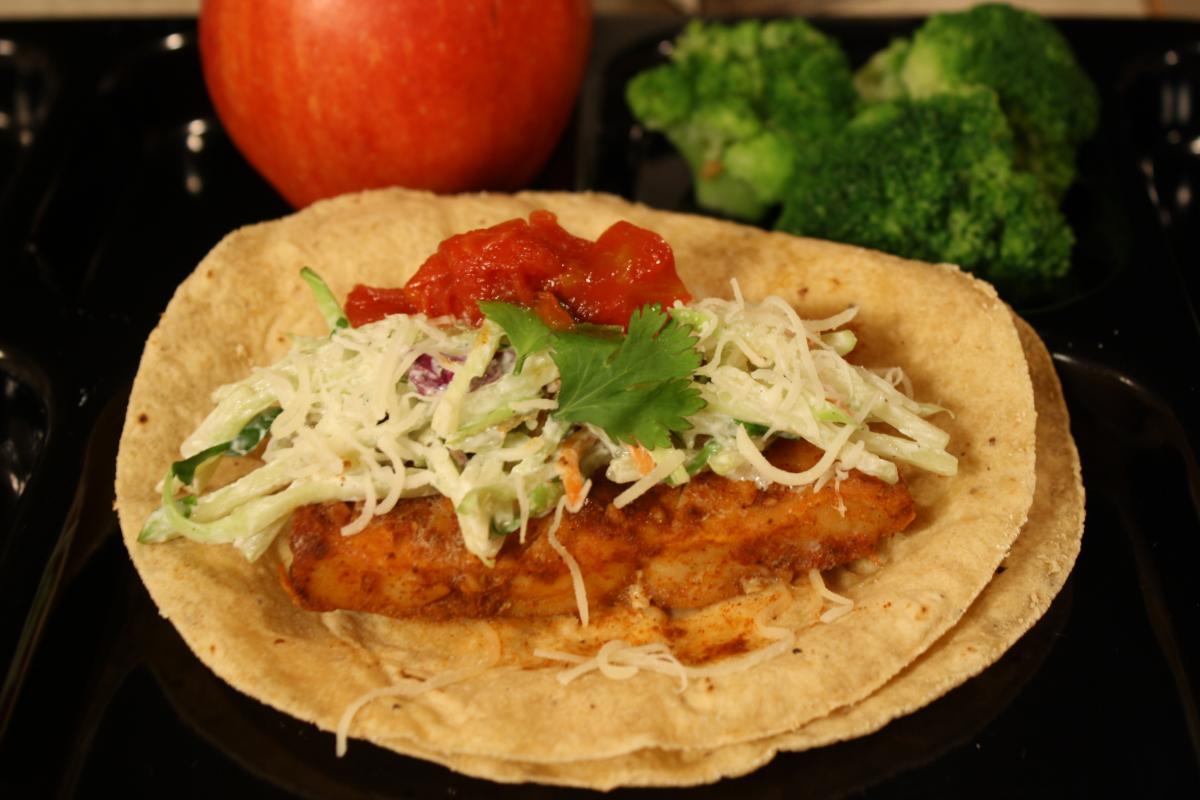 Pollock Street Tacos with Fresh Broccoli Slaw (Photo courtesy of Idaho Department of Agriculture)
Looking for ideas for your school? Check out these tips and recipes from Idaho Child Nutrition Programs:
Chef Tuesdays! Check out new, delicious recipes that meet the new school meal guidelines on the first Tuesday of every month.
Chef Designed School Meals has lunch menus with meals like Fish Tacos, BBQ Roasted Chicken, and Thai Chicken & Bascil Barley.
Visit Idaho Chef Designed School Meals for more information such as recipes, two-week cycle menu, video recordings from the Chef introducing some of the recipes, and a 50-page book describing each meal, providing component breakdowns, estimated meal food cost, grade specific data showing the percentage of students that liked each meal, pictures of each meal and tips from the Chef.
Let's Move! is celebrating National Nutrition Month with stories of school cafeterias serving healthy meals across the country. Learn more about the historic, healthy changes to school meals.
---
See other blog posts in this series: