Haile Thomas Joins First Lady at the 2013 State of the Union Address
At just 12 years old, Haile Thomas has made a big difference. A youth leader working hard to inspire kids to eat healthy, Haile joined First Lady Michelle Obama, along with a handful of other guests, for the President's State of the Union Address on Tuesday evening.
First Lady Michelle Obama's Let's Move! initiative has inspired people across the country to live healthy, active lives. Haile has inspired us by her phenomenal leadership and service to her community in helping others to make healthy choices. A sixth-grader in Tucson, Haile learned to cook from her mother, who encouraged Haile at 5 years old to help out in the kitchen making family meals. Haile has loved cooking since then, but when she found out that her dad had diabetes her hobby for cooking became a passion for healthy eating, too. She's started a variety of projects -- from a kids cooking show to a service-learning program -- to inspire others to cook healthy meals that taste delicious.
This past summer, Haile was one of 54 kid-chefs to attend the Kids' State Dinner at the White House, where she had the opportunity to meet both the First Lady and the President. Mrs. Obama applauded Haile and her peer chefs for their leadership to inspire healthy eating.With recipes such as her Quinoa, Black Bean, and Corn Salad, Haile has found ways to make healthy eating tasty. She has found that eating well and staying active is an essential part of leading a happy and healthy lifestyle.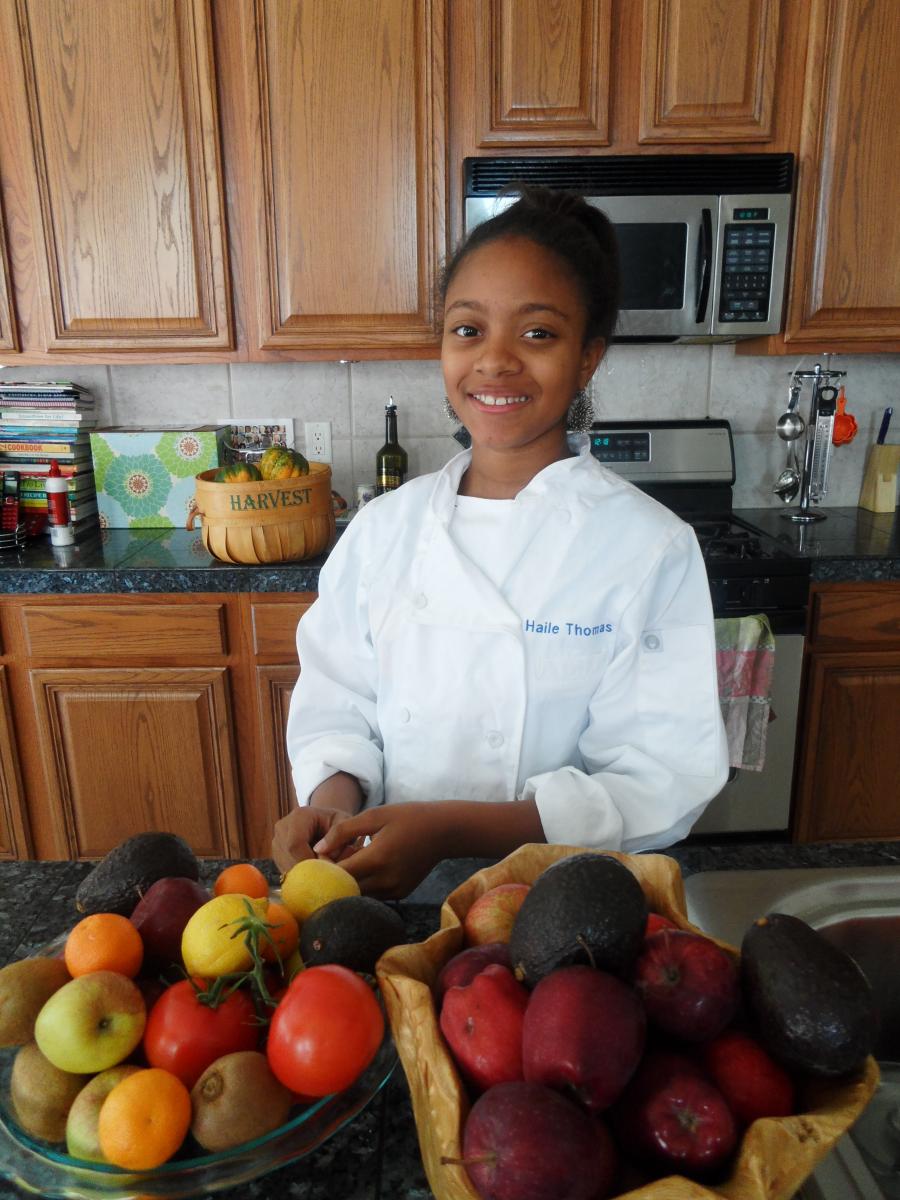 Haile's Tips for Healthy Eating:
Get in the kitchen and get cooking!
Make food that is "delicious and nutritious."
Voice your opinion; it matters!
Think outside of the box.
You'll never know what you're missing if you don't try it!
These simple tips for healthy living have inspired children and adults of all ages to follow Haile's lead. Like the First Lady, Haile believes that empowering kids with the knowledge they need to grow into healthy adults, is essential for the future of our country. Reaching out to and encouraging her peers has been the highlight of Haile's work. She hopes that other kids will also choose to reach out to their peers and spread the word about healthy eating.
In August 2012, Haile joined First Lady Michelle Obama as Arizona's winner of the Healthy Lunchtime Challenge for the Kids' State Dinner. Haile was chosen to join the Youth Advisory Board of the Alliance for a Healthier Generation. She has spoken at TedxKids and the Partnership for a Healthier America Summit, among other major major events, and was chosen to serve on Chop Chop's Kids Advisory Board after being honored as a Chop Chop Summer 2012 Healthy Hero.