Quinoa, Black Bean, and Corn Salad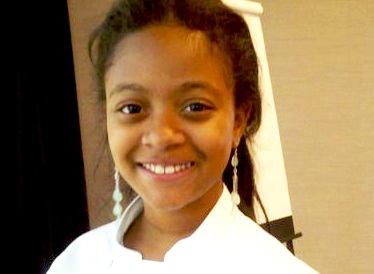 Haile's family gave up eating white rice after learning her dad is diabetic, so they began experimenting with quinoa. Haile's recipe adds the protein-packed grain to the family's favorite black bean and corn salsa, and they serve the salad hot or cold with tacos or just about anything else, like shrimp, chicken, pork, fish, or lean red meats. Haile's mom, Charmaine, reports the secret to its success is that "all the kids love it, the ingredients are affordable, it's easy to make, and it's just plain good."—Haile Thomas, age 11, Arizona
Makes 6 servings
Ingredients:
2 (15-ounce) cans organic black beans, drained and rinsed
4 cups fresh corn
1 pint cherry tomatoes, quartered
2 cups cooked quinoa
1 medium red onion, chopped
1/2 bunch fresh cilantro or flat-leaf parsley
1 medium red onion, chopped
2 avocados, pitted, peeled, and cut into cubes
1 tablespoon extra-virgin olive oil
1 lemon, halved
Sea salt
Preparation:
1. In a large bowl, combine the black beans, corn, tomatoes, quinoa, cilantro or parsley, red onion, avocados, and olive oil. Squeeze the lemon halves and add their juice to the bowl. Toss to combine then season to taste with salt and serve.
Cook's Note:
To make this dish hot, warm it on the stovetop or in a microwave, or saute; all the vegetables together and add the avocado and cilantro or parsley after it's plated.
Featured in the Healthy Lunchtime Challenge. Check out all the winning recipes here.