Dream Big, Achieve Success
Recently, the 2012 U.S.. Olympic Team visited the White House. While I wasn't able to attend the reunion, the event reminded me of just how special Olympic moments are. I remember my own experience as a visiting athlete to the White House in 1992. The day of our visit it rained, and the BBQ on the lawn simply migrated into the White House, where Olympians wearing our medals wandered around (probably driving the Secret Service crazy) celebrating being able to visit the symbol of the great country we just represented. I had that same feeling, that sense of honor and pride as part of the First Lady's delegation this year. Being able to share the Olympic experience with the First Lady of the United States and support her Let's Move! initiative was amazing.
Let's Move! London was the perfect afternoon kickoff to the greatest sporting event on earth. It was such a joy for me to share my love and passion for sport with not only with 1200 kids on the field, but with my two kids as well. And what an honor to introduce the First Lady of the United States to that group, who literally showcased the importance of being active and living healthy by running out to the stage!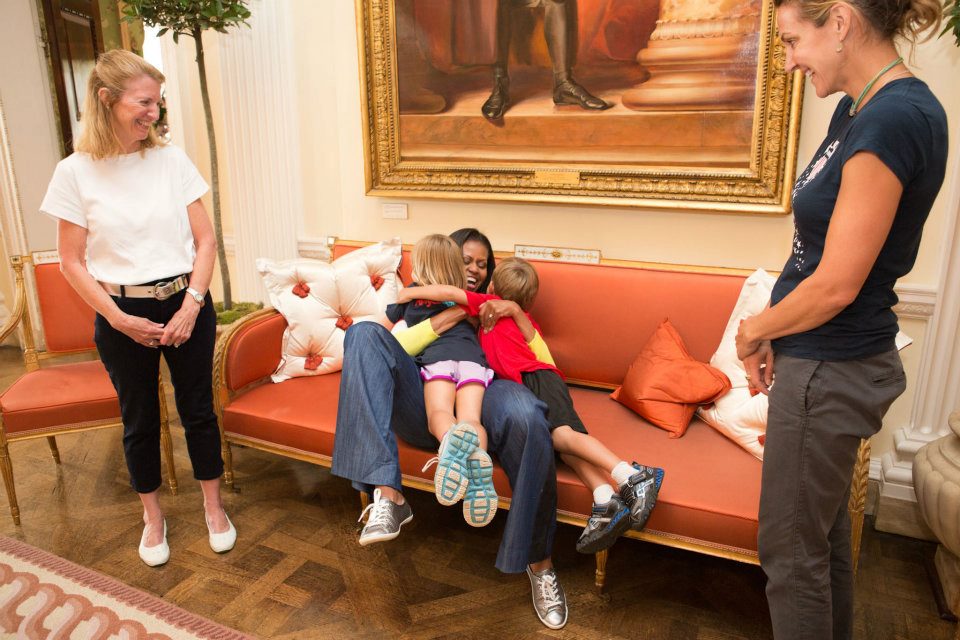 First Lady Michelle Obama greets former Olympic swimmer Summer Sanders and her children, Skye and Spider, following a Let's Move! London event at Winfield House in London, England, July 27, 2012. Sanders served as part of the U.S. delegation to the 2012 Olympic Games in London. (Official White House Photo by Sonya N. Hebert)
My favorite moment from the Summer Games was not from the pool, but on the track, and it combined both true determination and with the Olympic ideal of bring nations together. Mo Farrah and Galen Rupp kicked it into a different gear on the home stretch in the 10,000 meters to a roaring crowd cheering just as much as the guy from the U.S.. as Great Britain. Farrah won the gold and all of Britain erupted but his best friend and training partner, Rupp from the U.S.., dug down to squeeze out the silver. It was a spectacular finish and one that tugged at your heartstrings. Farrah dreamed big, and achieved success.
As a competitor, I always dreamed big and set my goals very high. I believed in myself, and I loved knowing the power to succeed was in my hands. It required serious hard work and dedication, but I was in control. I would tell any young American that you can obtain anything you believe in and work to achieve. You can do anything you put your mind to. You don't have to win a gold medal or score the winning goal to reap the amazing benefits to being active and believing in yourself. Just make time to get moving, have fun and smile.