Your Stories: Celebrating Lets Move! Olympic Fun Day Across The USA
While First Lady Michelle Obama was in London leading the U.S. Delegation to the 2012 Olympic Games, communities back at home showed their support for Team USA by dancing, jumping and running their way to a healthier lifestyle. Thousands of people from nearly all 50 states got together to celebrate Let's Move! Olympic Fun Day on Saturday, July 28th by getting active and having fun. From tug-of-war in Eagle, Wisconsin to badminton in Porterville, CA and from soccer in New York City to relay races in Cornish, ME, we were thrilled by the response!
We hope all the fun and activity inspires your family and community to get moving too! And even though our Olympic Fun Day has passed, you can join or host a Let's Move! Meetup in your community year-round.
Have a look at some of the coverage, stories, photos and tweets from events that took place around the country:
California:
Richard from Porterville, CA:
"We started with a two lap run around the perimeter of the field, using an orange funnel as our torch. We then did calesthenics, then our obstacle course, then to our 5 events. We had hurdles, medicine ball hurl, 25 yard dash, badminton balance run and the long jump. The kids were great and didn't want it to end. It was just such great fun and the families can't wait for us to put on another event, so we're going to plan for the winter olympics and maybe one more before then."

NBC4 Los Angeles: Let's Move Olympic Fun Day Takes Over Santa Monica
Getting more people to have her attitude is the goal of "Let's Move," First Lady Michelle Obama's campaign to fight childhood obesity.
Santa Monica Patch: Olympic Fun Day Gets Kids Active on the Promenade
Children kicked, jumped and squatted during an hour-long Lets Move! campaign exercise demonstration on the Third Street Promenade.
Maine:
Lisa from Cornish, ME:
"We honored all Olympic athletes, past and present, with 4 hours of Olympic themed fun & fitness. For the first two hours, we loosely practiced our events, while having a great time just being silly. All that fun led to a healthy snack break of strawberries, apples, bananas, clementines, cucumbers, carrots and pickles. Reinvigorated from our snack break, a mock Olympic Torch relay was in order. We marched from the gym, across the painted brick crosswalk on Main Street to the park. [Here] the children tried their hand, or should I say feet, at the long jump. With a wide variety of ages, 2-15 years, the idea wasn't to beat an opponent, it was to throw or jump more than once, and hopefully do better on each attempt. It worked. The joy on their faces was incredible."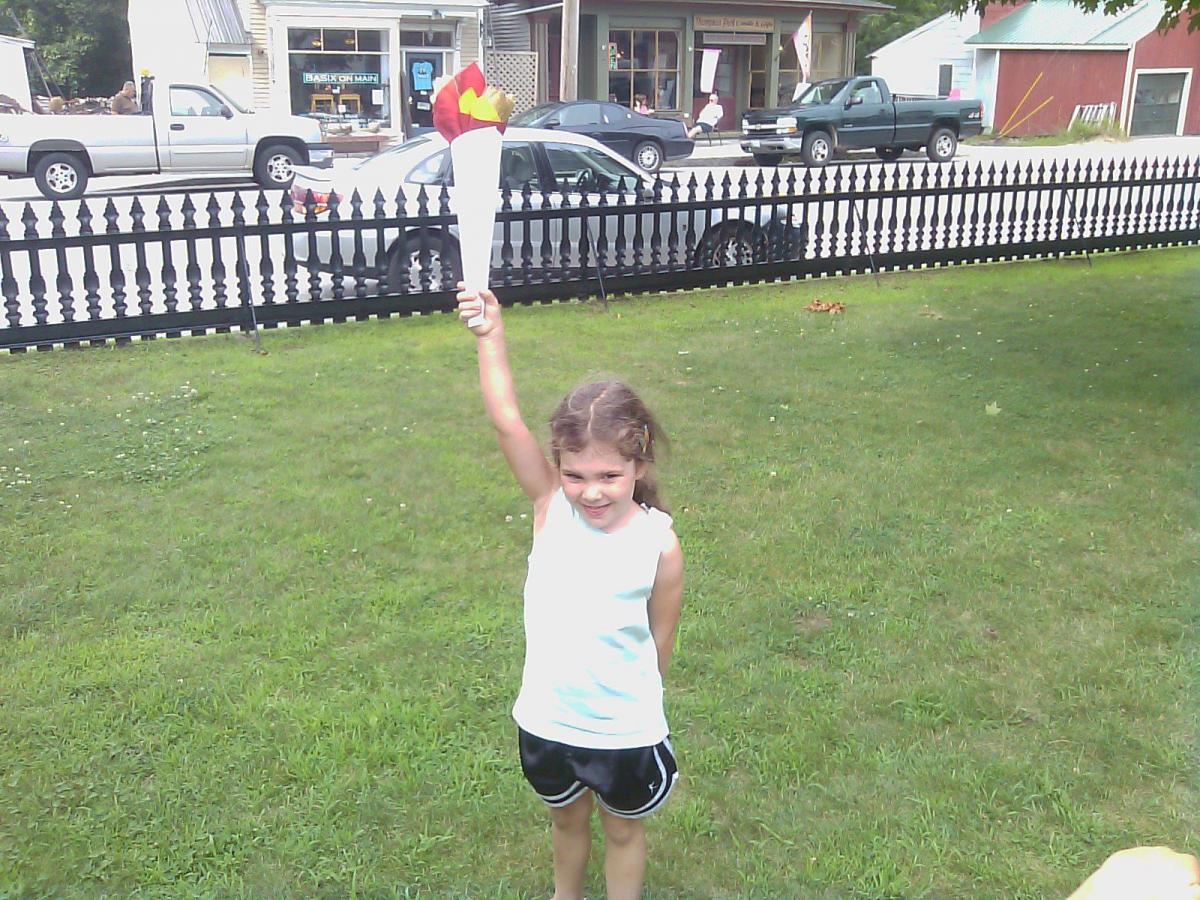 South Carolina:
Lake Wylie Pilot - Charleston gets into Olympic spirit with fun run
Charleston is joining cities around the nation in holding an Olympic 5K Fun Run.
Indiana:
Laurie from Bluffton, IN:
"Kids of all ages signed up to run a leg of the relay carrying an Olympic style torch. At the end of the relay we all met in a park where we lit our own Olympic flame, handed out gold medals, had some healthy snacks and played backyard games like wiffleball, cornhall,frisbee, and hula hoops."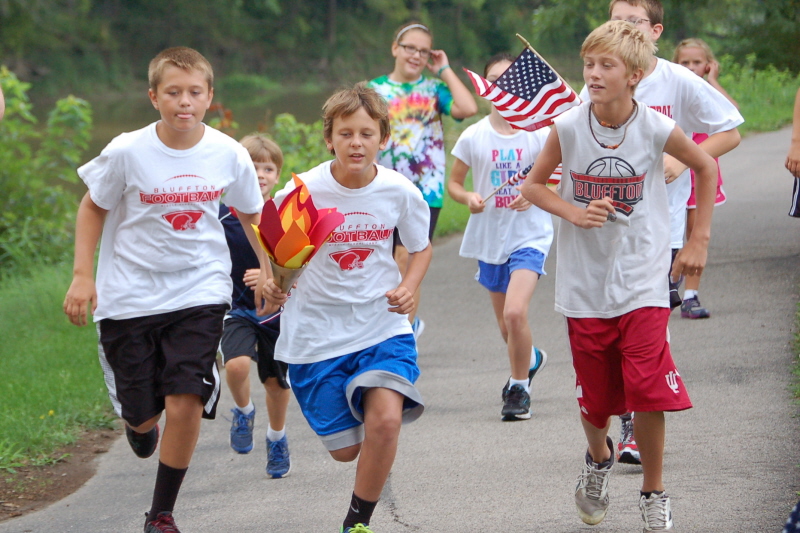 Maryland:
Kimberly from Wheaton, MD:
"Army Ft Detrick Silver Spring CYSS performed an Let's Move Obstacle Course created by the older Youth at the Summer Camp for the younger children. Children created two teams to complete the course together cheering each other on. The course included tunnels to crawl through, lily pads to hop on, cones to run around, jump ropes, running and sack racing. The children had fun while staying hydrated."
Wisconsin:
Lisa from Eagle, WI:
"At Old World Wisconsin in Eagle, Wisconsin, we held an afternoon of old-fashioned games to celebrate Let's Move! and the Olympic Fun Day. We had relays with hoops, Graces (seeing who could toss the ring back and forth the most times using wooden sticks), a bucket brigade using old-fashioned laundry tubs and buckets, and a tug 'o war. We also hosted a vintage 1860s base ball game--and afterwards invited the kids down on the field to hit the ball with the bat with the team. About 30 kids took us up on it. All in all, a day of fun and exercise outdoors, just like kids did over 100 years ago, with no batteries nor rechargers required!"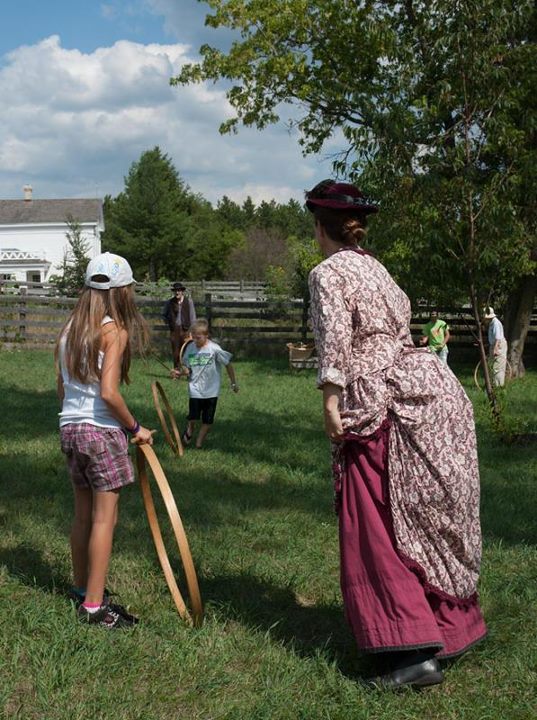 New York:
Lockie from Brooklyn, NY:
"Let's Move Brooklyn's amazing and diverse community partners included: the YMCA, Brooklyn Botanic Garden and Brooklyn Children's Museum, making it possible for there to be something for every attendee to enjoy. From botanical walks, and relay races, to mommy and me aerobic classes, residents enjoyed innovative and fun cultural events that stimulated the mind, body and spirit."
Angela from New York City, NY :
"Over 50 New York City kids gathered to celebrate First Lady Michelle Obama's U.S. Delegation to the 2012 Olympics by participating in Olympic inspired activities including relay races, games, soccer and stretching. The day was a huge success, held at Asphalt Green where Olympic swimmer Lia Neal trained for the games!"

NY1 - City Kids Move At Olympic-Inspired Event
As the games begin across the Atlantic, little ones with big Olympic dreams are exercising at a variety of fitness events for kids. An Olympic Fun Day was held Saturday at locations in Manhattan and Brooklyn.
Fort Greene-Clinton Hill Patch - Brooklyn Gets Fit For a Healthier Tomorrow
Who is the next Lia Neal? That's the question Let's Move! Brooklyn hoped to find the answer to at an Olympic Fun Day event Saturday in Bed-Stuy that combined the spirit of a pep rally with the sweat of a good old-fashioned workout.
Park Slope Patch- Send Us Your Olympic Fun Day Photos
In three separate events Saturday, Brooklynites both young and old will take part in an Olympic Fun Day created by First Lady Michelle Obama to cheer on the athletes of tomorrow.
Utah:
The Salt Lake Tribune –Utah youth invited to Olympic Let's Move event Saturday
Utah children and teens are invited to get active in the Olympic spirit this Saturday at an event at The Gateway in Salt Lake City.
Washington, D.C:
National Museum of the American Indian:
"It was wonderful to watch our young visitors approach traditional Native American games like Yupik yo-yo and Métisring-and-pin with such a natural sense of curiosity and wonder. All we had to do was start playing them and suddenly we were surrounded by wide-eyed children eager to join us."
Florida:
Soul of Miami- Get Moving With iCarly's Reed Alexander at Miami Children's Museum
iCarly star Reed Alexander attends a Meetup at the Miami Children's Museum celebrating the 2012 Summer Olympics and their newest exhibit, MiChiMu's Summer Games.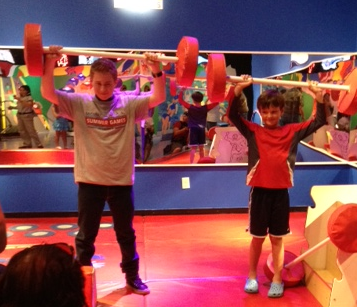 Hawaii:
John from U.S. Army Garrison:
"It was truly an amazing day. The children were excited to cheer on the Soldier Athletes and the entire U.S. Olympic Team at the U.S. Army Garrison Hawaii, Youth Sports, Soccer Opening Day Ceremony. Over 800 Army Youth and Coaches embrace the healthier lifestyle that the Let's Move! Olympic Fun Day represents."