Marketing Works: Let's Use it!
As a mom with a teen and a tween at home, it's my job to be sure they grow up healthy, smart, and strong. I'm alert to what they see and I watch what they watch. And let me tell you, when it comes to food marketing, they're not seeing a lot about fresh fruits and vegetables.
We know marketing works – we can see it in efforts to sell everything from cars and phones to all sorts of foods. It works to drive awareness of products and deliver persuasive, compelling, and often behavior-changing routines on consumers, including our children.
I'm not disparaging marketing. Quite the contrary: At the Produce Marketing Association (PMA), we are committed to leveraging marketing as a discipline across our great industry. I believe we can and must harness the power of marketing to help families and children make fresh produce the healthy, easy and delicious choice!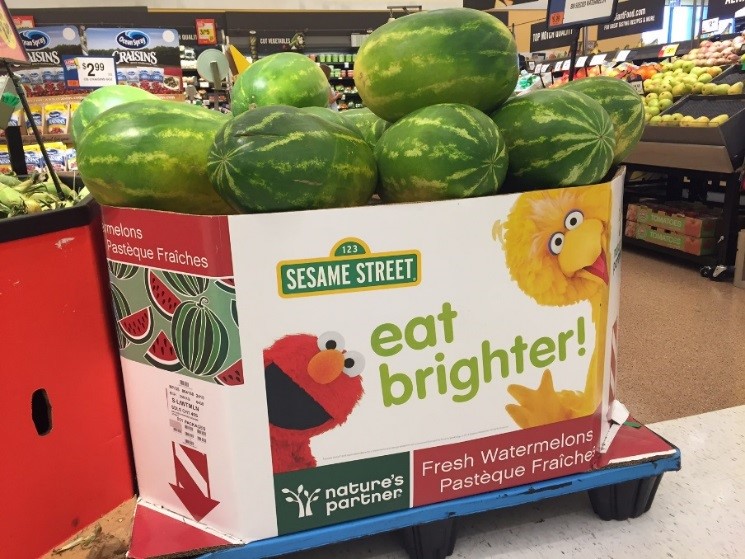 Sesame Street characters are used to promote fresh fruits and vegetables as part of the eat brighter! campaign. Photo was taken in the Washington, D.C. area. (Photo Courtesy of PMA)
Our kids deserve our best, and I know that's what all parents and caretakers want to give them. So we want to use marketing tools to shape their desire for fresh produce and two efforts that advance the goals of Let's Move! are helping us do that—eat brighter!™and FNV.
The eat brighter! movement, a collaborative effort between Sesame Workshop, the Partnership for a Healthier America, and PMA, offers the produce industry an unprecedented opportunity to use Sesame Street characters royalty-free to market fresh fruits and vegetables to kids 2 to 5 years old and their families. FNV, executed by the Partnership for a Healthier America (PHA) and supported by PMA, uses celebrities and modern communication to make fruits 'n' vegetables, aka FNV, into a cool, iconic brand for teens and tweens.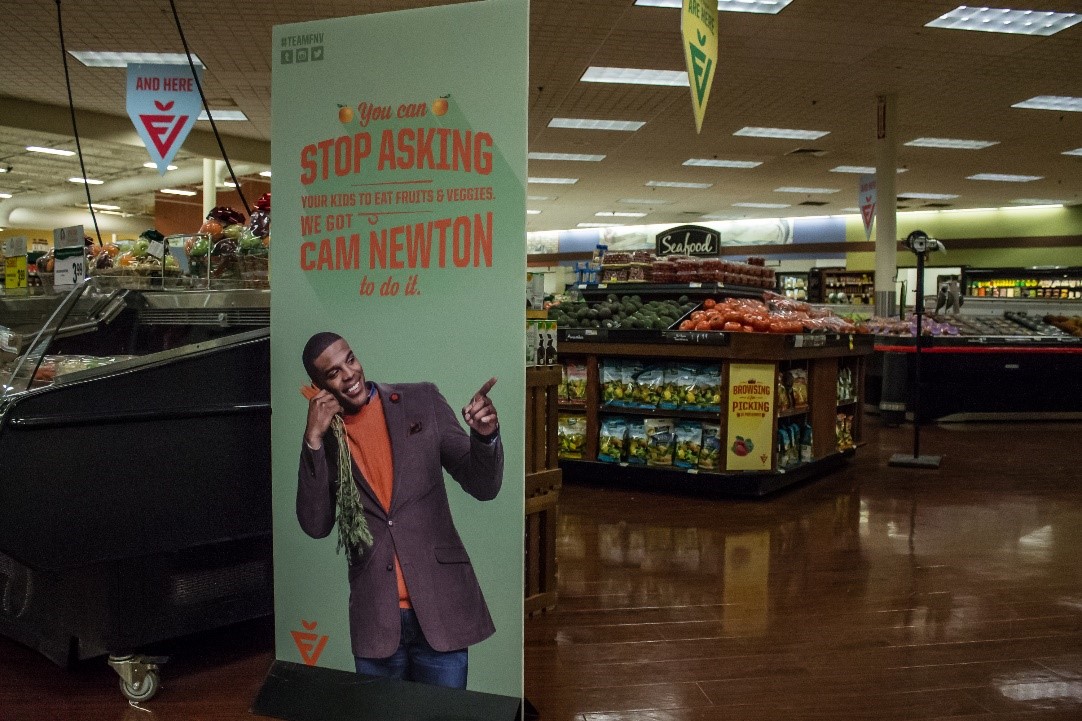 NFL Most Valuable Player Cam Newton is featured on an in-store advertisement for FNV - fruits 'n' vegetables. (Photo Courtesy of PHA)
I'm proud of what our industry has done to advance these initiatives and I call on our industry to do even more. At PMA, we are intent on broadening the reach of marketing for ideas like eat brighter! and FNV. Marketing works to help influence our kids and their parents to make fruits and vegetables a natural and enjoyable part of their daily lives to build their bodies, their minds, and bright, healthy futures.