Wellness in the Schools, a Model of How Chefs Move to Schools can Change Cafeterias and School Environments across the Nation
Wellness in the Schools, a national non-profit organization, is a key partner and supporter of the Chefs Move to Schools initiative. We're proud to tell you more about how, together, we impact students every day.
Wellness in the Schools (WITS) actively engages students and school staff in a fundamental re-imagination of the lunch and recess experience. Our partnership approach drives systematic, long-term change, shifting the entire culture of schools. Trained culinary graduates partner with cafeteria staff to feed students healthy meals, and fitness coaches encourage schools to let kids play.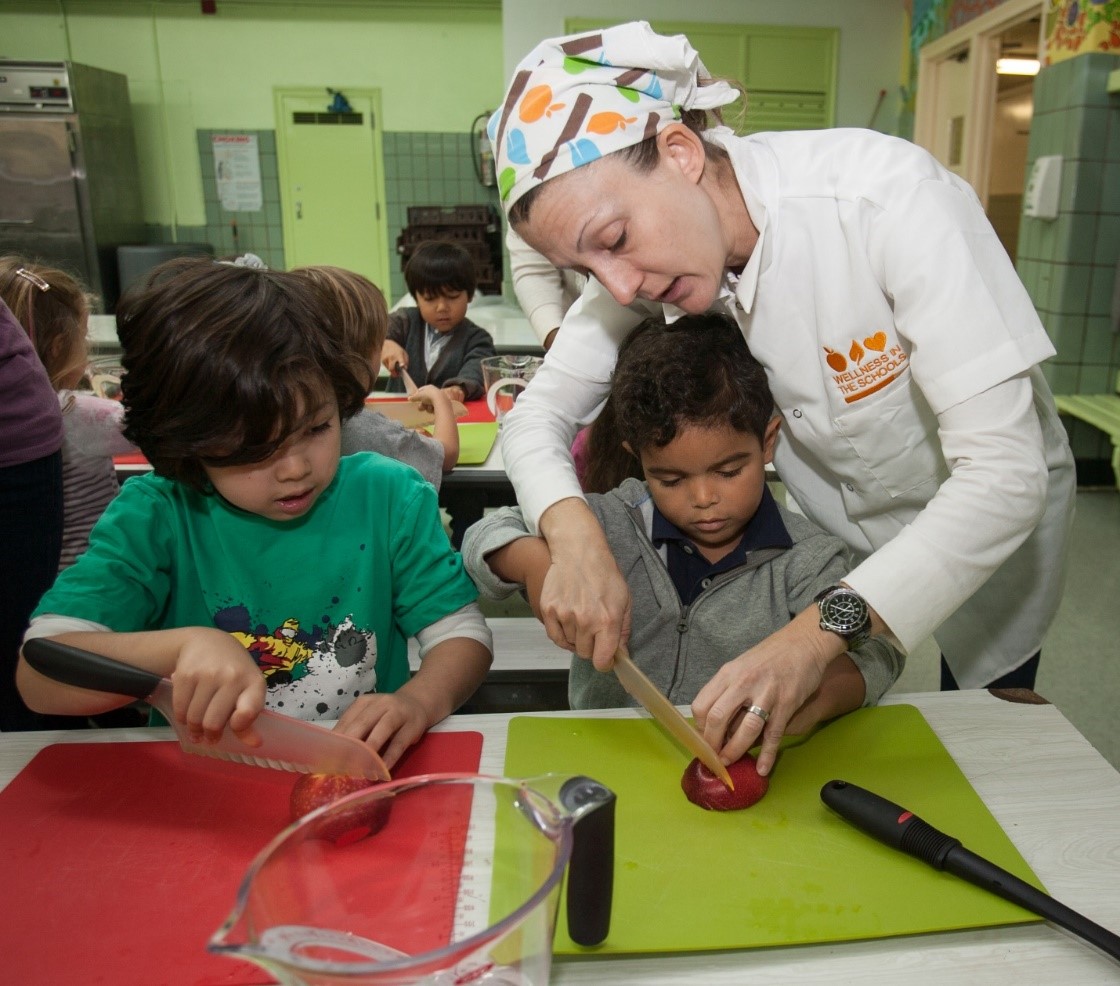 Wellness in the Schools chef Cynthia Tomasini teaches students how to use a knife safely.
In partnership with local departments of education, Wellness in the Schools (WITS) programs serve more than 50,000 children in 100 schools nationwide each and every day. In the past 11 years, WITS has helpedschools serve more than 11 million healthy school meals. "We will continue to push change-making in NYC and are at same time supporting efforts across the nation, helping schools across the country become healthier places for students to learn and grow," said WITS Managing Director, Chef Greg Silverman.
In early 2016, Chefs Move to Schools and Wellness in the Schools co-hosted a webinar showcasing the Wellness in the Schools program and its history of making changes in cafeterias and schools in New York City and beyond. Chefs Move to Schools chefs and teams received valuable insight into setting up meaningful programs and interactions with school nutrition professionals, students, teachers, parents, and communities.
As a part of First Lady Michelle Obama's Let's Move! Initiative, Chefs Move to Schools seeks to harness the creativity and culinary expertise of chefs to help schools ensure that America's youngest generation grows up healthy. Chefs around the country have adopted a school and are working with the school community to educate children about food and show them that healthy eating can be fun. Local chef volunteers are lending their passion and creativity to assist in schools' efforts in the classroom and cafeteria, as well as through culinary trainings and demonstrations.
Chefs interested in volunteering with Chefs Move to Schools and partnering with schools in their area can register at Chefs Move to Schools. Schools can also find a local chef volunteer using the chef locator tool.
To learn more about Wellness in the Schools (WITS), go to www.wellnessintheschools.org and follow @witsinschools on Twitter.