Wherever You Are – Let's Read, Let's Move
Ed. Note: This is a cross post from Homeroom, the official blog of the U.S. Department of Education. You can find the original post here.
Reading over the summer makes students more prepared when the new school year begins. That's why the U.S. Department of Education (ED) makes an annual call to action that encourages more reading time out of school, especially over the summer months. Two events held in August celebrated reading and physical activity and aimed to increase awareness about the critical importance of summer learning.
The Olympic anthem rang out. Played by a band from MusicianShip, a D.C. nonprofit that facilitates music opportunities for students, it set the stage for this year's Let's Read, Let's Move event at the U.S. National Arboretum. Dignitaries and special guests proceeded to the garden that served as the reading area, followed by pre-k to 6th grade students who carried flags representing their "Olympic" teams: Bursting Beans, Outgoing Onions, and Helpful Honey Bees among them.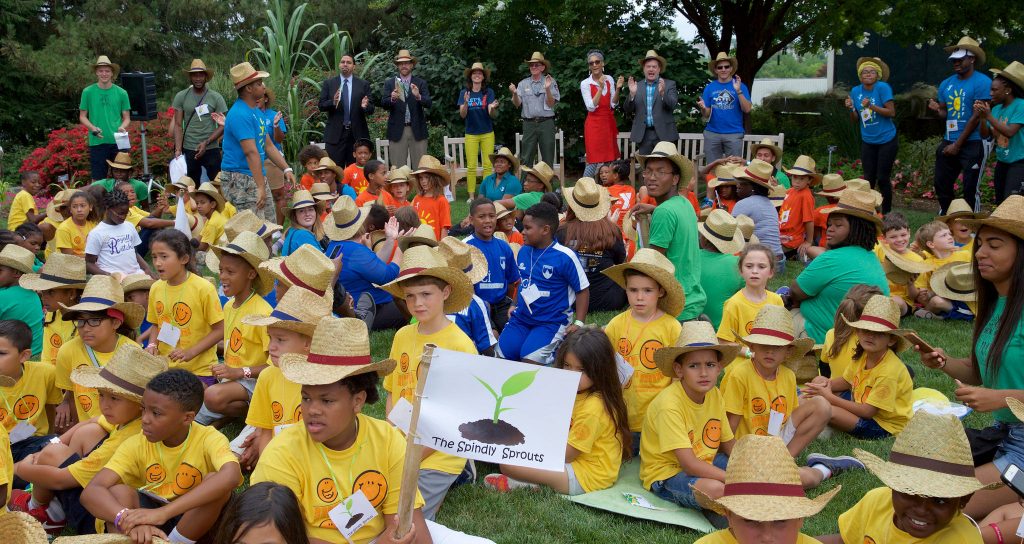 Students gathered at the National Arboretum for a Let's Read, Let's Move event.
With extreme energy, each VIP, including Secretary King, White House Executive Director of Let's Move! Deb Eschmeyer, White House Chief Horticulturist Jim Adams, Chef Carla Hall, from ABC's "The Chew" and Brian Mihelic, Washington, D.C. Youth Rugby, read a portion of Diary of a Worm by Doreen Cronin. It was difficult to tell who was more enthusiastic – the special dignitaries and guests who incorporated movement into their reading or the children who followed directions, paid attention and asked probing questions afterwards. Do worms really think baseballs are rocks? Do worms really eat paper? In the story, the worm eats his homework, which causes some trouble for him, and students agreed that would cause trouble for them, too.
Next on the agenda: Let the Games Begin! Students incorporated physical activities into their visit during the Let's Move! portion of the event. While Let's Read aims to increase awareness about the critical importance of summer learning and summer reading, Let's Move!, First Lady Michelle Obama's initiative, serves to underscore the importance of staying active, healthy eating and an active lifestyle. The Let's Move! "Olympic Arboretum villages" featured a dueling "smoothie bicycle" competition between Chef Carla and Chef Deb. Rinehart and Adams judged the bubble lawn mower race; Mihleic joined students participating in golf and rugby drills, and Adams led a walking tour of the Youth garden, where students planted 45 seeds in honor of the Washington youth garden's 45th anniversary.
Later that day, across the river at the Kenilworth Park and Aquatic Gardens, a National Park service site, King joined U.S. Secretary of the Interior Sally Jewell and the Executive Director of the National Book Foundation Lisa Lucas, to read to elementary school students from the DC YMCA Anthony Bowen science camp. With water lilies in full bloom, the serene setting proved to be the perfect background for Read Where You Are Day, a digital day of action in support of the President's My Brother's Keeper initiative to raise awareness and draw attention to the importance of summer reading and learning wherever children spend their time. At the event, the students read a book about many kinds of butterflies, and then Jewell asked all fourth graders to raise their hands – reminding them that they can get a free Every Kid in a Park pass. Every Kid in a Park is another White House initiative to encourage all 4th graders and their families to experience our country's natural treasures. Secretary Jewell and her Department are leading a nationwide movement to inspire millions of young people in urban areas to play, learn, serve and work in the great outdoors.
Events like these raise awareness of the importance of reading over the summer.