Top Five Moments from the 2016 Kids' "State Dinner"
Last week, the First Lady welcomed 56 incredible young chefs from all over the country to the White House for the fifth annual Kids' "State Dinner." Just like any other state dinner, the room was filled with stunning décor, the meal was served on White House china, and "The President's Own" United States Marine Band played in the background. The only difference? The guests of honor were kids!
The East Room of the White House glowed with smiles as kid chefs dined with and heard from the First Lady, enjoyed a menu of their own healthy recipes prepared by White House chefs, and were treated to an electrifying performance from the cast of The Jungle Book: Alive with Magic!
Here are our top five moments from that inspiring, fun and delicious day!
1. Amazing stories from amazing kids.
​As part of the Healthy Lunchtime Challenge, recipes were judged not only on taste, originality, affordability, and healthfulness following USDA's MyPlate nutrition guidance, but each had a story behind it, too. We heard stories like that of Lael Jefferson, 11, from Alabama who told us that cooking is one of her many passions. Her dish, "Fruit-Tactular Salad," was served for dessert.
Other kid chefs were motivated by keeping their family healthy—like Jamal Bin-Yusif, 11, who found a way to create a healthy, low-sodium recipe because his family has a history of high blood pressure and diabetes. As his mom, Kathy, noted, "Jamal is very aware of the health concerns of his family and ethnicity. If he can make his food healthier, then he believes he'll live a more active life where he can keep doing all the fun things he loves to do."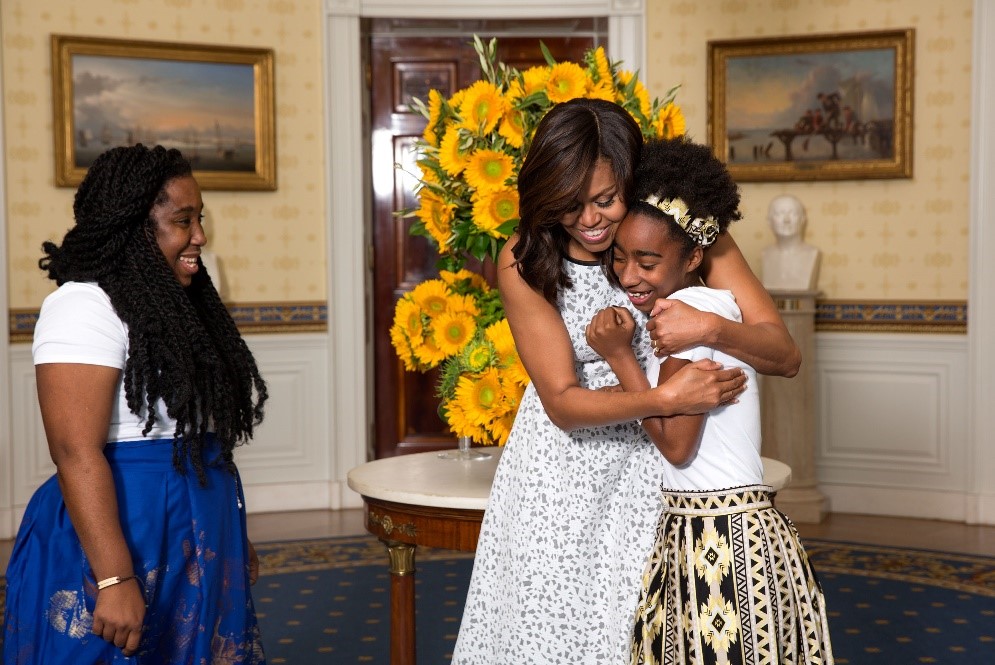 First Lady Michelle Obama greets Healthy Lunchtime Challenge winner Lael Jefferson and her mother Takisha Jefferson of Prattville, Ala., in the Blue Room. (Official White House Photo by Amanda Lucidon)
2. From garden to table: Kid farmers and kid chefs!
In her remarks, the First Lady highlighted how kids helped plant and harvest the produce from the White House Kitchen Garden that was used in the kid chefs' recipes prepared for the Kids' "State Dinner."
"Just think about how cool that is -- that today, here at the White House, kid farmers helped grow the food used to prepare kid chefs' recipes. Isn't that something? So let me tell you, don't ever let anyone tell you that kids can't make a difference," said First Lady Michelle Obama.
3. Wise words: When we eat healthy, it's like "throwing a party for your belly"!
Samuel Davis, the 2015 winner from Louisiana, returned to the Kids' "State Dinner" to introduce the First Lady. From a young age, Samuel understood the benefits of eating healthy, saying, "When I was 3 years old, I learned that eating healthy was like throwing a party for your belly!"
He not only reminded the crowd that "healthy eating promotes a stronger mind, body and prevents medical conditions" but he echoed the First Lady and encouraged his fellow young chefs to pay the experience forward. He urged them to be the "healthy hero" of their hometown. Since winning the Healthy Lunchtime Challenge last year, Samuel has become an ambassador for healthy eating, learning how to create affordable, healthy dishes, enhance his family's garden, and help other kids tend to gardens in their communities.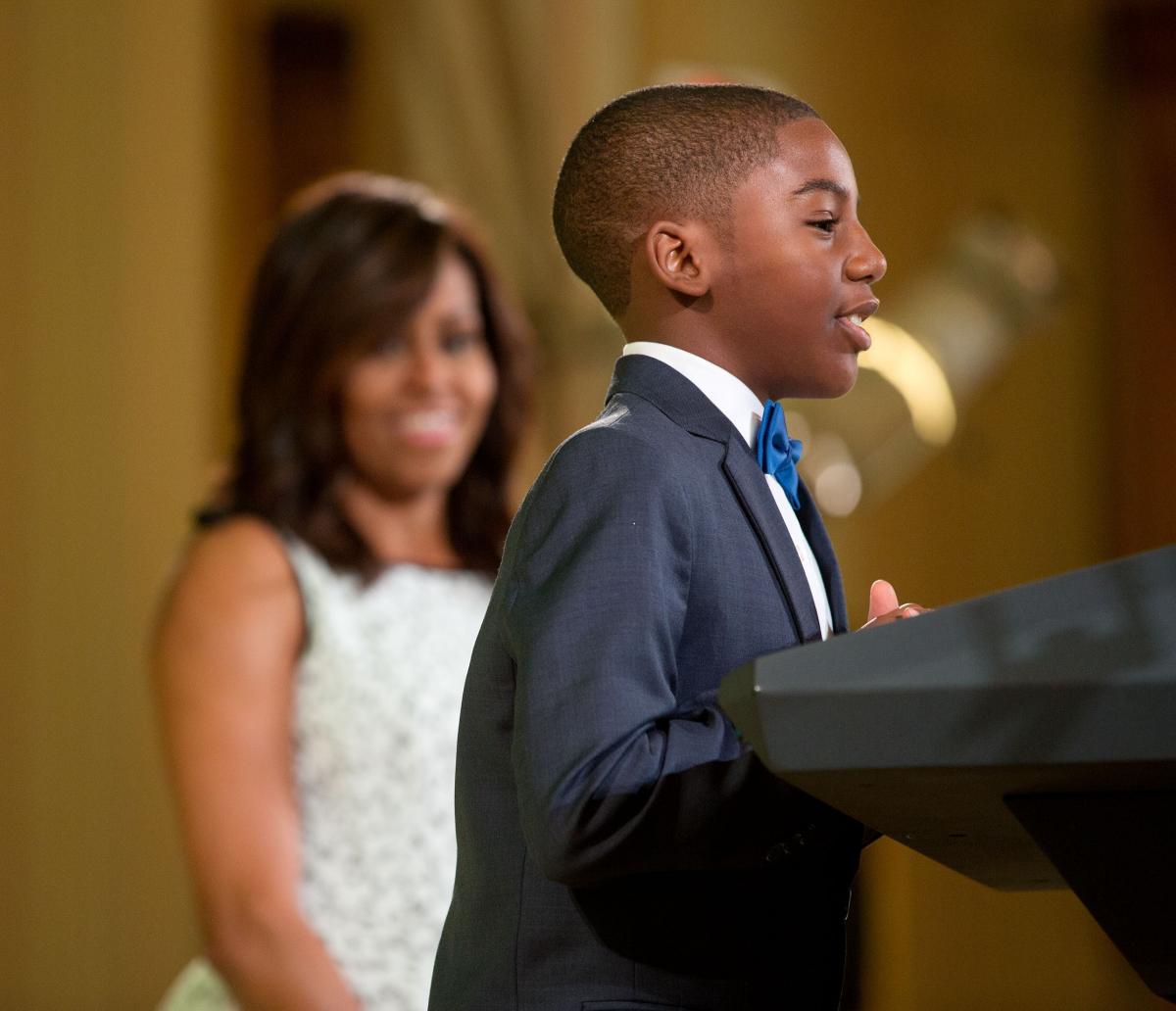 Samuel Davis, the 2015 Healthy Lunchtime Challenge winner, introduces the First Lady in the East Room. (Official White House Photo by Amanda Lucidon)
4. The gorgeous garden-themed decor!
The White House – from the Grand Foyer to the East Room – was decorated in breathtaking garden-themed décor. Planters were filled with fruits and vegetables, tables were adorned with strawberry-themed tablecloths, baskets were made with garden hoses, and even the ceiling was lit with strawberries! In addition, each young chef received their very own embroidered chef's hat.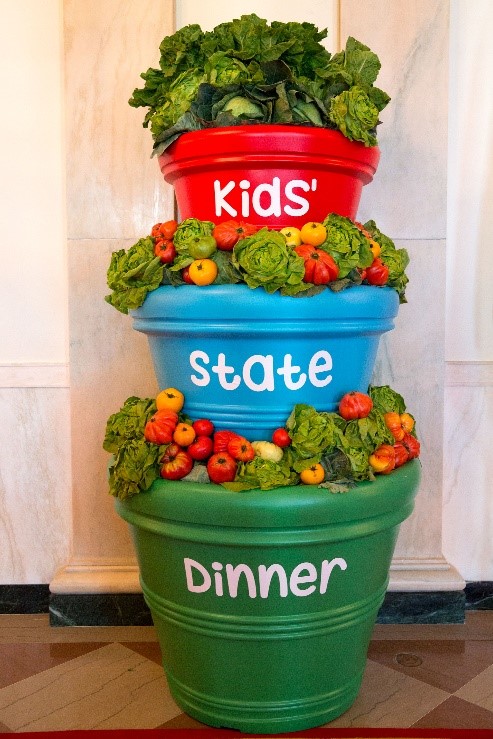 Kids' State Dinner decorations line the Cross Hall of the White House awaiting the arrival of the winners of the 2016 Healthy Lunchtime Challenge for the Kids' State Dinner, July 14, 2016. (Official White House Photo by David Lienemann)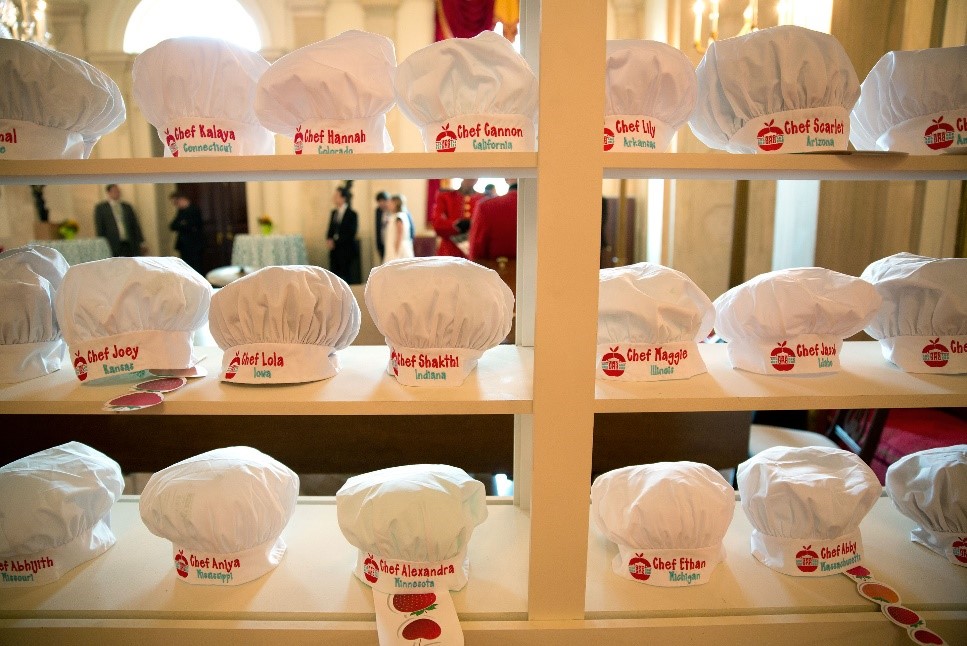 Chef hats printed with the name and state of the 2016 Healthy Lunchtime Challenge winners sit on shelves in the Cross Hall. (Official White House Photo by David Lienemann)
5. A magical performance to remember!
After the meal, guests were treated to a performance from Walt Disney World Resort's The Jungle Book: Alive with Magic! Mowgli, Baloo, King Louie and their fellow characters performed hits like Bare Necessities, dancing and singing their way through the East Room.
Check out all of the winning recipes in the Kids' "State Dinner" cookbook and try them in your kitchen at home!