Northern Mariana Islands' Winning Recipe: Chicken Kebab Lettuce Wraps
"This recipe was inspired by my mom's workouts and the diverse cultures that live in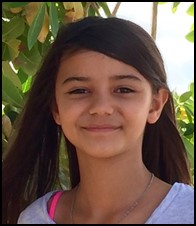 our community. The coleslaw is like our community—full of different flavors from all of the different cultures that live here."
- Fanai Staffler, Age 9, the 2016 Healthy Lunchtime Challenge winner from the Northern Mariana Islands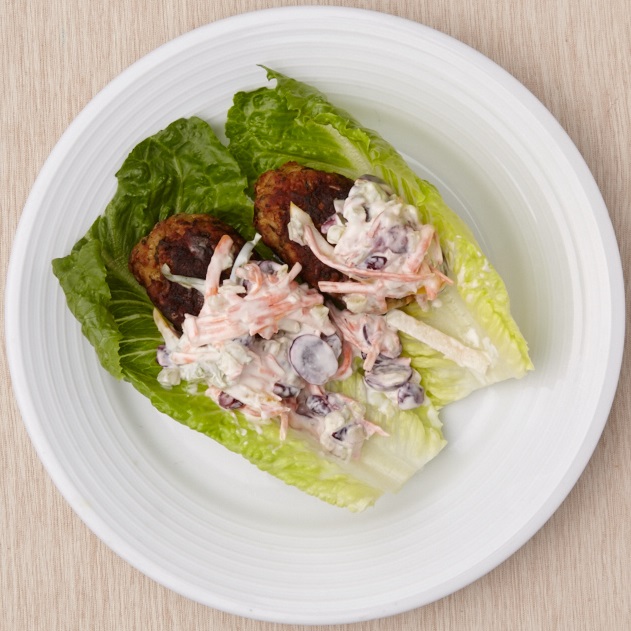 Makes 4 Servings
INGREDIENTS
For the Chicken Kebabs:
2 ½ cups water
1 cup brown rice
½ pound ground chicken
½ teaspoon cumin
½ teaspoon garlic powder
½ teaspoon salt
1 tablespoon fresh lemon juice
3 tablespoons chopped parsley
1 egg
¼ cup breadcrumbs
Nonstick spray
8 romaine lettuce leaves
For the Coleslaw:
¼ cup bell pepper, seeded and thinly sliced
¼ cup finely chopped celery
½ green apple, peeled and thinly sliced
¼ cup sliced grapes
½ cup peas
¼ onion, peeled and thinly sliced
¼ cup carrot, peeled and thinly sliced
¼ cup raisins
¼ cup low-fat plain yogurt
¼ cup low-fat mayonnaise
Salt and freshly ground black pepper
PREPARATION
To make the Chicken Kebabs: In a large stockpot, boil water with the rice over medium-high heat, cover, reduce heat to low, and simmer for 45 minutes, or until tender and water has been absorbed. Preheat the oven to 350°F. In a large bowl, combine all the kebab ingredients, and using your hands, form into 4 patties and place on a large non-stick baking sheet. Bake for 40 minutes, or until golden brown.
To make the Coleslaw: In a large mixing bowl, combine all of the ingredients and mix well.
To Assemble: Place patty on top of lettuce leaves and top with coleslaw.
422 calories 12g fat 60g carbohydrates 19g protein