We Are Just Getting Started: Reflecting on the First Lady's Remarks at the 2016 Partnership for a Healthier America Summit
It's hard to believe that it's been exactly one month since First Lady Michelle Obama delivered the keynote address to over 900 stakeholders at the Partnership for a Healthier America's (PHA) "Building a Healthier Future" Summit.
The Summit brought together corporations as well as nonprofit, government and academic leaders to generate innovative solutions that help kids and families lead healthier lives. It highlighted the tremendous work that's underway, including over 200 PHA partners with more than 50,000 locations in all 50 states reaching nearly every American every week! Several new partners and commitments were announced, ranging from health care providers and retailers to major food companies and hotel chains. For example:
Trinity Health committed $80 million to a five-year Transforming Communities initiative that addresses the root causes of poor health;
DICK'S Sporting Goods, Inc., in conjunction with the DICK'S Sporting Goods Foundation, committed to investing $25 million over three years in organizations and activities that inspire and enable youth sports participation; and
Westin, the international hotel chain, committed to revamping its children's menus globally to meet healthier guidelines approved by PHA, to supporting the FNV and Drink Up campaigns, and to promoting physical activity.
Together, these efforts are helping shift our culture to truly create a new norm for the next generation.
Reflecting on the culture change that has occurred in just the past six years, the First Lady said:
"See, it's no accident that fast-food places are now serving apples and skim milk in their kids' meals, or that food and beverage companies — including many in the room here today — have cut 6.4 trillion calories from their products and are racing to stock grocery shelves with healthier options. These companies are simply responding to rapidly changing consumer demands. And that change is happening more quickly than we could have ever imagined.
Just think about it. If six years ago, someone had told you that Fenway Park would have a 5,000 square foot farm on their rooftop to provide fresh produce for their fans — or that 50 million Americans would visit a government website called MyPlate to learn about healthy eating, or that sales of kale would jump 50 percent in just four years — or that the first unanimously chosen NBA MVP, Steph Curry, would choose fruits, vegetables, and water as his primary product endorsements — if someone had told you all that six years ago, you would have thought they were out of their minds. But that's the kind of meaningful, tangible change that we're seeing throughout the country."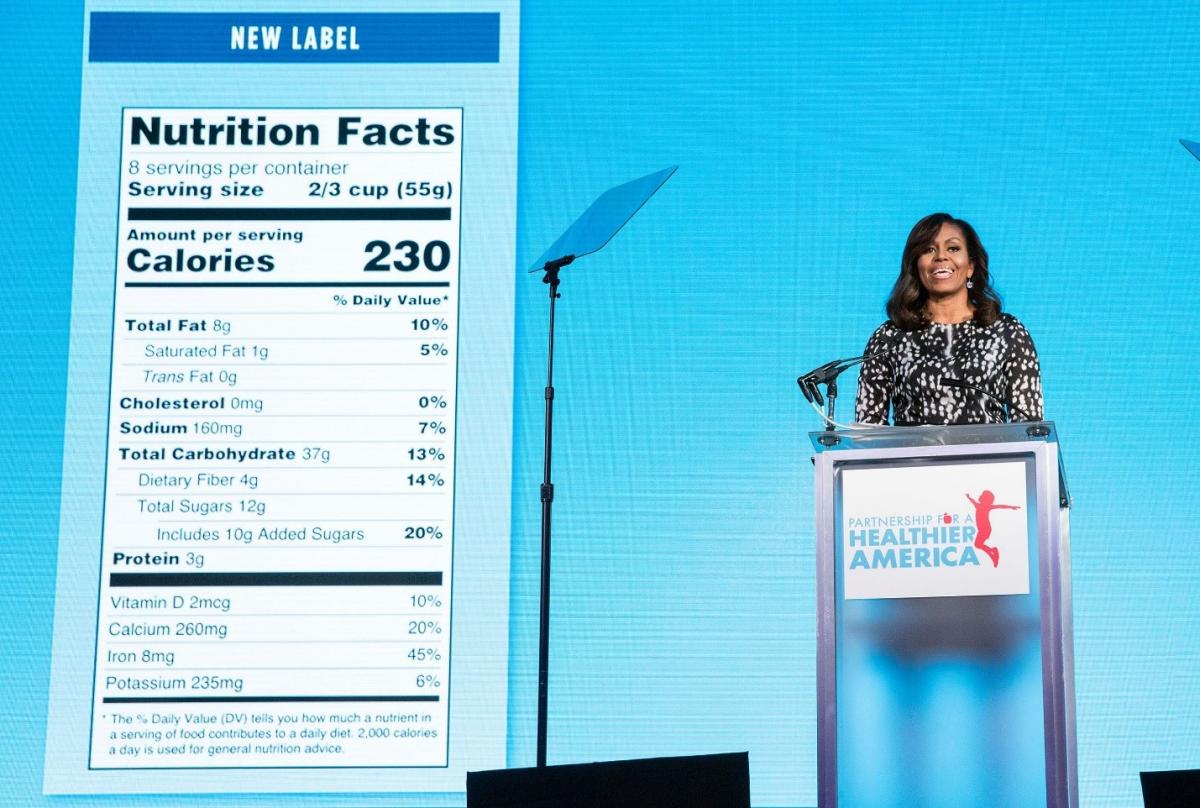 First Lady Michelle Obama announces the modernized Nutrition Facts label for packaged foods during the Partnership for a Healthier America (PHA) Summit at the Renaissance Washington, DC Downtown Hotel in Washington, D.C., May 20, 2016. (Official White House Photo by Chuck Kennedy)
Building on these significant changes, another achievement was announced at the Summit — the modernization of the Nutrition Facts label for packaged foods. Reflecting the latest science, the most relevant nutrition information, and a refreshed design, the new label will be found on products nationwide over the coming overs. From requiring the amount of "Added Sugars" to be declared to making the serving sizes more realistic, the new label is a huge step forward in raising a healthier generation of kids.
And while so much has been achieved, the First Lady underscored that this work is far from over and that she's committed to this issue for the long haul, saying:
"I'm not here today to give a victory speech, and these certainly aren't my closing remarks on this issue — just the opposite. I was passionate about this issue long before I became First Lady, and I plan to work on it long after I leave the White House. Because as far as I'm concerned, everything we've done before today was simply phase one of our work together. That was phase one. And while we have accomplished a lot, we are just getting started."
Indeed we are! And we'll continue to need new champions, creative ideas and unique partnerships to keep this work going and ensure kids have the bright future they deserve.
For a full transcript of the First Lady's remarks, go here.