Featured Kid Chefs at the 2016 Kids' "State Dinner" Announced
It's almost time for this year's Kids' "State Dinner!" Today, we announced the 56 young chefs representing each U.S. state, five territories, and the District of Columbia that will be joining First Lady Michelle Obama at the White House on July 14 for the fifth annual Kids' "State Dinner." The students attending are the winners of this year's Healthy Lunchtime Challenge. The winners and a parent or guardian will enjoy a healthy lunch hosted by Mrs. Obama that features a selection of the winning recipes. Following lunch, everyone will head out to the South Lawn to visit the White House Kitchen Garden.
"For the last five years, kids across the country have cooked up nutritious and delicious dishes as part of the Healthy Lunchtime Challenge, and each year, I continue to be impressed by their talent and creativity," said First Lady Michelle Obama. "Kids are truly embracing and enjoying healthy eating and preparing healthy meals for their families, and I look forward to meeting this year's winners here at the White House for the Kids' "State Dinner" and trying some of their tasty creations."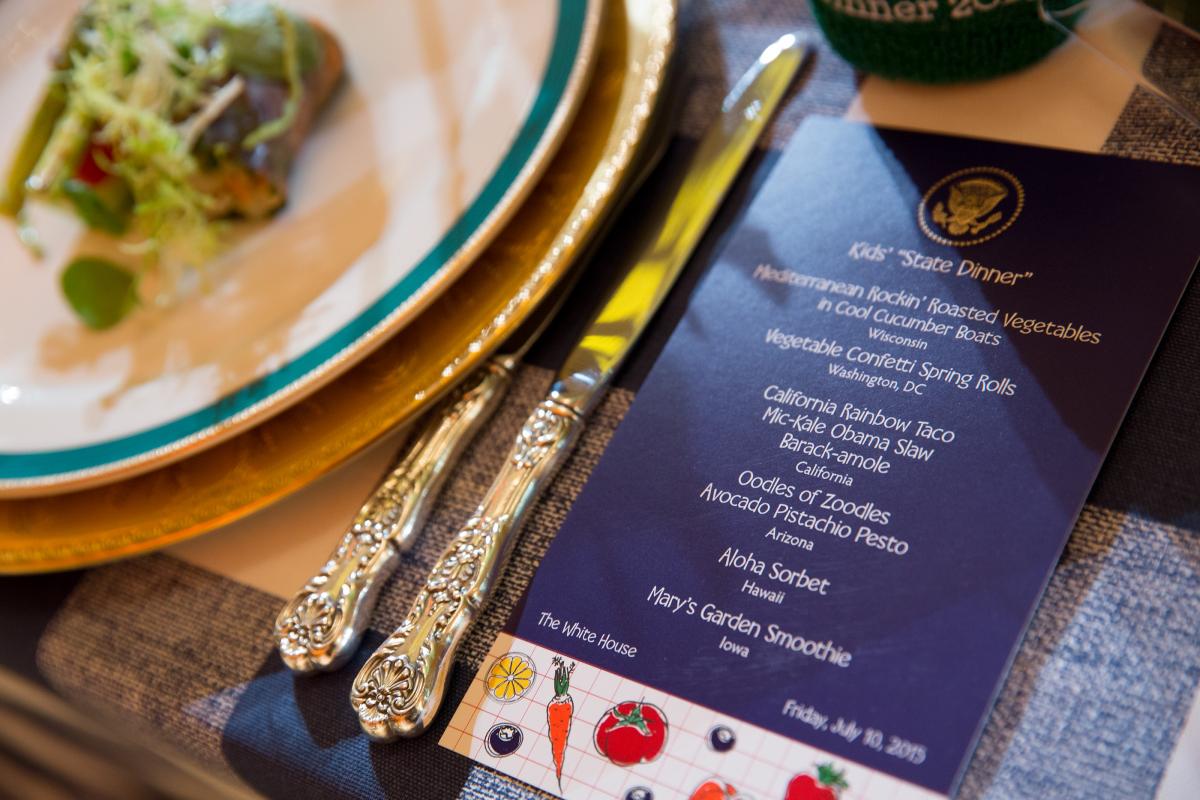 The dinner menu at the Kids' State Dinner in the East Room of the White House hosted by the First Lady, July 10, 2015. (Official White House Photo by Amanda Lucidon)
Once again this year, the First Lady teamed up with PBS flagship station WGBH Boston, the U.S. Department of Education, and the U.S. Department of Agriculture to host the Healthy Lunchtime Challenge. To make the challenge possible for kids and their families across America, support is being provided to WGBH by Newman's Own Foundation.
With over 1,200 entries submitted, the winning recipes were selected based on their healthfulness, taste, originality, affordability, and following USDA's MyPlate nutrition guidance. In addition, in celebration of the MyPlate, MyState initiative, this year's challenge put a spotlight on homegrown pride across the country and encouraged entries to include local ingredients grown in the entrant's state, territory, or community. It was no easy task to select the winners from all of the incredible submissions!
New this year, Blue Apron will be featuring one of the winning recipes on their Family Plan menu for delivery the week of July 11 as part of their efforts to get the whole family into the kitchen preparing healthy meals.
In addition, at the Kids' "State Dinner," winners will have the opportunity to learn from Author, Daytime Host, Child Nutrition Advocate, and member of the President's Council on Fitness, Sports & Nutrition Rachael Ray, whose Yum-o! organization has joined to support this year's Healthy Lunchtime Challenge.
Be sure to check out the list of winners, and stay tuned to catch all the action on July 14 at this year's Kids' "State Dinner!" You can also follow along on social media using #KidsStateDinner.
Learn more: