From the Kids' "State Dinner" to the President's State of the Union
After attending the Kids' "State Dinner" and hearing the President and First Lady's challenge for kids to make a difference in their own communities, Braeden Mannering, 12, was inspired to act.
Braeden started his own nonprofit, Brae's Brown Bags (3B), which provides healthy food to homeless and low-income individuals in his community. His mission is also to raise awareness about the problems of food insecurity and poverty, and to empower and inspire youth across the nation to become part of the solution. To date, Braeden has activated more than 2,600 volunteers, provided more than 4,500 "brown bags" of healthy food, and raised more than $52,000 for hunger relief. He co-hosted the first "hunger conference" in Delaware to include youth, and he continues to spread his mission in Delaware and other states, speaking at schools, conferences, and legislative sessions.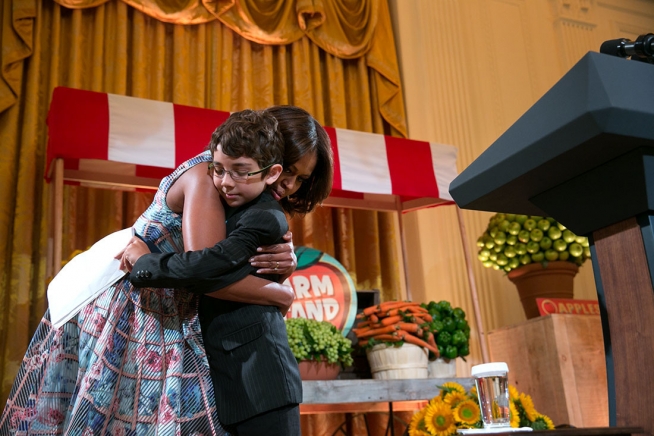 First Lady Michelle Obama hugs Braeden Mannering, the 2013 Kids' State Dinner winner from Delaware, after he introduced her at the Kids' State Dinner in the East Room of the White House, July 18, 2014. (Official White House Photo by Amanda Lucidon)
Because of his incredible efforts to create change and help his community, Braeden was invited to join the First Lady for the President's final State of the Union address tonight.
Braeden spoke to TIME about his journey from attending the Kids' "State Dinner" to starting his own nonprofit to preparing for his trip to Washington, DC for the State of the Union. Check it out here, and don't miss Braeden as he takes over the First Lady's Instagram account today, sharing photos from his journey.
Tune in tonight at 9:00 pm ET to watch the President's address and follow along using #SOTU.