Kicking Off Athletes for Active Schools Week
Today marks the start of Athletes for Active Schools Week. From September 14-18, athletes from across the country will rally together to support more physical activity and physical education (PE) in our nation's schools.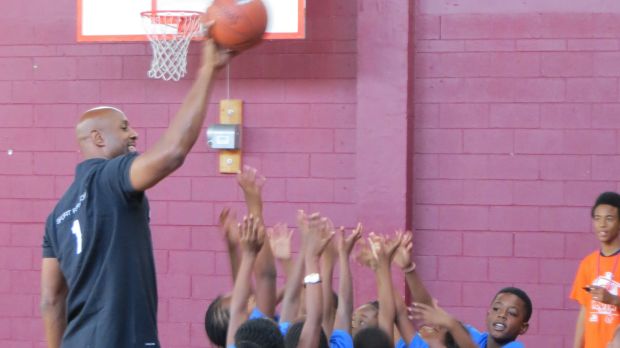 Alonzo helping kids reach for new heights by inspiring a love for physical activity
Many of us are shocked to find out the jarring reality of the current PE landscape. Did you know that only six states require PE in every grade? And did you know only three states require schools to provide the nationally recommended minutes per week of PE in elementary school and high school?
Truth be told, none of us would be where we are today if it weren't for a PE program that prepared us with the foundational knowledge of how powerful a body can be when it is in motion and introduced us to the motor skills necessary to find joy in sport and play.
So, it's time to step up and speak out to make sure today's youth have the same opportunity to develop an active body and lifetime of healthy habits.
During Athletes for Active Schools Week, some of us will be visiting schools to share our passion for fitness and exercise with kids. Others will voice their #ActiveSchools spirit in a "Getting Kids Active and Fit at School" Twitter Chat on September 15th at 3 pm ET. And, yet other athletes will be challenging their social media networks to #5forPE by showing us five reps of their favorite way to move and sharing how PE helped shape their success.
Athletes may be leading the #5forPE charge, but if you have ever ran, jumped, danced or swam, you are part of our team. I encourage you to join in the fun by participating in the Twitter Chat or by taking to social media to show us how you #5forPE.
Visit activeschools.athletesforhope.org for more information about how to get involved.