Mary's Garden Farfalle Feast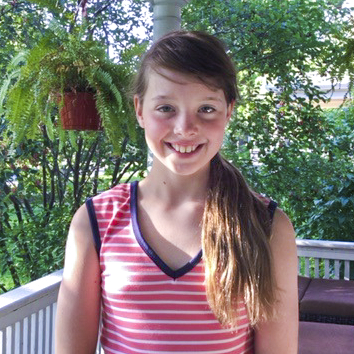 "I'm inspired by my sister, who can run as fast as the wind, and my brothers, who taught me basketball. I was also inspired by my coaches on Girls on The Run, who taught me to be the best I can be and much more," says Mary. "Last but not least, I was inspired by my parents. My mom, because she has taught me to be healthy, and because I run with my dad when we do 5Ks and he encourages me all through the race. I'm eating the Farfalle Feast and following MyPlate, so my bones, brain, and muscles will grow strong. I serve this pasta with with Kale-Spinach Smoothies and Fruit Salad." - Mary McFetridge, Age 11, Iowa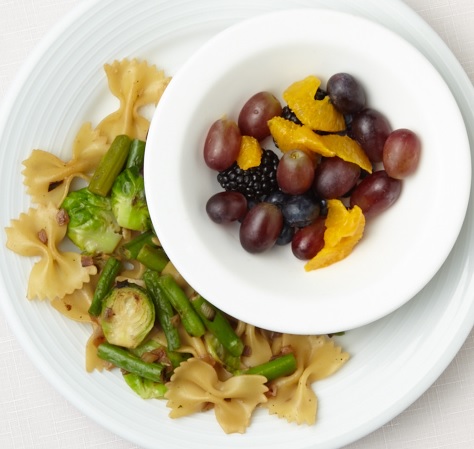 Makes 4 Servings
Ingredients:
For the Farfalle Feast:
2 cups plain farfalle and/or veggie penne pasta
4 ears corn
2 tablespoons olive oil
1 cup cubed extra-firm tofu
½ cup each chopped fresh green beans, Brussels sprouts, and asparagus
For the Fruit Salad:
2 fresh oranges, peeled
1 banana, sliced
1 cup green or red seedless grapes
1 cup mixed berries
For the Kale-Spinach Smoothies:
1 cup fresh kale and spinach
2 cups orange juice
½ cup nonfat plain yogurt
1 cup frozen blueberries
1 ripe peeled banana
Preparation:
In a pasta pot, bring 2 cups of water to a boil over high heat. Stir in the pasta and cook for about 10 minutes, or until al dente. Meanwhile, fill another pot with water, add the corn, and bring to a boil over high heat. Drain and set aside.
In a large sauté pan, heat the olive oil over medium heat. Add the tofu and cook for about 5 minutes. Add the green beans, Brussels sprouts, and asparagus. Cook for about 5 minutes, or until softened. Add the drained pasta and stir to combine.
Arrange the food on the plates in a butterfly design, with the corn as the body. Arrange the fruit salad in the shapes of little butterflies, placing a red grape between two slices of orange.
In a blender, combine all the smoothie ingredients and process until well combined.
667 calories; 14g fat; 120g carbohydrates; 24g protein (includes smoothie)
Learn more: