Grilled Honey Chicken Salad with Chopped Garden Veggies & Soba Noodles
At the summer White House Kitchen Garden Harvest, the First Lady and kids from Let's Move! programs prepared this nutritious and delicious tasting meal. Check out the recipe below!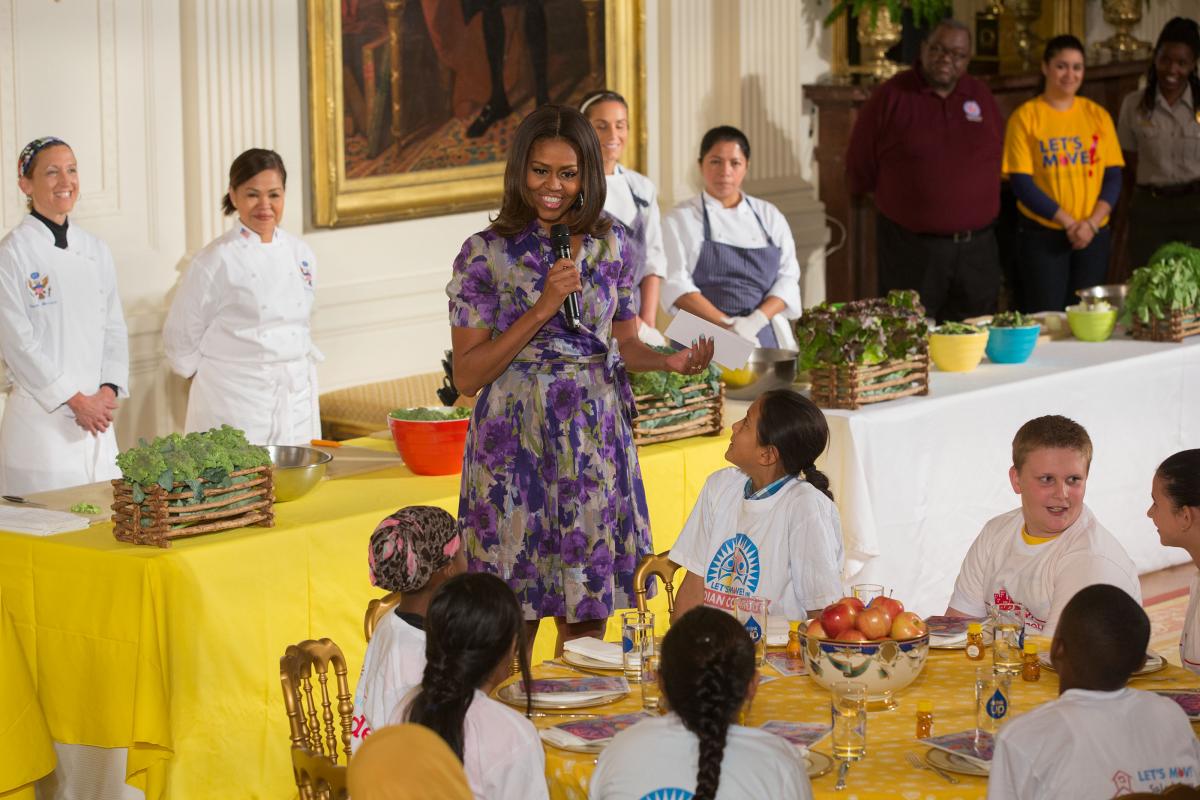 First Lady Michelle Obama welcomes students from across the country who participate in the ten "Let's Move!" sub-initiative programs to a White House Kitchen Garden harvest event in the East Room of the White House, June 3, 2015. (Official White House Photo by Amanda Lucidon)
Grilled Honey Chicken Salad with Chopped Garden Veggies & Soba Noodles
Serves: 6
Ingredients:
2 lbs of assorted garden greens, such as arugula, kale, endive, tatsoi and baby spinach
1 lb of assorted garden vegetables, such as radishes, peas, broccoli, fennel, kohlrabi
6 Chicken breasts
Package of Soba noodles
1 Tbsp scallion
1 lemon zest
1 tsp chopped garlic
1 Tbsp White House Honey
2 Tbsp Low sodium soy sauce
2 Tbsp Canola oil
For the vinaigrette:
½ cup rice vinegar
2 lemons, juiced
1Tbsp Dijon Mustard
1 shallot, finely minced
1 Tbsp scallion chopped
1 Tbsp ginger, minced
2 Tbsp low sodium soy sauce
¾ cup canola oil
2 Tbsp White House honey
Salt and pepper to taste
Marinate chicken with scallion, lemon zest, chopped garlic, honey, soy sauce, and canola oil. Season with salt and pepper and grill. Set aside to rest, slice thinly.
Cook soba noodles in a brisk boiling water for 4-6 minutes. Drain and rinse to prevent sticking. Set aside.
Wash lettuce and spin dry. Slice the garden vegetables into ¼ inch slices. Set aside.
To make the vinaigrette, place all ingredients in a bowl except the canola oil. Slowly whisk the canola oil into mixture until emulsified. Chill.
In a large bowl, mix all the components until well incorporated. Serve immediately.