Let's Move Child Care's Website has a Fresh, New Look!
The Let's Move! Child Care (LMCC) website has a new look! The new and improved website was launched mid-February 2015. The site has been completely redesigned to better assist early child care and education (ECE) providers in finding important resources to help implement the LMCC five goals of improving food choices, increasing physical activity, providing healthy beverages, supporting breastfeeding, and reducing screen time. Also, a great benefit is that now the website can be viewed on mobile devices and tablets!
Instructions on how to become an LMCC provider, along with child care success stories and information on best practices for the five goal areas can still be found on the website. The checklist quiz and action plan features will also be improved in the future. The checklist quiz is the main tool that LMCC providers can use to assess where they are now and create an action plan to make steps towards healthier goals.
With the fresh look, we hope providers will find it easier to find the resources they need, when they need it to help them make positive steps towards their goals set in the action plans they have created. As a web-based initiative, it is important the website be accessible to providers, therefore a series of user tests were done to help inform and determine the content and layout.
While the look of the site has changed, the URL is still the same. So please visit www.healthykidshealthyfuture.org.

A screenshot of the new Let's Move! Child Care website
Let's Move Child Care was launched in June 2011 to focus on obesity prevention efforts for children ages 0-5 years old in early child care and education (ECE) centers and homes across the country. Over the past five years, over 18,000 participants have registered for LMCC online, with over 16,000 of them being ECE providers.
Since the launch of LMCC, several large child care and early education networks have committed to provide healthier environments in all of their centers, including Bright Horizons, New Horizon Academy, Knowledge Universe, Learning Care Group, and the YMCA. Additionally, the Department of Defense, the General Services Administration, and Head Start also pledged participation in LMCC. Together, these groups serve approximately 1.6 million young children.
Starting in September 2014, Centers for Disease Control & Prevention awarded Nemours with a five year cooperative agreement to assist ECE providers to adopt obesity prevention standards, with a focus on the LMCC best practices. Currently, nine states have implemented 59 ECE Learning Collaboratives that reach over 156,000 children. More information about the ECE Learning Collaboratives can be found here.
One Orlando, Florida program, Oakridge Child Care Center, that is involved in the ECE Learning Collaboratives has taken the information learned in trainings and made positive changes. In the beginning, the program's menus included foods that were fried and breaded. Center director, Maritza Lopez explains "Our interest was sparked at the Taking Steps to Healthy Success's Learning Session 2. We saw how much the children could benefit from healthier eating and family-style dining." Maritza and her husband began working with food vendors to find healthier food options to serve in their program. Whole grain breads, whole wheat pasta, brown rice, and fresh fruit were served. Maritza Lopez shares,
"We were inspired to develop goals, prioritize those goals, and put them into practice. Now we have proof of our success. proof of our success. Children will eat healthy food and family-style dining works!"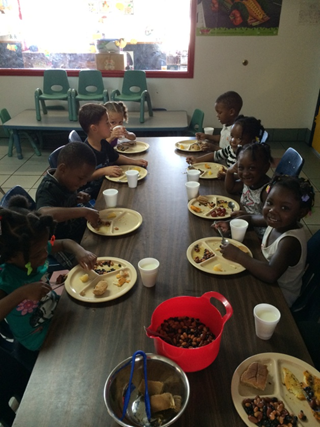 Children enjoy a meal family-style at the Oakridge Child Care Center in Orlando, Florida