Take the #GimmeFive challenge to Celebrate National Nutrition Month!
What better way to celebrate National Nutrition Month than taking the #GimmeFive challenge? This month take the challenge by coming up with five new meals to nourish your family. Feel free to share your creations with us on social media using the hashtag #GimmeFive. USDA's MyPlate can serve as a motivating guide with advice on optimal amounts of fresh produce, lean protein, and low-fat dairy to include in your #GimmeFive challenge recipe!
Get inspired with ideas from the MyPlate Board on Pinterest and ask people in your community to share their favorite healthy creations. Explore the local farmer's market and try a vegetable or fruit you've never tried before. Make cooking more exciting by getting the whole family involved. Take turns stirring, mashing, and chopping those fresh carrots and remember that teaching kids these lessons at home will help them continue cooking healthy meals as adults!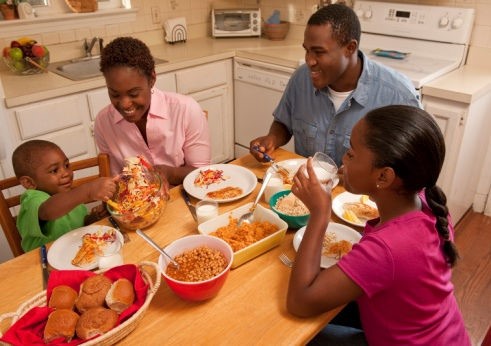 Make meal time a chance to try new healthy foods and catch up with each other.
After dinner, challenge your family to get outside and move. Take a walk to enjoy the new spring air. Pick up the basketball that's been sitting in the garage all month and shoot a couple free throws. Just being on your feet is better than sitting in your seat, so get up and move!
We all have to try harder to live a healthier life, but it's important because these habits lead to a more fulfilling life. On days when your family can't cook at home follow these suggestions from USDA's MyPlate:
As a beverage choice, ask for water or order fat-free or low-fat milk, unsweetened tea, or other drinks without added sugars.
Ask for salad dressing to be served on the side. Then use only as much as you want.
Choose a "small" or "medium" portion. This includes main dishes, side dishes, and beverages
Order an item from the menu instead heading for the "all-you-can-eat" buffet.
Choose main dishes that include vegetables, such as stir fries, or kebobs.