Kids and Chefs Cook for Success
During this year's 3rd Annual Kids' State Dinner, the First Lady announced the Kids and Chefs Cook for Success collaboration. Through this initiative, each of the 54 Kids' State Dinner winners were paired with a chef in their community to host free, healthy cooking demonstrations to support efforts to build and teach basic cooking skills. The work of these dynamic duos has inspired kids, families, and communities across the nation to try their hand at preparing healthier meals at home. The cooking demonstrations have begun, and we couldn't be more impressed with the talented pairs!
Check out a sample of their incredible efforts:
In South Carolina, Julia Pascoe and Chef Brian Sonoskus teamed up to kick off a healthy recipe contest at Greenville's AJ Whitenberg Elementary School, serving Julia's Kids' State Dinner winning recipe: Carolina Chicken Chili. Julia's chili recipe will be served across the county to over 70,000 Greenville students. The success of Julia and Chef Brian's work has encouraged the county to consider implementing the recipe contest across all Greenville schools in 2015.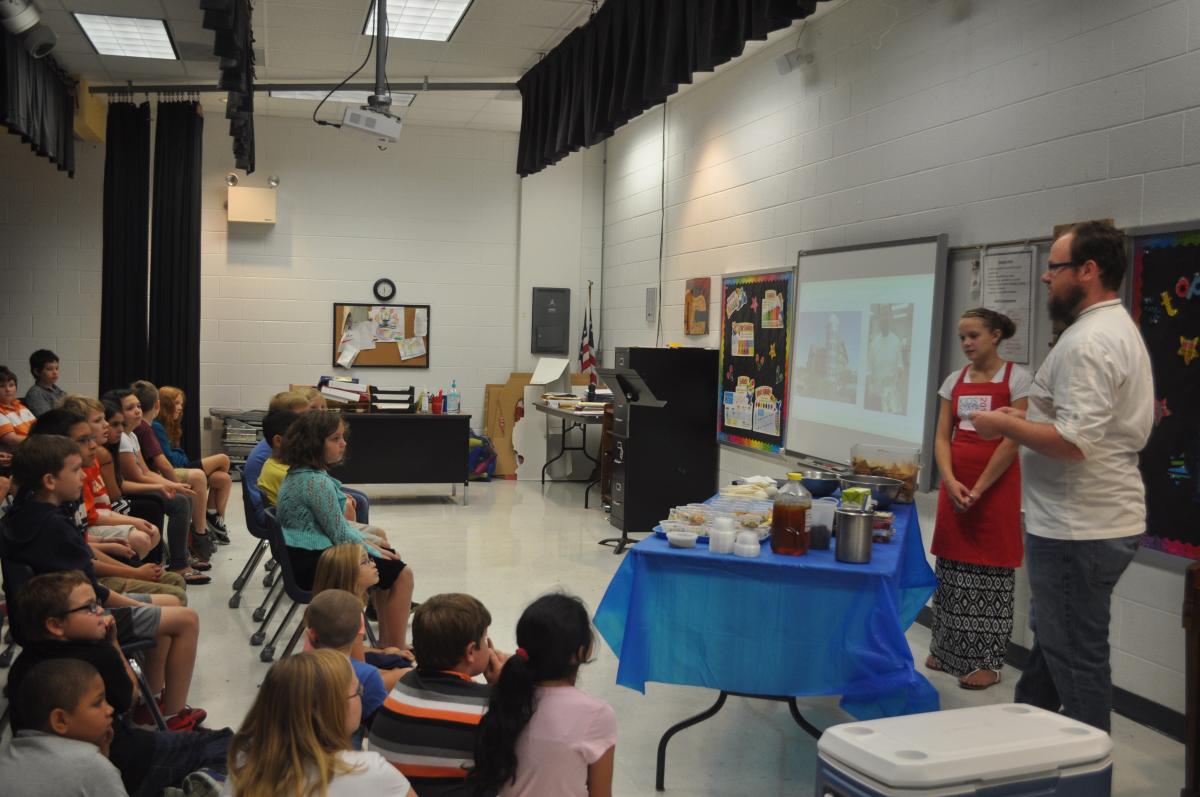 Sophie Haga and Chef Gunnar Thompson prepare Chia Chicken Pitas.
In Virginia, Kids' State Dinner winner Sophie Haga and Chef Gunnar Thompson cooked up Sophie's Chia Chicken Pitas recipe for students at Oakland Elementary School. As part of the cooking demonstration, Sophie shared her Kids' State Dinner experience as well as how she developed her winning recipe. Sophia discussed with students the importance of healthier cooking and eating and how it impacts performance in the classroom. Local newspapers covered Sophie and Chef Gunnar's presentation, resulting in a number of other neighboring elementary schools to invite the pair to speak to their students.
In Wisconsin, Kids' State Dinner winner Sarah Ganser and Chef Amy Hanten prepared Sarah's winning recipe, African Sweet Potato Stew, on Chef Amy's television show, Living with Amy, for the entire community to see!
And in Vermont, Kids' State Dinner winner Iris Hsiang and Chef Christine Frost hosted cooking demonstrations at a local fair and other locations in their community to encourage healthy eating.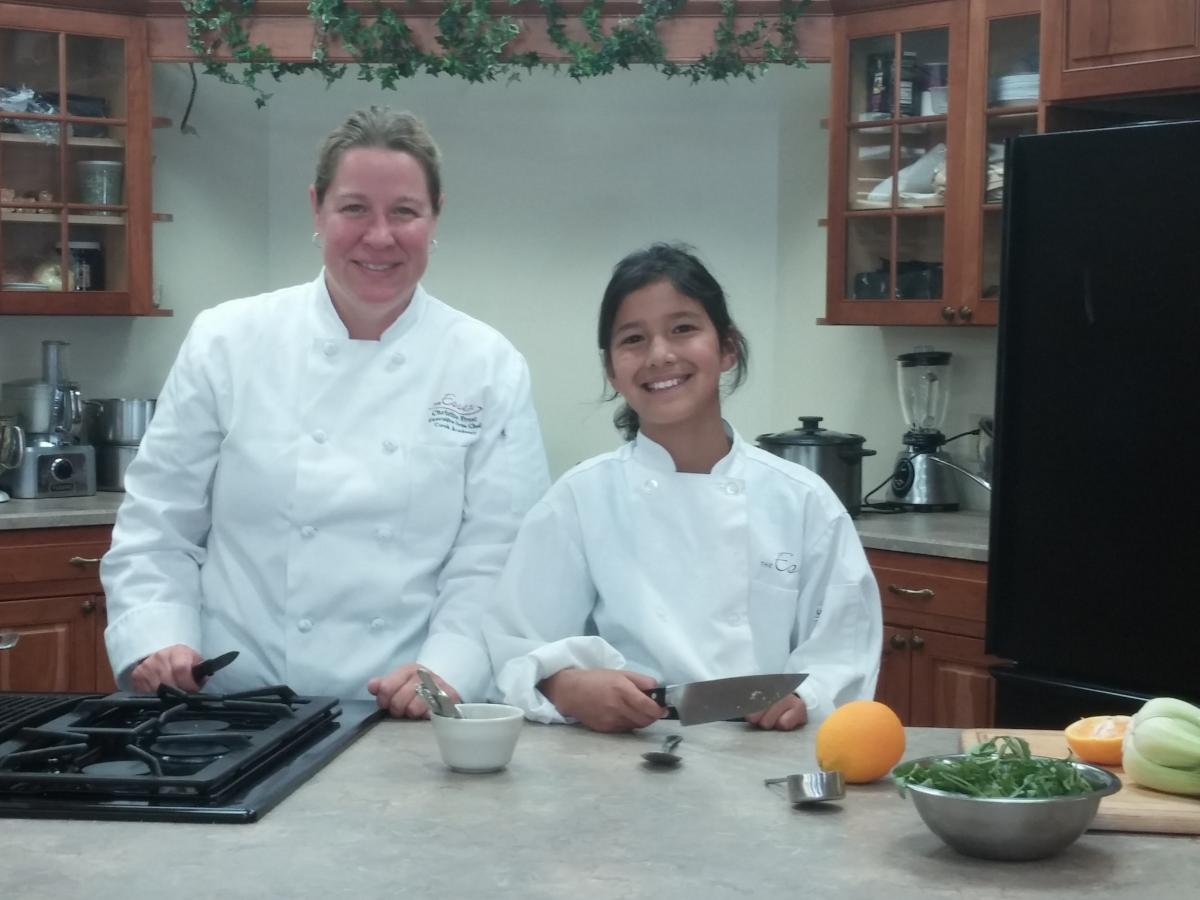 Chef Christine Frost and Iris Hsiang host a cooking demonstration.
The Arizona Kids' State Dinner winner, Cody Vasquez, was paired up with Chef Chris Bianco, and they hosted one of their cooking demonstrations at Cody's school for 900 of his fellow students and teachers!
Kids' State Dinner winner Grady Garzo teamed up with Chef Alan Wong in Hawaii to host cooking demonstrations in Chef Alan's restaurant and a local shopping center to teach the community about healthy eating and how to prepare Grady's winning dish.
In Ohio, Kids' State Dinner winner Abby Cornwell has been busy encouraging students in her school district to eat healthy and try cooking at home, and next month, her entire district will be dining on her winning recipe during school lunch! She also went a step further by starting her own initiative, Apples from Abby, where she has secured apple donations so that every classroom in her school can have a basket of apples throughout the school year. Her goal is to provide every student access to a healthy snack to get their day off to a healthy start since she knows some students may come to school hungry.
These are just a few of the remarkable Kids' State Dinner winners making a difference at their schools and in their communities through Kids and Chefs Cook for Success. Be on the lookout for the chef-Kids' State Dinner winner pairs in your community and follow along to see more of their stories on social media with the hashtag #Cook4Success.