Orange You Glad It's Thanksgiving?
Ed. Note: This is a cross post from the blog of fitness.gov. You can find the original post here.
It's that time of year again when families and friends get together for some long-overdue fellowship and thanksgiving. We hope that in addition to resurrecting some tasty family recipes, you will also try a few new ones with a nutritious twist which are equally delicious! Make it a family affair and get everyone involved in the preparation, cooking and serving of the meals.
President's Council on Fitness, Sports and Nutrition member, chef and media mogul Rachael Ray wants to share with you one of her favorite Thanksgiving side dishes for you to treat your holiday to try. It's sure to be a hit with your holiday guests! For more delicious recipes from Rachael Ray, visit www.rachaelray.com.
What are you waiting for? This Orange You Glad It's Sweet Potato Mash is too good to miss!
Orange You Glad It's Sweet Potato Mash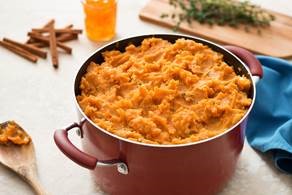 What you need:
2 1/2 - 3 pounds sweet potatoes, peeled and cut into chunks
Salt and pepper
1/2 - 3/4 cup chicken stock or vegetable stock
1/4 - 1/2 cup all-fruit orange preserves/marmalade
1/4 teaspoon ground cinnamon
1/4 teaspoon ground nutmeg
2 tablespoons fresh thyme, chopped
Optional; puree of roast butternut squash and/or carrot
How to make it:
Place sweet potatoes in a large pot and cover with cold water by at least an inch.
Place over medium-high heat and bring to a boil, salt water.
Turn heat down to a simmer and cook for about 15 minutes, or until tender and they pierce easily with a fork.
Strain and add back to the pot.
Place pot over low heat for about a minute to let any excess steam evaporate.
Start to mash with a potato masher or a wooden spoon, and add chicken stock, preserves, cinnamon, nutmeg, thyme and season with salt and pepper.
If using optional puree, add in while mashing all ingredients together.