Green Team's Garden Harvest
Serving garden grown foods just got a lot easier at Greenview Upper Elementary in Lyndhurst, Ohio. Outfitted with new salad spinners and eager to serve even more local foods, staff at Greenview Upper Elementary are now ready for the Green Team's garden harvest! The Green Team is a student group that manages Greenview's garden and recycling program. Last year, they grew so much lettuce they were able to donate more than half of their harvest to an area church for use in its free meal program.
This year, they were excited to end their summer season with one of their most exciting harvests yet – the Fall White House Kitchen Garden Harvest!
Thanks to a USDA Farm to School Grant, Greenview Elementary and other schools at South Euclid Lyndhurst School District have purchased the equipment needed to serve food grown at school by students.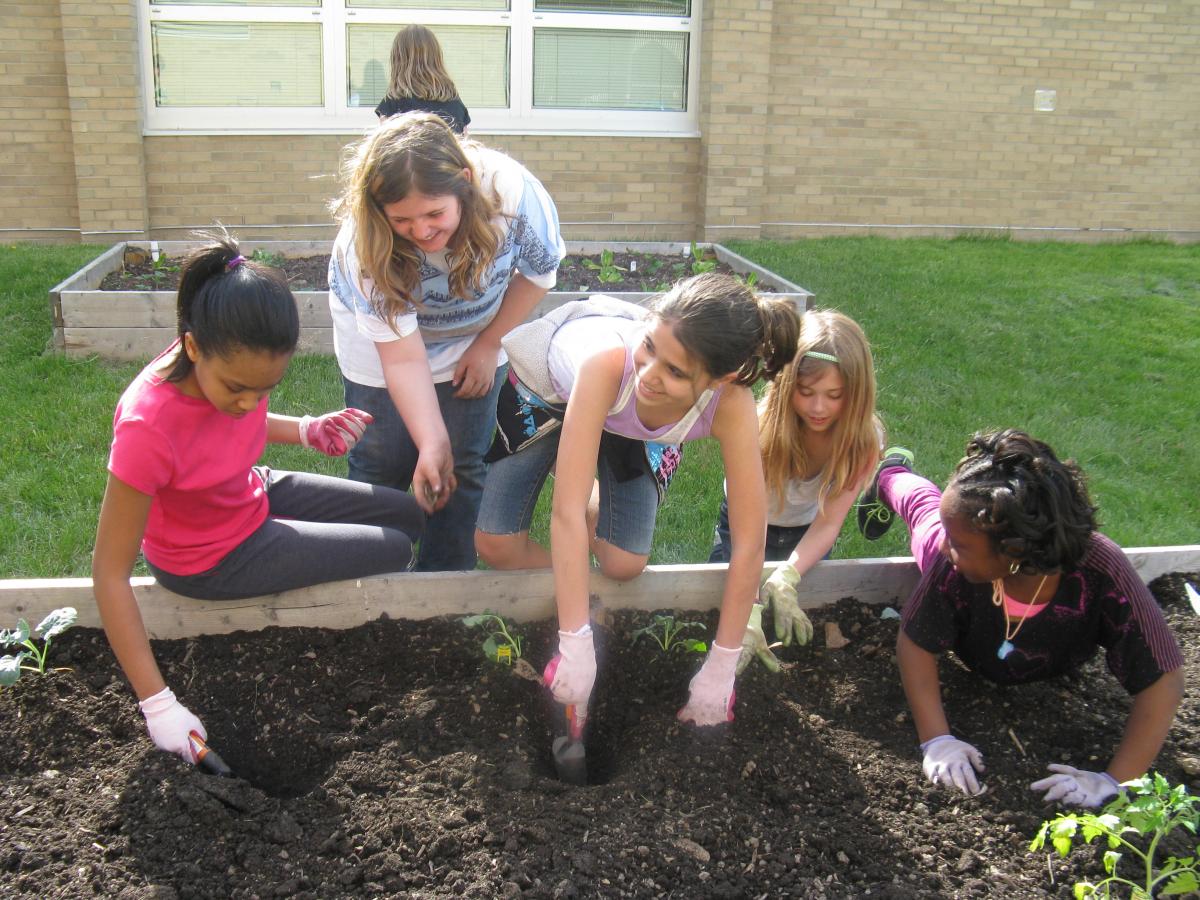 Greenview's Green Team prepares the raised bed for planting.
Inspired by the First Lady's White House Kitchen Garden, Ms. Hunt, a fourth grade teacher at Greenivew, applied many of the First Lady's tips and stories to her student garden. One day a week, over 90 fourth to sixth grade students are in the garden. Working in the raised beds, they get their hands dirty and embrace healthy eating habits for life. One Green Team student, Rheigna Cullatte, started donating her time as a third grader to the gardens. Rhegina first came to the school gardens in the summer with her older sibling who was a Green Team member. When she began attending Greenview as a fourth grader, she immediately signed up for Green Team. She is now a fifth grader and has supported healthy Green Team Pizza Parties by assembling the garden grown salad that is served alongside the veggie slice available on those special days.
The Green Team is now getting ready to put their gardens to bed for the winter, although they work year round growing some plants indoors and prepping for next garden season.